Anthony Morrow recently became a member of the Chicago Bulls as a part of the trade that sent Taj Gibson to the Oklahoma City Thunder. As it happened, he chose to wear the No. 1 as his jersey number, a decision that sparked the wrath of Bulls fans.Little did Morrow know that Bulls fans are vehemently against anyone other than Derrick Rose wearing that particular number.The poor guy...
When Anthony Morrow was drafted out of Georgia Tech by the Golden State Warriors in 2008, I didn't think that he would become the greatest shooter in NBA history, but I didn't believe that he wouldn't become the greatest shooter either. Watching a montage of his jumper was like looking at a Frederic Bazille painting; every stroke was consistent and precise. Like Bazille, Morrow was...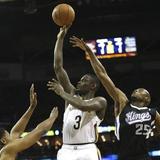 Anthony Morrow's return to the Thunder lineup will provide a huge boost to the team's offense. Slowly but surely, the Oklahoma City Thunder are trimming down their injury list. Only nine games into the 2014-2015 NBA season, the Thunder still have a while before their big name stars return. Russell Westbrook dunked with his left hand at the TD Garden on Wednesday night, but he is...
On Thursday, a report was released explaining how the San Antonio Spurs were one of a handful of teams to contact free agent Anthony Morrow. Now according to Fox San Antonio, it seems the Spurs still have interest in Morrow and may continue discussions with him in the dining week. Max Sports has also learned that the Spurs have indeed shown interest in free agent shooter...
Nets shooting guard Anthony Morrow paid tribute to former Nets star Drazen Petrovic by wearing the late NBA player's jersey at the Three-Point Contest Saturday. Morrow said he had the move planned for a while. "I instantly thought, 'If I get chosen, I'm going to wear his jersey,'" Morrow said this weekend. He added, "It was something I always thought about in the back of my mind...
MORE STORIES >>
Trail Blazers News

Delivered to your inbox

You'll also receive Yardbarker's daily Top 10, featuring the best sports stories from around the web. Customize your newsletter to get articles on your favorite sports and teams. And the best part? It's free!