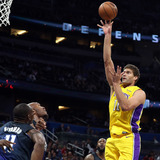 Brook Lopez's frustrations with the 2017/18 season, his first with the Lakers, seem to have reached a boiling point, Bill Oram of the Orange County Register. Lopez played just nine minutes in the Lakers' loss to the Magic on Wednesday, his lowest single-game total in over three years.Lopez, 29, is playing for a contract next offseason and thus far, he has posted career lows across...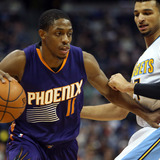 The Phoenix Suns have found themselves heavily involved in trade discussions this summer. It started with point guard Eric Bledsoe being bandied about in trade discussions with other teams. Then, following reports that Kyrie Irving demanded a trade from the Cleveland Cavaliers, the Suns seemingly got into the mix for the All-Star as well.Following Tuesday's news that Brandon Knight...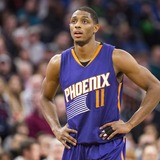 The Phoenix Suns' offseason is not going great.Guard Brandon Knight has suffered a torn ACL in his left knee and could miss the entire season, according to ESPN's Adrian Wojnarowski. Knight has been with the Suns the past three seasons and is owed nearly $44 million over the next three seasons. He had been on the trade block, but the Suns held on to him. They are probably regretting...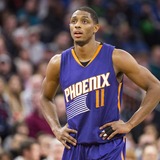 The New York Knicks continue to search far and wide for a viable starting point guard option.Ian Begley of ESPN reports on Friday that Brandon Knight's name recently came up in trade talks between the Knicks and the Phoenix Suns.The 25-year-old Knight had a down year with 11.0 points and 2.4 assists per game last season. But a 2015-16 campaign in which he averaged 19.6 points and...
Brandon Knight's time in Phoenix may be coming to an end. ESPN's Marc Stein reports on Friday that the latest indications are that the Suns will move Knight in between now and the February 23 trade deadline. The 25-year-old combo guard has been demoted to a sixth man role for Phoenix this season and is posting mediocre averages of 13.1 points, 2.7 rebounds, and 2.7 assists per...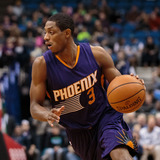 Phoenix Suns guard Brandon Knight wants to see the team get back into playoff contention, and it looks like he's willing to shift into a sixth man role in order to make that happen. At Suns training camp on Tuesday, Knight was asked about the possibility of coming off the bench for the Suns in 2016-17. "I'm here to work hard, be a great teammate, do what I've always been as a player...
Phoenix Suns guard Brandon Knight is always good for at least one exciting play per game. And he threw down a sick dunk in Tuesday's game against the Nets that fit the bill. Knight crossed up a defender and drove the lane and he would not be stopped. He used his momentum to elevate and dunk the ball through the hoop with authority.
It appears that the Phoenix Suns are on the verge of taking care of their top offseason priority by re-signing guard Brandon Knight. Gery Woelfel of the Racine Journal Times is reporting that the two sides are on the verge of agreeing to a five-year, $70 million contract. And while teams can't necessarily negotiate with impending free agents until Wednesday, we know full well that...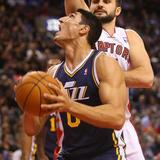 With the NBA trade deadline coming Thursday, many fans are wondering if the Milwaukee Bucks should make a trade to give them a better chance at a playoff run. However, should the Bucks not try to fix what isn't broken? Milwaukee wasn't supposed to be doing this well at the NBA All-Star break even with a completely healthy team. At 30-23, the Bucks' players are having fun together...
Brandon Knight and the Bucks are currently the six seed in the East. The Milwaukee Bucks are 25-22. Even in the watered down Eastern Conference this was not expected. And, yes, this is the same team that won only 15 games last season. Well, that's not exactly true. They may be wearing the same jerseys and playing in the same city, but the Bucks have made some pretty dramatic changes...
MORE STORIES >>
Suns News

Delivered to your inbox

You'll also receive Yardbarker's daily Top 10, featuring the best sports stories from around the web. Customize your newsletter to get articles on your favorite sports and teams. And the best part? It's free!