We've updated our Privacy Policy.
By continuing to use this site, you are agreeing to the new Privacy Policy.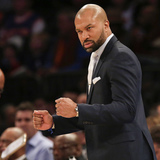 Now that Derek Fisher is no longer employed by an NBA team, he has the time to participate in some extracurricular activities and do things he's always wanted to do.That appears to be shooting his shot at "Dancing with the Stars."The 43-year-old, who previously served as the head coach of the Knicks, teamed up with Sharna Burgess for a salsa dancing routine in his "DWTS" debut this...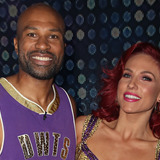 Derek Fisher became the latest athlete to test out their dance floor chops as a contestant on "Dancing with the Stars." While Fisher's debut performance on the long-running dance competition's 25th season wasn't a godawful train wreck, it was somewhat cringe-worthy in its corniness.Fisher, 43, a five-time NBA champion and former head coach of the New York Knicks, showcased his basketball...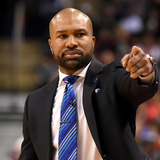 Former NBA player and coach Derek Fisher was arrested on suspicion of driving while under the influence after he crashed his car on the freeway in Sherman Oaks, Calif., early Sunday morning.The San Bernardino Sun is reporting that Fisher was riding with one passenger, Gloria Govan, in his 2015 Cadillac at around 3 a.m. when his vehicle overturned. Fortunately, neither he nor Govan...
LIKE WHAT YOU SEE?
GET THE DAILY NEWSLETTER: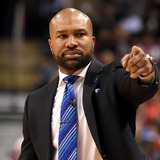 For a second there it looked like former NBA point guard Derek Fisher wanted to leave the land of coaching and return to the floor as a player. He's having none of it. The drama started when Fisher posted a video to Facebook in which he works out and it came equipped with a hastag that said "I'm not done yet." Seems easy enough to make the connection, right? Maybe not. Per...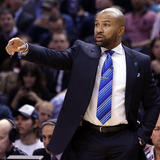 Derek Fisher wants to be back in the NBA — but not necessarily as a coach. According to ESPN's Ian Begley, Fisher has been exploring his options and is interested in returning to the NBA as a player. On Tuesday night, the former Knicks coach posted a workout video to Facebook with the hashtag #Imnotdoneyet. Fisher, soon to be 42, would be the oldest player in the NBA if he actually...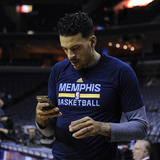 The timing of an Instagram post in which a nattily attired Matt Barnes smirks at the camera gave all the appearances that it was intended to be a smarmy and snarky reaction to the news that bitter nemesis Derek Fisher had been fired by the New York Knicks. Not so, says Barnes. "I liked what I was wearing," he said before his Memphis Grizzlies squad beat the Brooklyn Nets 109...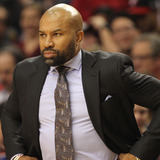 The New York Knicks have reportedly fired head coach Derek Fisher. Sources told ESPN's Ramona Shelburne Monday morning that Fisher is out as the team's head coach. The Knicks have fired Derek Fisher, sources told ESPN. — Ramona Shelburne (@ramonashelburne) February 8, 2016 Kurt Rambis will reportedly serve as the team's interim coach. According to ESPN's Brian Windhorst, league...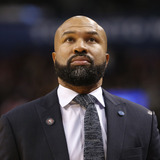 The New York Knicks currently find themselves on the outside looking in on the chase for playoff spot in the Eastern Conference, but head coach Derek Fisher insists he wouldn't view this season as a disappointment should the team fail to reach the postseason. "No. … Disappointment in what? We're a developing team with a ton of new players," Fisher said on "The Michael Kay Show...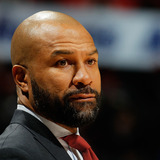 Despite the improvement of the New York Knicks this season, Derek Fisher may not be on solid ground. According to ESPN.com's Zach Lowe and Brian Windhorst, there have been "rumblings" about Fisher's position in New York. "I'm going to wave a yellow flag on Derek Fisher, as well," Windhorst said on ESPN's Lowe Post podcast, via ProBasketballTalk, while discussing potential coaching...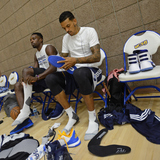 Memphis Grizzlies guard Matt Barnes was reportedly involved in a physical altercation with New York Knicks head coach Derek Fisher on Saturday. Barnes showed up at ex-wife Gloria Govan's home in Los Angeles and the two got into it. Barnes reportedly punched Fisher and felt betrayed by his former teammate, as the Knicks coach has been dating Govan for several months. The story has...
MORE STORIES >>
NBA News

Delivered to your inbox

You'll also receive Yardbarker's daily Top 10, featuring the best sports stories from around the web. Customize your newsletter to get articles on your favorite sports and teams. And the best part? It's free!