NBA Weekend Awards: Who will win the Billy Joel Trophy?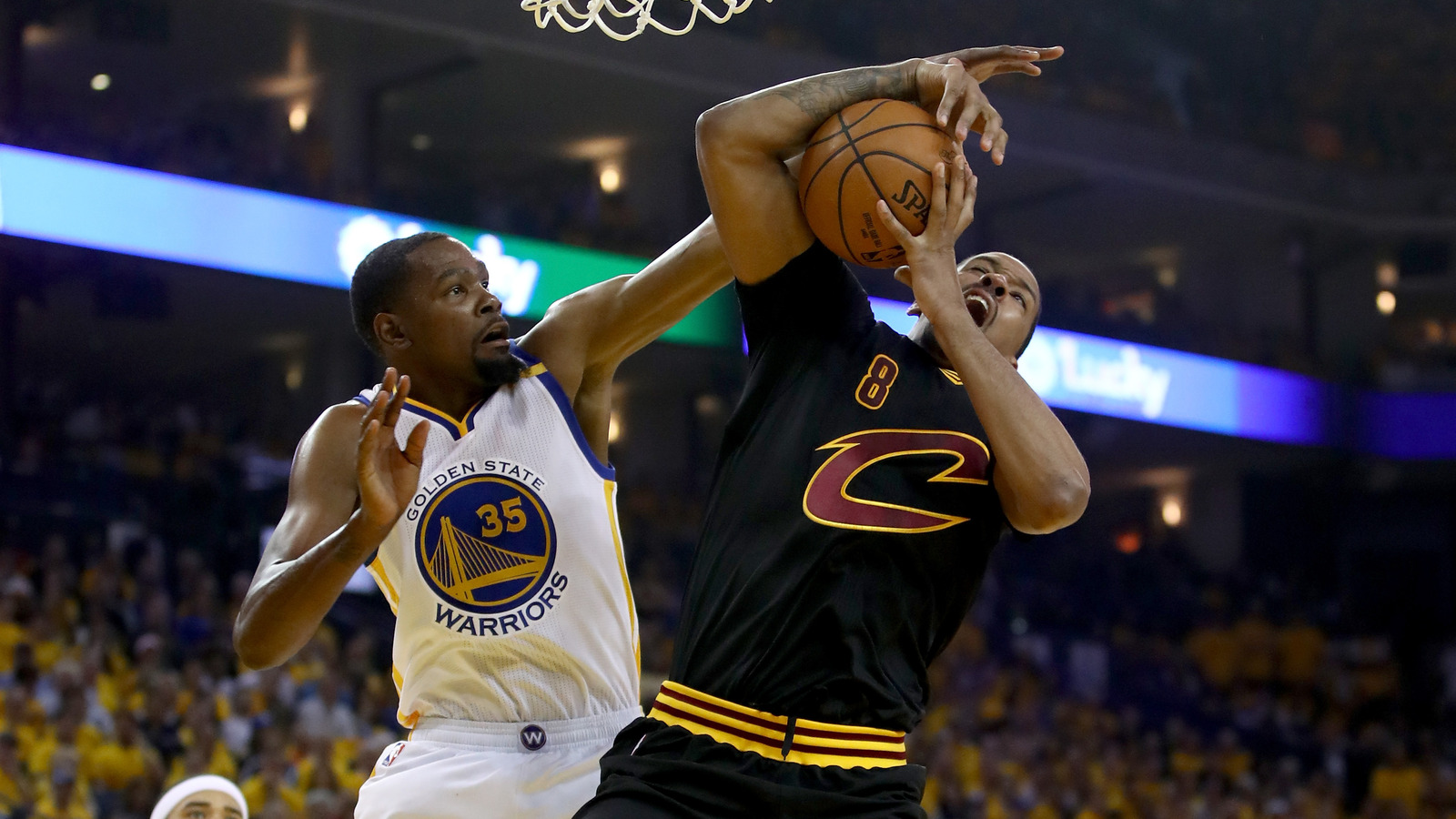 Kevin Durant of the Golden State Warriors defends Channing Frye of the Cleveland Cavaliers in Game 2 of the 2017 NBA Finals. Only one can win the Wilt Chamberlain Trophy.
Ezra Shaw/Getty Images
We are two games into the Finals, and the Warriors are thinking sweep. Of course they were also thinking sweep a year ago, and they proceeded to lose the next game by 30. So the series isn't over yet! (It is probably over.) The Warriors may sweep the series, and they may even sweep the postseason awards, but the Yardbarker Weekend Awards are a more egalitarian pursuit. Let's see who takes home the hardware after what could be the penultimate weekend of the basketball season.
Wilt Chamberlain Trophy: For scoring. Once again, this goes to the unstoppable Kevin Durant, who put up 71 points in the first two games of the Finals. He had a four-point play, a few three-point plays, shot 7-14 on threes, and got more uncontested dunks than a fat kid locked in an empty Oreo factory. He made shots falling down, and next to Mike Brown, from out in space, and in Shumpert's face. He scored in isolation, and in front of Roc Nation, shot from the locker room sauna, and stared down Rihanna.
The only Cavalier with a prayer of guarding him was LeBron James; everyone else is too short, or too slow too old, or too Kevin Love to do it. KD is taking revenge for the 2012 Finals, every game where Russell Westbrook didn't pass to him, every 3-1 lead joke, and every burned jersey in Oklahoma City. Plus, his college girlfriend is now "The Bachelorette", so he's also sticking it the Tickle Monsters, aspiring drummers, and secretly-not-single reality show contestants. What were you thinking, DeMario?!?
The Shawshank 2 - Electric Boogaloo Award: For unnecessary redemption. Steph Curry torched Cleveland, notching a triple-double in Game 2, and taking pains to roast Cavs individually, like when he spun Kevin Love around or put LeBron in the blender one-on-one. The general reaction was that Curry was FINALLY playing well in the championship. Only, he'd already played well in the Finals! Curry averaged 26-5-5 in the 2015 series, and while he was ice-cold in Game 2, he was great in the other five games. Only the novelty of Andre Iguodala's move to the starting lineup kept him from winning MVP. It's still strange: Andre got the trophy for guarding LeBron James, even though LeBron averaged 36 points and 9 assists per game. And because of that, many people claim that the best player on a team that won the Finals 4-2 had a crappy series. This year, Curry's line is 30-10-8, with ten three-pointers, and a +41. Let's not forget that after Kevin Durant wins Finals MVP.
Lewis Hamilton Golden Steering Wheel: For the best driver. This went to LeBron James, who drove often and relentlessly against the Warriors, particularly in Game 2, when Formula One champ Hamilton watched with Odell Beckham and Neymar, forming their own Big Three of fanciness. It didn't matter who was guarding him or waiting in the paint. LeBron dunked on Andre Iguodala and JaVale McGee, flipped layups around Draymond Green and Kevin Durant, and threw pocket passes around Zaza Pachulia. He truly did find another gear, playing like Shaq with a jumper and a handle, like a steam roller that learned how to dribble and dunk. Unfortunately, he had trouble with the passing lane in Game 1, turning the ball over eight times. He tried to play spoiler, but his defensive responsibilities and scoring burden made him run out of gas in the second half. And outside of Kevin Love, Kyrie Irving, and a few minutes of Richard Jefferson, his crew was the pits.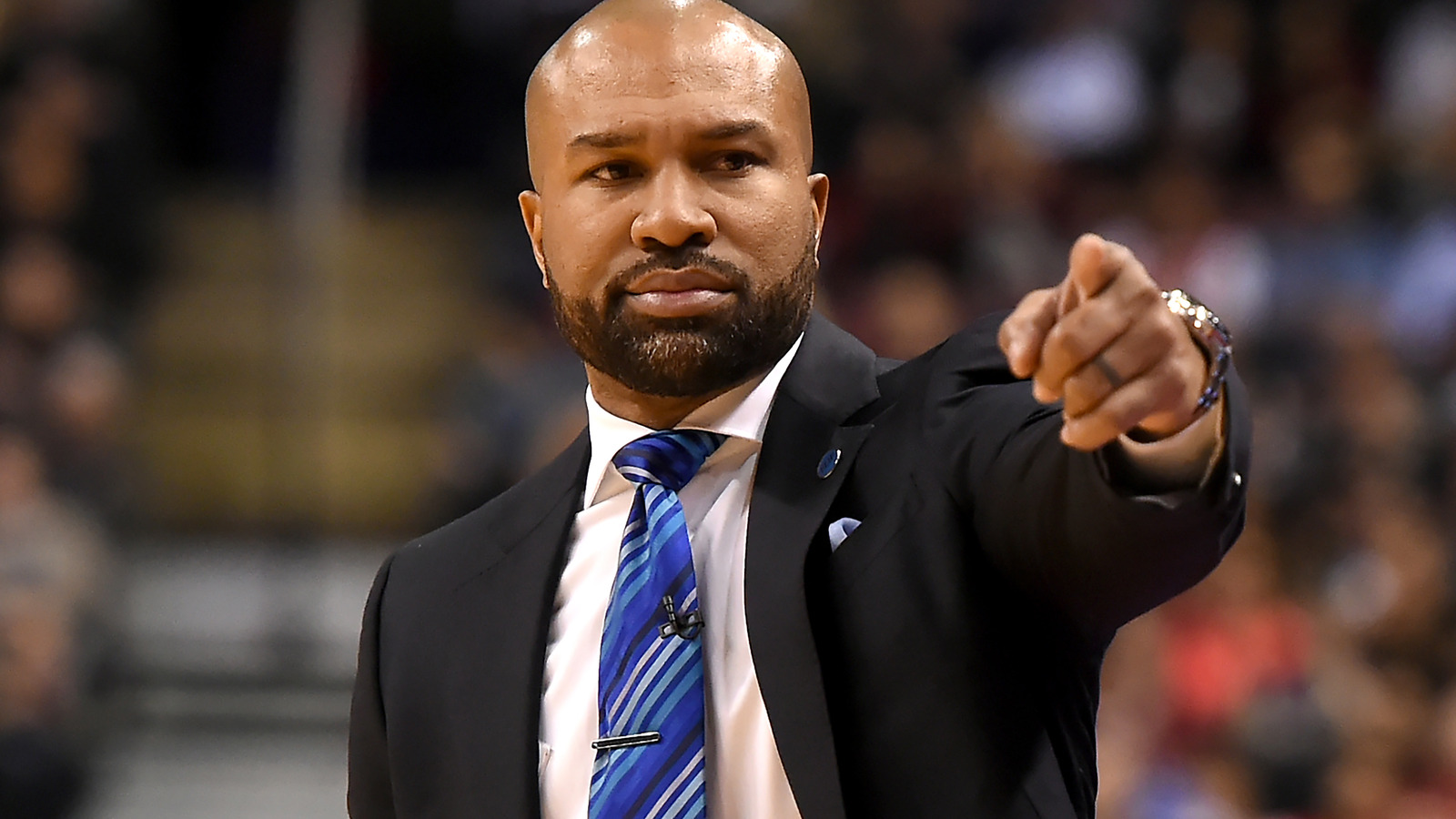 Lyft is not that hard to find in Los Angeles, Mr. Fisher. 
Dan Hamilton-USA TODAY Sports
Billy Joel Trophy: For the worst driver. That goes to former Knicks head coach Derek Fisher, who was arrested for a driving under the influence. He flipped his car on highway 101, treating his vehicle with the same reckless disregard with which he treated the players union as an executive. That's far more motion than any of his Knicks offenses ever had! Once Fisher hit a miracle shot with 0.4 seconds left in a playoff game. This time, Derek Fisher blew a 0.4 on the breathalyzer. Luckily, the playoffs were in Oakland, so Matt Barnes had an airtight alibi for the accident. Derek made plenty of money in the league, so he has no excuse for not calling a Lyft. Besides, if his NBA career taught him anything, it's that better, more talented drivers should take him along for the ride.
The Kris Humphries Cubic Zirconium Ring: To the NBA player whose talent was seemingly drained by a Kardashian. First it was Lamar Odom and Khloe, then Humphries and his sham marriage to Kim, and then a whirlwind summer romance between Khloe and James Harden that left him out-of-shape and slow, and ultimately got Kevin McHale fired in Houston. And now Thompson has disappeared in the Finals, a casualty of Cleveland's realization that they need to play small to keep up with the Warriors. Thompson didn't score in the first game, and in his 22 and 21 minutes, managed only four rebounds in each contest. He had zero blocks, racked up a -31 in plus/minus, and worst of all, has to spend the summer pretending to like Kanye's clothes and Kendall Jenner's commercials. I don't know anything about Scott Disick, but I imagine he can't hit a wide-open eight-foot jumper either.
The Colin Kaepernick Memorial Kneepads: For a memorable national anthem performance. Carlos Santana played a slow anthem on electric guitar, made longer by his repetition of the first section, and accompanied by bass. Originally the bass player was in a band in Oklahoma City, but he joined Santana this summer, hoping he'd finally get to play in the Finals. The shocking part of the anthem was that Santana appeared hatless in public for the first time since 1968. His hairless scalp and proud baldness were a pointed shot at LeBron James and his hairline anxiety. Carlos didn't even wear a headband! It's no coincidence that chrome-domed Richard Jefferson felt so empowered, he was throwing down dunks at age 36. The risk is that LeBron will finally embrace baldness, shave his head before Game 3, and go full supernova, but it's unlikely. His head just isn't Smooth enough.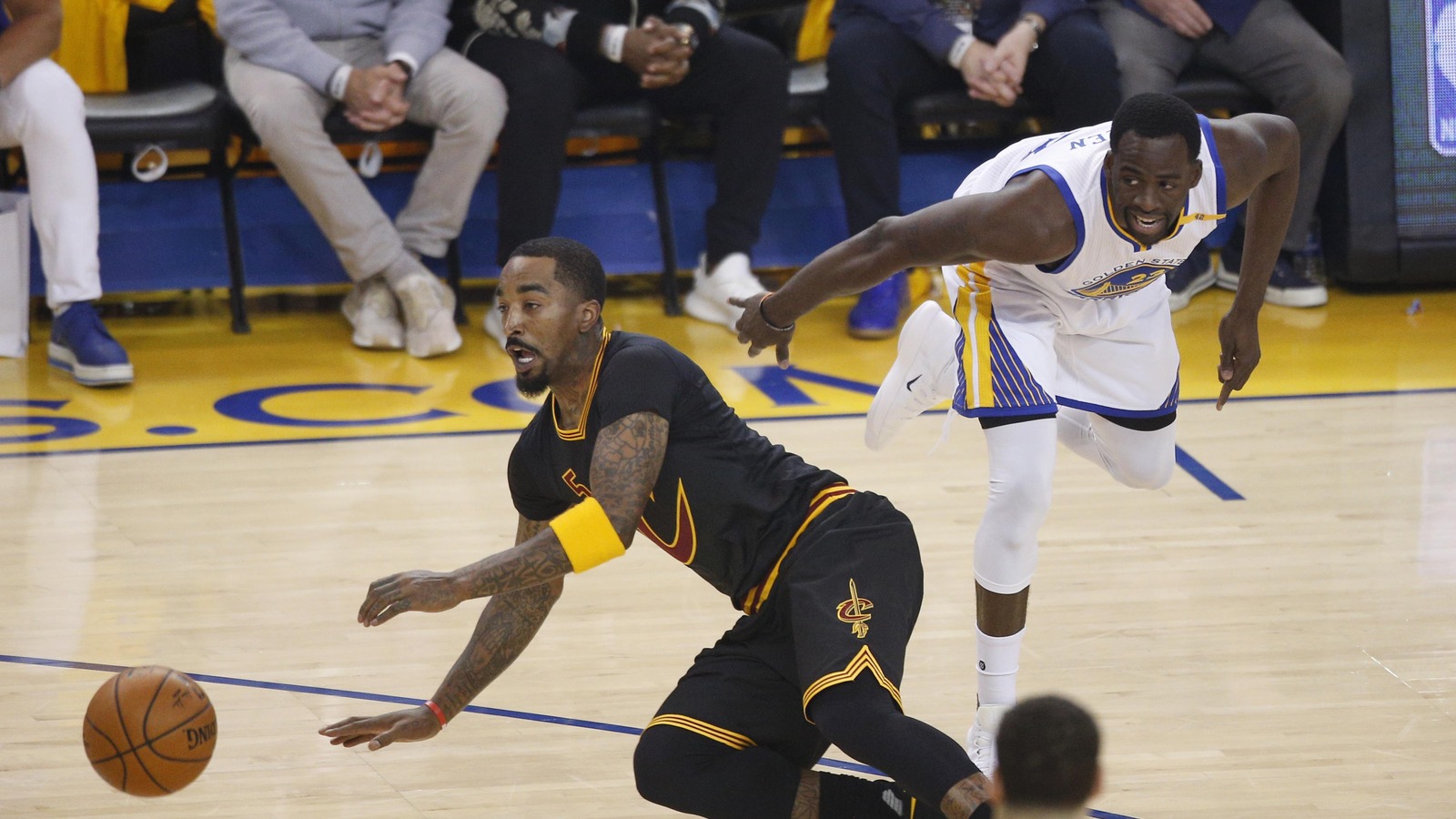 JR Smith battles for the ball during the first half in Game 2 of the 2017 NBA Finals at Oracle Arena. He lost the fight. 
Cary Edmondson-USA TODAY Sports
The Dallas Medal: For asking and answering the question, "Who's shot? J.R."  In two games, J.R. Smith made one single basket. After he picked up his fourth foul in Game 2, he sat out the last 22 minutes of the game. Maybe he's still getting back into shape after his injury layoff, maybe guarding the Golden State backcourt has sapped his energy, or maybe he got spooked by his old paramour Rihanna. He's simply not prepared for the Golden State Dynasty, and he's probably hoping he'll step out of the shower and realize these Warriors games were just a bad dream.
The Panicked Dad's Dinner Medal: For krafty use of your macs. It was an outside the box move for Mike Brown to play Patrick McCaw and James Michael McAdoo in the first half of Game 1. He may have been trying to stir things up, or he was hoping McCaw would heat up quickly. It also felt like he was sending a message to his old team: we can put out any combination of ingredients, and Chef Curry will still cook the defense.
The Dark Knight Rises Platinum Cape: To Steve Kerr, who overcame a broken back to return to the sidelines and face the Bane of his existence, the Cleveland Cavaliers. Sure, the Warriors have a super team. Sure, they're only facing the champions of the Eastern Conference, AKA the League of Shadows. And sure, the 2016 Finals may have been a different contest if Harrison Barnes' outside shot hadn't gotten locked in the sewer. But he's back, and the Warriors are two games from redemption, which means Kerr can finally take a vacation to Italy with his butler Alfred.
MORE FROM YARDBARKER:
QUIZ: Name every player on both Cleveland Cavaliers' Finals-losing teams
The Cleveland Cavaliers have made it to the NBA Finals twice in their franchise history, in 2006-07 and 2014-15, but neither time were they able to hoist the Larry O'Brien Trophy. Can you name all 28 players from the Cavs to play in the Finals?
NOTE: Two players were on both teams. An asterisk (*) denotes a player who was on both the 06-07 and 14-15 Cavs squads.
MORE FROM YARDBARKER
NBA News

Delivered to your inbox

You'll also receive Yardbarker's daily Top 10, featuring the best sports stories from around the web. Customize your newsletter to get articles on your favorite sports and teams. And the best part? It's free!