We've updated our Privacy Policy.
By continuing to use this site, you are agreeing to the new Privacy Policy.
Bucks guard Greivis Vasquez was thankful and excited to be back on the court after missing time on the floor since Nov. 27, 2015 due to an injured foot.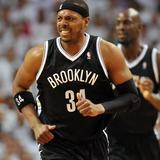 Outmatched.  Outworked.  Outplayed. Paul Pierce Things couldn't be going much worse for the Toronto Raptors right now.  In a series that was supposed to be an evenly matched, hard fought battle, the Washington Wizards have completely taken control, going up 2-0, both wins on the road in Toronto.  It appears that the entire Wizards team has adopted Paul Pierce's mentality, refusing...
Greivis Vasquez joined the Toronto Raptors as a part of the major 2013-14 midseason trade with the Sacramento Kings. He helped the Toronto Raptors reach the 2014 NBA Playoffs, and he continues to be a key member helping the team attain new heights again this season. He felt embraced by the fans early on and he's openly expressed his appreciation for and to the fans and the city of...
LIKE WHAT YOU SEE?
GET THE DAILY NEWSLETTER:
The Toronto Raptors Greivis Vasquez led Venezuela to the FIBA South American Championship over Argentina 74-65 on Monday night and captured tournament MVP honors in the process.
For Greivis Vasquez at this point in his career and at this time in his personal life, Toronto is where it's at and the city and the Raptors couldn't have asked for a better spokesperson to promote the virtues of living and playing there.
The Toronto Raptors came into Milwaukee and almost laid an egg as they were emotionally flat after a big win at home over the Pacers the night before. Fortunately, Greivis Vasquez set a career-high with 6 three-pointers and tied his season-high of 26 points to keep his sleepwalking teammates in this game until DeMar DeRozan could turn things on in the fourth quarter and allow Toronto...
Above all, Greivis Vasquez loves to win and as a result, the Toronto Raptors outspoken backup point guard is loving his time in this city and on this team. Vasquez said. "I just love this team. I just love playing for this city. I am committed to this because I want to win like everyone else in the locker room... This team is one of the best teams I have been on because the chemistry...
MORE STORIES >>
Pelicans News

Delivered to your inbox

You'll also receive Yardbarker's daily Top 10, featuring the best sports stories from around the web. Customize your newsletter to get articles on your favorite sports and teams. And the best part? It's free!