We've updated our Privacy Policy.
By continuing to use this site, you are agreeing to the new Privacy Policy.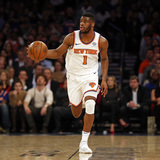 Knicks head coach Jeff Hornacek pulled struggling point guard Emmanuel Mudiay from Friday night's game against the Timberwolves, citing his performance. In Mudiay's place, Hornacek tried an all point guard backcourt with Trey Burke and Frank Ntilikina, which worked out well.Earlier this week, Hornacek said he was hesitant to pull Mudiay from the starting lineup, despite his struggles...
What's really real? On today's 'sode I'm joined by Yaron Weitzman of Bleacher Report to discuss media speculation on Hornacek's job, Mudiay's place in the starting lineup, and Joakim Noah's possible stretch provision. PLUS: Jarrett Jack's ridiculous popularity in the NBA and pop culture worlds, the photo of KP shooting in a gym, Frank's future, the draft, and MORE! Listen!
Knicks point guard Jarrett Jack isn't lobbying for the Knicks to hire Mark Jackson. He just knows some team should take that chance for next season. Jack told The Post he's surprised Jackson hasn't been scooped up after the Warriors fired him after their first-round, seven-game playoff elimination by the Clippers in 2014. Jack speaks...
LIKE WHAT YOU SEE?
GET THE DAILY NEWSLETTER:
Entering the 2017/18 season, Willy Hernangomez seemed to be the exact type of the player the Knicks wanted on their roster. A talented, young and cheap big man who needed more work but had tremendous upside. Instead, he fell out of the rotation and was traded before the trade deadline.Hernangomez will return to the New York on Saturday, this time as a member of the Hornets. The Spaniard...
Former Knicks starting point guard Jarrett Jack could be on a playoff team now, gearing up for the postseason in a winning environment. Instead, he's ready to absorb his 10th straight DNP when the tanking Knicks host the 76ers on Thursday at the Garden to continue their five-game homestand. Jack revealed two playoff-contending teams offered...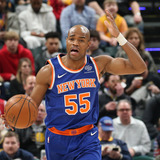 With his role in New York essentially eliminated and an informal buyout deadline looming, Knicks point guard Jarrett Jack admitted earlier this week that he may have to consider his options. However, we're just a few hours away from turning the calendar to March 2 – at which point waived players no longer retain their playoff eligibility – and it doesn't sound like Jack is packing...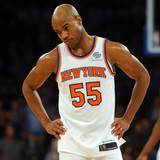 Since the All-Star break, Knicks point guard Jarrett Jack has seen his role effectively eliminated. Eligible for unrestricted free agency at season's end, Jack probably isn't part of New York's future plans, so the team's youth movement may prompt him to consider asking to be released, writes Stefan Bondy of The New York Daily News."I've never done it before to jump from one team...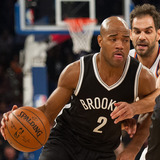 It's not a secret that the New Orleans Pelicans have been looking for guard help after acquiring big man DeMarcus Cousins this past weekend.Unable to work something out prior to Thursday's trade deadline, New Orleans has reportedly signed veteran guard Jarrett Jack to a 10-day contract. Jack, 33, has not played since tearing his ACL when he was a member of the Brooklyn Nets back...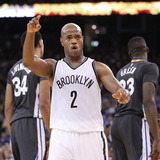 The Brooklyn Nets are trying to trade Jarrett Jack before his buyout date comes up on Thursday. If they are unable to deal him, they are likely to waive him, according to a report. The Vertical's Adrian Wojnarowski reports the news about Jack, who is recovering from a torn ACL suffered in January. The Nets apparently have some concerns about paying the $6.3 million for Jack next...
Brooklyn Nets guard Jarrett Jack is out for the remainder of the 2015-16 NBA season after suffering a torn ACL in his right knee, the team announced in a release on Sunday. Jack was also said to have suffered a small medial meniscus tear in the knee. He was injured late in the third quarter of Brooklyn's 100-97 victory over the Boston Celtics on Saturday night. Jack got out in the...
MORE STORIES >>
Knicks News

Delivered to your inbox

You'll also receive Yardbarker's daily Top 10, featuring the best sports stories from around the web. Customize your newsletter to get articles on your favorite sports and teams. And the best part? It's free!