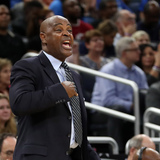 For the third time this season, an undisclosed illness has kept Tyronn Lue from coaching, writes Joe Vardon of Cleveland.com. Lue remained in the locker room after halftime of Saturday's win over the Bulls as chief assistant Larry Drew ran the team. LeBron James called Lue's condition one more distraction in a season filled with them."I mean he's the captain of the ship, so absolutely...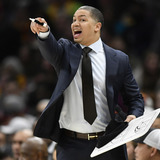 The Cleveland Cavaliers certainly have problems on the court. But LeBron James and company have other worries as well. For instance, the health of head coach Tyronn Lue. In fact, the ailments are getting more worrisome."I mean, he's the captain of the ship, so absolutely. We worry about his health, obviously. That's way more important than this game of basketball. We know he's been...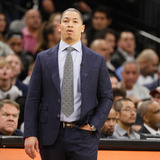 Tyronn Lue did not come to coach the Cavaliers for the second half of their game on Saturday in Chicago.When Cleveland came out for the third quarter of their game against the Bulls, they did so without their head coach, who stayed behind in the locker room. Larry Drew took over as acting head coach as he did previously this season when Lue missed the second half of Cleveland's game...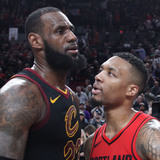 The current trend in anticipation of LeBron James' presumed free agency this summer is for fans or businesses from NBA towns putting up billboards in a bid to recruit the Cleveland Cavaliers superstar. Now a contingent of Portland Trail Blazers fans have joined the movement. James is widely expected to hit free agency after the season by exercising the player option in his current...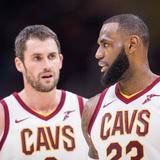 Kevin Love has been blamed for team problems throughout his Cleveland Cavaliers career, but his injury has led LeBron James and Co. to realize the power forward's value.ESPN's Dave McMenamin noted what LeBron said following the struggling squad's loss to the Portland Trail Blazers."It's been a long time since I haven't played with another All-Star on my team. So, having Kev out has...
LeBron James is one of the NBA's biggest villains, so he's been subjected to plenty of jeers from fans of opposing teams over the years. Fans can try as hard as they want, but it's highly unlikely that they'll succeed in getting under James' skin. He'll even go as far as to respond with a jab of his own, which was the case during Thursday's game against the Trail Blazers. A fan at...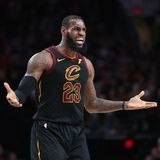 LeBron James and Ty Lue had a tense exchange late in the Cleveland Cavaliers' game at Portland on Thursday night.As James was on the bench, he looked over Lue's way and the two had words for each other: The Vertical's Chris Mannix says Lue had issues with James' shot selection, leading to the exchange. Apparently the two also traded words on consecutive possessions prior to it continuing...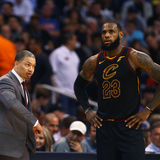 LeBron James doesn't shy away from voicing his opinion to, well, anyone.It could be an official, teammate, coach or possibly even a fan; if James wants to speak his mind, he will.Thursday's game against the Trail Blazers featured a spat between James and Tyronn Lue, with the four-time MVP visibly upset at the team's head coach during a timeout. Lue was seen having some words with...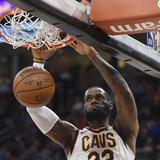 LeBron James has thrown down a number of monster dunks during his NBA career, but the one he slammed home during Thursday's game against the Trail Blazers was among his most powerful, which is saying a lot.It happened when James drove the lane and took flight from just inside the paint. One defender was smart enough to just get out of his way, which was smart, while Jusuf Nurkic...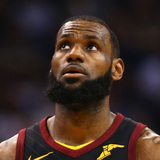 LeBron James on Tuesday night led the Cleveland Cavaliers to a 129-107 victory over the Phoenix Suns in spectacular manner by notching his 14th triple-double of the season, a career-high for the 33-year-old. And the still-dominant veteran superstar made it a point to mention he's still as good as ever despite his advancing age. "You can just say I'm like fine wine; I get better with...
MORE STORIES >>
Cavaliers News

Delivered to your inbox

You'll also receive Yardbarker's daily Top 10, featuring the best sports stories from around the web. Customize your newsletter to get articles on your favorite sports and teams. And the best part? It's free!