We've updated our Privacy Policy.
By continuing to use this site, you are agreeing to the new Privacy Policy.
It's only been a little over a month since the Los Angeles Lakers traded for Isaiah Thomas, but it's clear that something is off. Last season, Thomas was a fringe MVP candidate, driving the Boston Celtics' attack and captivating the league with his gutsy, unflappable play. Whenever the Celtics needed a big shot in the fourth quarter, Thomas was there to step up. This season, however...
With recent injuries on the team, the Los Angeles Lakers held conversations about getting some minutes for Luol Deng. Since the NBA Trade Deadline, the Los Angeles Lakers have been a bit short-handed. Despite still playing very well, the Lakers have had some issues with keeping players...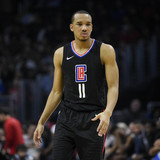 Avery Bradley, part of the return the Clippers got in the Blake Griffin trade, isn't sure if he'll play again this season, relays Broderick Turner of The Los Angeles Times. Bradley discussed the sports hernia injury that has sidelined him for the past four games, saying surgery before the end of the season is a possibility."We're just … day by day and trying to strengthen up all...
LIKE WHAT YOU SEE?
GET THE DAILY NEWSLETTER: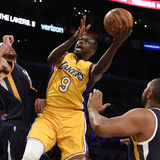 Luol Deng has only made one regular-season appearance for the Los Angeles Lakers in 2017-18, but the veteran has played dozens of games in his mind.Bill Plaschke of the Los Angeles Times revealed Deng heads to a training room and simulates being on the court while games are happening."When there's action, he runs on a treadmill. When there's a timeout, he stops. When the whistle...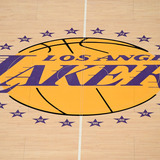 It's a cold, cold world for Luol Deng. So cold that even his own team is laughing about how undesirable of a contract he has.Magic Johnson met with the media on Thursday to discuss some of the Los Angeles Lakers' trade deadline moves. He was asked a question about a Luol Deng trade and literally laughed it off: That's brutal.Deng's $72 million contract is among the worst in the NBA...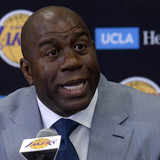 Magic Johnson and his Los Angeles Lakers did some major work prior to Thursday afternoon's NBA trade deadline. In sending Jordan Clarkson and Larry Nance Jr. to the Cleveland Cavaliers for Isaiah Thomas and Channing Frye, the team picked up two expiring contracts. It will now enable Los Angeles to chase after two max-contract players during the summer.Unfortunately, Johnson and the...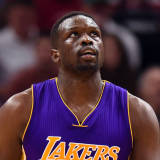 The Los Angeles Lakers would love to be able to trade away Luol Deng, but it does not sound like they even think that is possible.Deng was signed prior to last season as part of a disastrous offseason by the front office. The Lakers signed Timofey Mozgov to a four-year, $64 million deal. They were able to move him by packaging him with D'Angelo Russell in a trade to the Nets. They...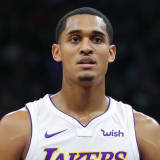 The Lakers are confident they can unload Jordan Clarkson at some point to help with their pursuit of free agents next summer, ESPN's Adrian Wojnarowski said during an appearance on the network's Full Court Press special.L.A. reportedly wants to be able to offer a pair of max contracts in July, with LeBron James and Paul George considered to be prime targets. To make that possible...
While clearing Luol Deng's salary from their books would be the most effective way of clearing cap room to sign two maximum-salary free agents in 2018, the Lakers don't intend to sacrifice any future first-round picks to facilitate a Deng deal, source tell Bobby Marks of ESPN (Insider link).As Marks notes, this past offseason, the Lakers were able to move one of the two ill-advised...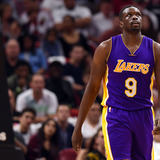 The Los Angeles Lakers continue to admit that their offseason was one big L.According to a report by Ramona Shelburne of ESPN on Wednesday, the Lakers will also make forward Luol Deng a healthy scratch for the remainder of the 2016-17 season to open up more playing time for their younger players.Deng, who will turn 32 next month, was averaging 7.3 points and 5.3 rebounds on a career...
MORE STORIES >>
Lakers News

Delivered to your inbox

You'll also receive Yardbarker's daily Top 10, featuring the best sports stories from around the web. Customize your newsletter to get articles on your favorite sports and teams. And the best part? It's free!