We've updated our Privacy Policy.
By continuing to use this site, you are agreeing to the new Privacy Policy.
MarShon Brooks Expected to Join Boston Celtics Friday in Golden State   BOSTON -- The Boston Celtics have issued a press release to the media to announce that swingman MarShon Brooks has been recalled from the Maine Red Claws.  He will join the team Friday as the Celtics take on the Golden State Warriors in Oakland. Acquired via trade from the Brooklyn Nets in July, Brooks has yet...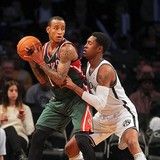 Credit NESNAccording to the Boston Herald's Mark Murphy, MarShon Brooks will be rejoining the Celtics on Friday:Ainge also said that MarShon Brooks, tearing up the D-League, will rejoin C's Friday vs. Golden State.— Mark Murphy (@Murf56) January 8, 2014In his three games with the Maine Red Claws, Brooks has posted some serious numbers:GAME 1: 31 MIN, 27 PTS, 9-18 FG, 4 REB, 3 AST...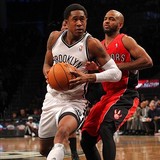 Last night MarShon Brooks put up 27 points, 4 rebounds, and 3 assists while shooting 9-18 from the floor (3-4 3PT) in is debut with the Maine Red Claws.  But before all the Brooks fans come out of the woodwork and say "Look what he can do!  All he needs is playing time!  Blah blah blah..." let me remind you of the D-League exploits of one Fab Melo.  Just over a year ago, on 12/22...
LIKE WHAT YOU SEE?
GET THE DAILY NEWSLETTER:
24-year-old guard MarShon Brooks has been sent down to the Boston Celtics D-League affiliate on Wednesday, the Maine Red Claws. Brooks was a part of the mega-deal that moved Paul Pierce, Kevin Garnett, and Jason Terry to the Brooklyn Nets during the offseason, but hasn't gotten much playing time upon his arrival in Boston. In his third year in the NBA out of Providence College Brooks...
The Celtics released a brief statement today announcing MarShon Brooks will be joining the Maine Red Claws BOSTON – The Boston Celtics announced today that they have assigned guard MarShon Brooks to their NBA Development League affiliate, the Maine Red Claws. Brooks, a 6'5" guard, has appeared in nine games for the Celtics this season posting averages of 3.2 points and 1.6 rebounds...
Via WEEI's Ben Rohrbach, here's what Brooks had to say following his sixth straight DNP-CD last night: "I'm trying not to get frustrated, because I know my time's going to come, and if I'm frustrated, then I'm playing against myself, so all I can do is just stay in shape and be ready. Right now, I'm not playing at all. I don't have a role. I'm just cheering right now, trying to...
NBA Training Days – Marshon Brooks – Trailer (T.A.P.E. Training Systems)!!! http://t.co/WB7pgNhe9q — Billy Raymond (@Bhevo123) September 22, 2013 Every morning, we compile the links of the day and dump them here… highlighting the big storyline. Because there's nothing quite as satisfying as a good morning dump.  Think you're in good shape?  Great.  Now watch MarShon Brooks train...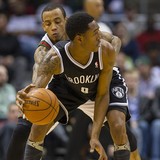 Sloan Piva One of the most intriguing new additions to the Celtics roster, MarShon Brooks could be a delight to watch this season. The 24-year-old, previously drafted by the Celtics in 2011 then carelessly traded for JaJuan Johnson, could be here to stay now. He's young, he's cheap, he's quick and he does a lot of things well. He's got long arms, which helps on defense and on the...
Brooks was briefly a Celtic on draft night in 2011 The former Providence guard arrived in town on Wednesday, and worked out at the Celtics practice facility yesterday.  Afterwards he spoke to the media: From ESPN Boston's Chris Forsberg: "I'm just excited, I feel the same exact way [as at July's introductions], just excited for the opportunity to get out there and show my talents...
Of all the rookie hazing and all the pranks we see across professional and collegiate athletics, the popcorn in the car gag has to be one of the worst. As you can see from the photo above that Deron Williams tweeted, Nets rookie MarShon Brooks recently fell victim to the mother of all car pranks. Below is a photo of MarShon looking pretty flustered about the whole thing, but I...
MORE STORIES >>
NBA News

Delivered to your inbox

You'll also receive Yardbarker's daily Top 10, featuring the best sports stories from around the web. Customize your newsletter to get articles on your favorite sports and teams. And the best part? It's free!