We've updated our Privacy Policy.
By continuing to use this site, you are agreeing to the new Privacy Policy.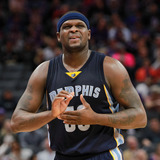 Rasheed Wallace came out in defense of former teammate Zach Randolph, saying the Sacramento Kings forward "ain't no dope dealer."Randolph, 32, was arrested and charged last week in Los Angeles with felony marijuana possession with intent to sell. Randolph is accused of being in possession of upwards of two pounds of marijuana at the time of his arrest.Raymond Brothers, Randolph's...
Because this is America a petition through the White House's website has already been started to get Rasheed Wallace named the Pistons interim head coach after Mo Cheeks was fired today. Fans have until March 4th to get the petition up to 100,000 signatures but I doubt this will be high on the list of things to get done by the Obama administration. Plus I'm sure the Pistons will...
YES, SERIOUSLY
For those who constantly feel the need for 'Sheed and were sad about his second retirement this past season, it looks as though we will still get to Wallace in the NBA next year, but as a coach and not as a player. From the NBA's Hangtime Blog: Jason Kidd isn't the only former New York Knicks veteran to trade in his locker room stall for a spot in the coach's locker room. In...
LIKE WHAT YOU SEE?
GET THE DAILY NEWSLETTER:
After re-injuring his surgically repaired left foot earlier this week in a game against the Charlotte Bobcats in a comeback bid to play for the New York Knicks in the playoffs, Rasheed Wallace is retiring, presumably this time for good. A statement released by Knicks head coach Mike Woodson announced the disappointing news (via the New York Daily News): "Rasheed has given this team...
MORE STORIES >>
NBA News

Delivered to your inbox

You'll also receive Yardbarker's daily Top 10, featuring the best sports stories from around the web. Customize your newsletter to get articles on your favorite sports and teams. And the best part? It's free!