We've updated our Privacy Policy.
By continuing to use this site, you are agreeing to the new Privacy Policy.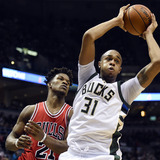 Milwaukee Bucks general manager John Hammond is keeping his momentum going after already making one frontcourt trade earlier in the day Thursday.According to a report by Keith Smith of RealGM, the Bucks are active in trade talks involving John Henson and Greg Monroe. This comes right on the heels of their acquisition of Spencer Hawes and Roy Hibbert from the Charlotte Hornets in...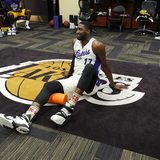 It sounds like the Los Angeles Lakers are ready to move on from center Roy Hibbert. Hibbert has been with the team for all of one season, sure, but the Lakers sit at 9-34 with the main goal being to show off Kobe Bryant over the course of his farewell tour and lose enough games to add another franchise centerpiece next offseason. None of the above is really a surprise, though Hibbert...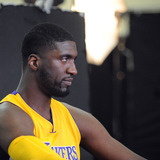 The tragedy that took place in San Bernardino, Calif., on Wednesday was an unfriendly reminder that sports can be utterly meaningless in the grand scheme of things. If Los Angeles Lakers center Roy Hibbert was trying to articulate that, some would say he failed. In a tweet expressing sympathy for those who were affected by the shooting that left 14 people dead and several others...
LIKE WHAT YOU SEE?
GET THE DAILY NEWSLETTER:
Lakers center Roy Hibbert was in the middle of another scrum on Tuesday night, which surprised no one. The hot-headed center has been known to get into it with players on the opposing team, but this time he involved a ref as well. Hibbert got into a shoving match with Sixers forward Jerami Grant, and later used his elbow to push Grant away. And if that wasn't enough, when an official...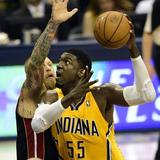 The Lakers have finally added another player to the roster,but it wasn't through free-agency. Forwhatever reason, the Lakers have had more success in the off-season with trades, as opposed to free-agent signings. But that's neither here nor there, because the Lakers have managed to fill a gaping hole in their roster by acquiring Indiana Pacers' former center Roy Hibbert. The reports...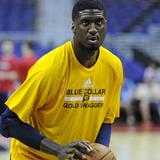 Roy Hibbert #55 of the Indiana Pacers goes up for a dunk against the Houston Rockets during the game on January 19, 2015 at the Toyota Center in Houston, Texas. (Mandatory Credit; ESPN/Getty Images) The Indiana Pacers and Los Angeles Lakers have agreed in principle to a deal sending center Roy Hibbert to Los Angeles in exchange for a combination of future draft picks and international...
After whiffing on most of their free agent targets, the Los Angeles Lakers decided to make a trade to add some new life to their roster. Reports say the Lakers acquired center Roy Hibbert in a trade with the Pacers. Yahoo's Adrian Wojnarowski reports that the Lakers will likely trade picks and players to the...Read More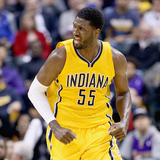 By David Kenyon The Los Angeles Lakers could have drafted post player Jahlil Okafor with the No. 2 pick in the 2015 draft, but they chose combo-guard D'Angelo Russell instead. Los Angeles pursued center DeAndre Jordan and power forward LaMarcus Aldridge, but both players elected to sign elsewhere in free agency. Consequently, it's time for Plan C. ESPN's Marc Stein reports the...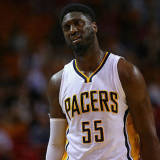 By Real GM Staff The expectation is that Roy Hibbert will exercise his $15.5 million player option for next season and return to the Indiana Pacers. Say what you want about Hibbert, but he's not stupid and that's precisely the adjective most would use to describe someone that would leave $15.5 million on the table with no guarantee that more money is available elsewhere. The Pacers...
Roy Hibbert has had one of the most interesting NBA careers in recent memory. Hibbert advanced from a slow moving and out-of-shape prospect out of Georgetown to becoming arguably the best all around center in the NBA, especially on defense, in just a few short seasons. Roy Hibbert in the 2012 Playoffs Unfortunately, as most of us know by now, Hibbert's success did not last. Following...
MORE STORIES >>
Nuggets News

Delivered to your inbox

You'll also receive Yardbarker's daily Top 10, featuring the best sports stories from around the web. Customize your newsletter to get articles on your favorite sports and teams. And the best part? It's free!