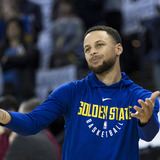 Stephen Curry clearly is among the countless college basketball fans left blown away by the UMBC Retrievers' historic 74-54 upset of No. 1 seed Virginia Cavaliers, the first time a No. 16 seed has ever knocked off a top seed in the NCAA Tournament.The Golden State Warriors superstar expressed his admiration for the plucky Retrievers squad by gifting the team limited-release Under...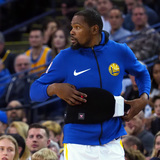 Yesterday, Golden State's Kevin Durant wouldn't play against the Sacramento Kings due to a rib injury. But things look far worse now. In fact, Durant is going to miss at least two weeks due to an incomplete rib cartilage fracture. Meanwhile, Klay Thompson and Steph Curry remain out with hand and ankle injuries, respectively. But losing Durant too? That's far from ideal, especially...
Steph Curry remains out for the Golden State Warriors with an ankle injury and will be re-evaluated next week.The Warriors shared an injury report for the team's game against the Los Angeles Lakers on Wednesday. In the report, they said that Curry was out for the game and will be re-evaluated on March 20. Curry injured his ankle early last week against the Spurs and has missed the...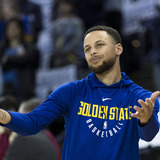 The expectation all along has been that Golden State Warriors guard Stephen Curry would be able to return from his two-game absence when the team takes on the Los Angeles Lakers on Wednesday.Curry has been out since suffering yet another ankle injury, but it seemed to be apparent that he would return at some point soon. That's no longer the case.According to the Warriors themselves...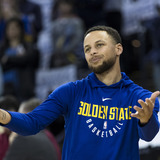 Stephen Curry's 30th birthday was the place to be in the Bay Area on Monday night, which was made clear from the videos that have since emerged.The Warriors have lost back-to-back games, which isn't something we normally see, so Curry's party was a great way to lighten the mood and have the team come together, with the NBA Playoffs around the corner.A number of celebrities were in...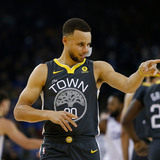 He's a household name now, one of the most famous players in the NBA and one of the most recognizable athletes the world over, but Stephen Curry wasn't always marked for greatness. On this, his 30th birthday, let's take a look back at his journey from high school afterthought to the top of the basketball world — and beyond.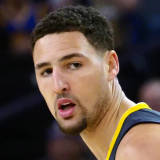 Klay Thompson on Monday night unleashed offseason alter-ego "China Klay" at Golden State Warriors teammate Stephen Curry's surprise 30th birthday party. Curry's actual birthday does not arrive until Wednesday, but with the Warriors slated to play the Los Angeles Lakers that night, it made sense for the team to celebrate the point guard's big day on Monday's off night … which also...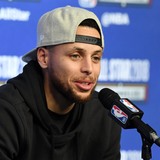 On Sunday, Davidson eked out a one-point win over Rhode Island to win its first-ever Atlantic-10 championship, and one former Davidson star was super excited about it. Stephen Curry was watching from home as he rehabs his tweaked ankle, and he took to social media to express his joy. "We dancin', baby! YEEEEEEE! Yeah!"Curry won't be the only Davidson product to celebrate this huge...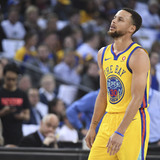 Golden State Warriors point guard Steph Curry is going to miss his team's upcoming two-game road trip. After tweaking his ankle Thursday against the San Antonio Spurs, head coach Steve Kerr would rule him out. Of course, this isn't Curry's first brush with an ankle injury this season. Far from it, in fact. But Kerr isn't about to concede the western conference's one-seed. "We still...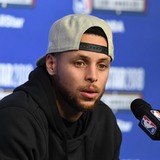 Golden State Warriors star Stephen Curry left Friday's win over the Atlanta Hawks early with a tweaked ankle. The Warriors have not played since. But during Monday's practice, all seemed well in regards to the two-time league MVP. It was also noted that Curry is expected to play in Tuesday's game against the Brooklyn Nets.There's nothing terribly surprising here. Curry being removed...
MORE STORIES >>
Warriors News

Delivered to your inbox

You'll also receive Yardbarker's daily Top 10, featuring the best sports stories from around the web. Customize your newsletter to get articles on your favorite sports and teams. And the best part? It's free!