We've updated our Privacy Policy.
By continuing to use this site, you are agreeing to the new Privacy Policy.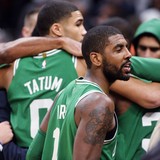 Gordon Hayward has been fueling speculation with progress videos that despite long odds, he could suit up for the Celtics before the end of the season. However, head coach Brad Stevens gave his most definitive statement to date, declaring Hayward as done for the year, Michael Singer of USA Today Sports writes."He's not playing this year," Stevens said. "I don't know what else to...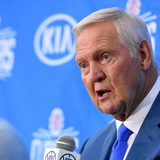 The Clippers held a special conversation with special adviser Jerry West, and Executive VP of Basketball of Operations Lawrence Frank last night. The conversation was meant to explain the trade of Blake Griffin and actions of the organization at the trade deadline. The Clippers held this for season ticket holders & team partners. This special press conference was called "The...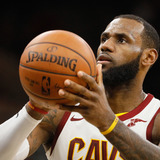 The Los Angeles Clippers have made it clear they're not going into full-scale rebuild mode after the trade of franchise big man Blake Griffin on Monday.For Doc Rivers and Co., the idea is to reload on the fly while remaining competitive. It's a plan that has not necessarily worked for other teams around the league.But following Monday's shocking trade, various suggestions have come...
LIKE WHAT YOU SEE?
GET THE DAILY NEWSLETTER: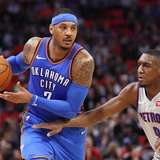 It's been quite a career for Carmelo Anthony. But if Saturday would prove anything, it's that he's not done yet.In the third quarter against the Detroit Pistons, Anthony would eclipse the 25,000-point threshold. And in doing so, would become the 21st player in NBA history to do so. But perhaps the best part about it? He would reach said milestone via free throw. There's nothing fancy...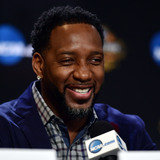 Remember the Kobe-Shaq Lakers? Moreover, remember how incredibly dominant they were? Well, Jerry West wanted even more. Turns out, he also wanted Tracy McGrady.Dear God.And ahead of the 1997 NBA draft, Lakers head coach Del Harris knew it."I don't think anybody can look at an 18-year-old and say he's a Hall of Famer," says Harris.But that isn't all."You couldn't even do that with...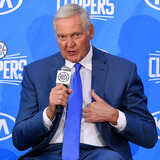 The Logo apparently would have liked to stay in the Bay.In an interview with Tim Kawakami of The Athletic that ran on Tuesday, West opened up about his departure from the Golden State Warriors."Frankly it was very sad, OK? It really was," said the Basketball Hall of Famer. "A place where I thought that if I was going to work another year or if somebody wanted me to work another year...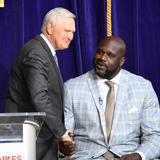 Jerry West is an institution with the Los Angeles Lakers. One of the greatest players in franchise history, he also oversaw a team that won eight NBA titles with him as an executive. It's a span that included the Showtime Lakers of the 1980s and the Kobe Bryant-led squad that won three consecutive titles earlier this century.For Lakers fans, it must be weird seeing the NBA's logo...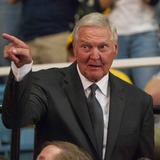 The Logo wants a role with the Los Angeles Lakers, but he is apparently not going to get it.Jerry West, who spent over 40 years with the Lakers as a player, coach, and executive, would reportedly like to return to the organization as a consultant — but no offer is coming.Mark Heisler of the Orange County Register reported that the Lakers are aware of West's desire to return, but...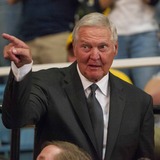 In a not-too-distant parallel universe, The Logo would be back in the Los Angeles Lakers front office right now.According to a report by Kevin Ding of Bleacher Report, Lakers legend Jerry West had interest in a return to the team, but he didn't match president Jeanie Buss' vision for the future.The 78-year-old West is of course as a big of a Lakers franchise icon as there is, playing...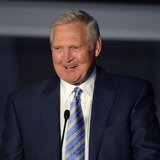 Basketball Hall of Famer Jerry West was taken to the hospital after having a medical scare on Tuesday, but he is doing better now, according to a report.TMZ Sports says West was at a country club in Los Angeles when he had a medical issue. One person said he collapsed, while another said he fell.The 78-year-old was taken to the hospital in an ambulance. He has been released and is...
MORE STORIES >>
NBA News

Delivered to your inbox

You'll also receive Yardbarker's daily Top 10, featuring the best sports stories from around the web. Customize your newsletter to get articles on your favorite sports and teams. And the best part? It's free!