Originally posted on
Sportsnaut
| Last updated 1/9/15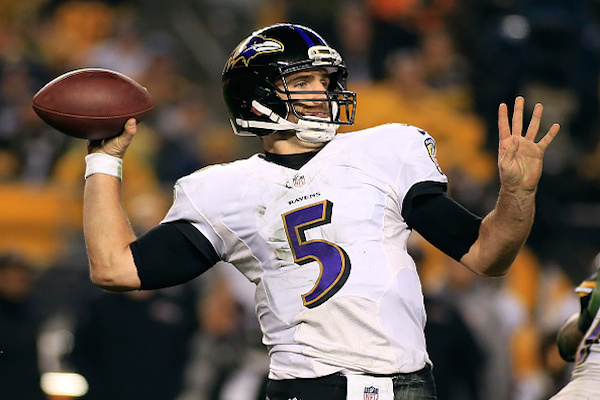 Which Joe Flacco shows up for the Ravens' showdown with the Patriots is one of the things to watch during the Divisional Round of the NFL Playoffs.
Justin K. Aller/Getty Images
By Rachel Wold
We are down to only eight teams standing as the NFL divisional playoff games take place this weekend. Four of these teams have been on a bye week, giving them the rest and preparation they need to host their opponents. Here are eight things to watch this upcoming weekend.
1. Will the good or bad version of Joe Flacco show up to play?
It's no hidden secret that the New England Patriots are favored to win in the divisional matchup this Saturday when they host the Baltimore Ravens. This means cool Joe Flacco will need to be on his "A" game when it comes to accuracy and limiting mistakes. During the regular season, we've seen games that have ranged from 166 passing yards to 345 passing yards. Flacco also achieved a five-touchdown game but has had two games with zero touchdowns. And just three weeks ago, he coughed three interceptions against the Texans. Does the "best quarterback in the NFL" show up, or will Flacco struggle? Note that the last time these two teams squared off, the Ravens won in a game that eventually led them to a Super Bowl victory just two short years ago.
2. Don't let the sweet talk between Tom Brady and Terrell Suggs fool you.
There have been nothing but niceties said between Brady and Suggs over the past few days during press conferences. We all know that Suggs wants a piece of Brady and can't wait to have him some quarterback sacks for lunch on Saturday. Hopefully, Brady's offensive line can keep him protected and out of the hands of a hungry Suggs. Someone is going down a loser on Saturday, so Suggs could be back to shouting his jealousies and hatred of Brady's hair and his attitude again soon. Or will Brady be replacing his recent compliment of Suggs is "phenomenal" with an "F"-bomb? We'll see soon enough.
3. Will the suddenly stout Carolina Panthers' ground attack keep Marshawn Lynch grounded?
Last week, the Carolina Panthers limited the Arizona Cardinals' rushing attack to a mere 27 yards. The Cardinals definitely didn't have a player of Marshawn Lynch's caliber on their team, but that's still an impressive performance right there. Additionally, during the last two games of the regular season, the Panthers allowed a total of 112 rushing yards. Lynch also struggled the last time he faced the Panthers in Week 8, managing only 62 rushing yards. Who's got the advantage here?
4. Could Steve Smith Sr. face his former team in the upcoming Super Bowl?
The odds are definitely against the Panthers and Ravens advancing this weekend. However, both could take a dramatic step towards a potential Super Bowl matchup with upset victories. How sweet would it be for Steve Smith Sr. to play against the team that abandoned him? Of course, the odds of these two teams both making it to the Super Bowl are the absolute worst as provided by Bovada sportsbook.
Patriots-Seahawks: 9/4
Patriots-Packers: 11/2
Patriots-Cowboys: 9/1
Patriots-Panthers: 25/1
Broncos- Seahawks: 4/1
Broncos-Packers: 9/1
Broncos-Cowboys: 12/1
Broncos-Panthers: 40/1
Colts-Seahawks: 14/1
Colts-Packers: 28/1
Colts-Cowboys: 45/1
Colts-Panthers: 100/1
Ravens-Seahawks: 16/1
Ravens-Packers: 28/1
Ravens-Cowboys: 50/1
Ravens-Panthers: 125/1
5. Can the Dallas Cowboys exploit Aaron Rodgers' injured calf?
The Green Bay Packers are going into their divisional playoff game with a lame horse in Aaron Rodgers, who has a torn calf. That just sounds painful when you hear the words. Rodgers' calf is a major issue for a quarterback who relies on being mobile when put under pressure. You can bet those Dallas Cowboys are going to do everything they can from blitzes to pass rushing to make Rodgers vulnerable to avoiding pressure with his athleticism. The frigid temperatures won't be any help either in softening Rodgers' calf muscle.
6. Watch out for quick shifting yellow flags and sloppy Jerry Jones hugs.
Over the past few days, there has been all sorts of controversy and half-explanations going on about the pass interference penalty that was and then wasn't between the Cowboys and Lions last week.
Just ask Matthew Stafford.
Will the Cowboys be bringing their friendly referees with them to Green Bay? Hopefully we won't see any slips of the yellow land before suddenly disappearing in front of millions of viewers with cameras everywhere.
If Dallas does manage a win over Green Bay, can we handle another sloppy, weird hug between Jerry Jones and Chris Christie? That was one of the worst sports moments ever recorded on a never-ending social media loop…
Just try not to laugh. Chris Christie and Jerry Jones share a moment #cowboys https://t.co/3qTOuXh1Tw via @vine

— Tom Knight (@TomHKnight) January 7, 2015
7. Will Peyton Manning choke?
Manning's play has been pretty shaky as of late. Additionally, the last time Manning played in a critical game was when he and the Denver Broncos were almost literally destroyed by the Seattle Seahawks in last year's Super Bowl. Should that version of Manning show up when he faces his former Colts team Sunday, it might be time for him to start looking for retirement properties or another Papa John's franchise to buy. Perhaps the bye week Manning had off gave him time to reflect over his last four games of the regular season where he only had three touchdowns and threw six picks. Yes, this is Peyton and not Eli I'm talking about.
8. Can Andrew Luck advance to a 2-1 against the Broncos?
Luck is currently 1-1 against the Denver Broncos. The Broncos are favored to win and have a high-powered offensive attack, so Luck will have to duplicate his performance from last week while finding a way to get into the end zone.
If the Luck who only threw for 456 total yards in the last three games of the regular season appears on Sunday, the Colts are going to be in trouble.
MORE FROM YARDBARKER
NFL News

Delivered to your inbox

You'll also receive Yardbarker's daily Top 10, featuring the best sports stories from around the web. Customize your newsletter to get articles on your favorite sports and teams. And the best part? It's free!