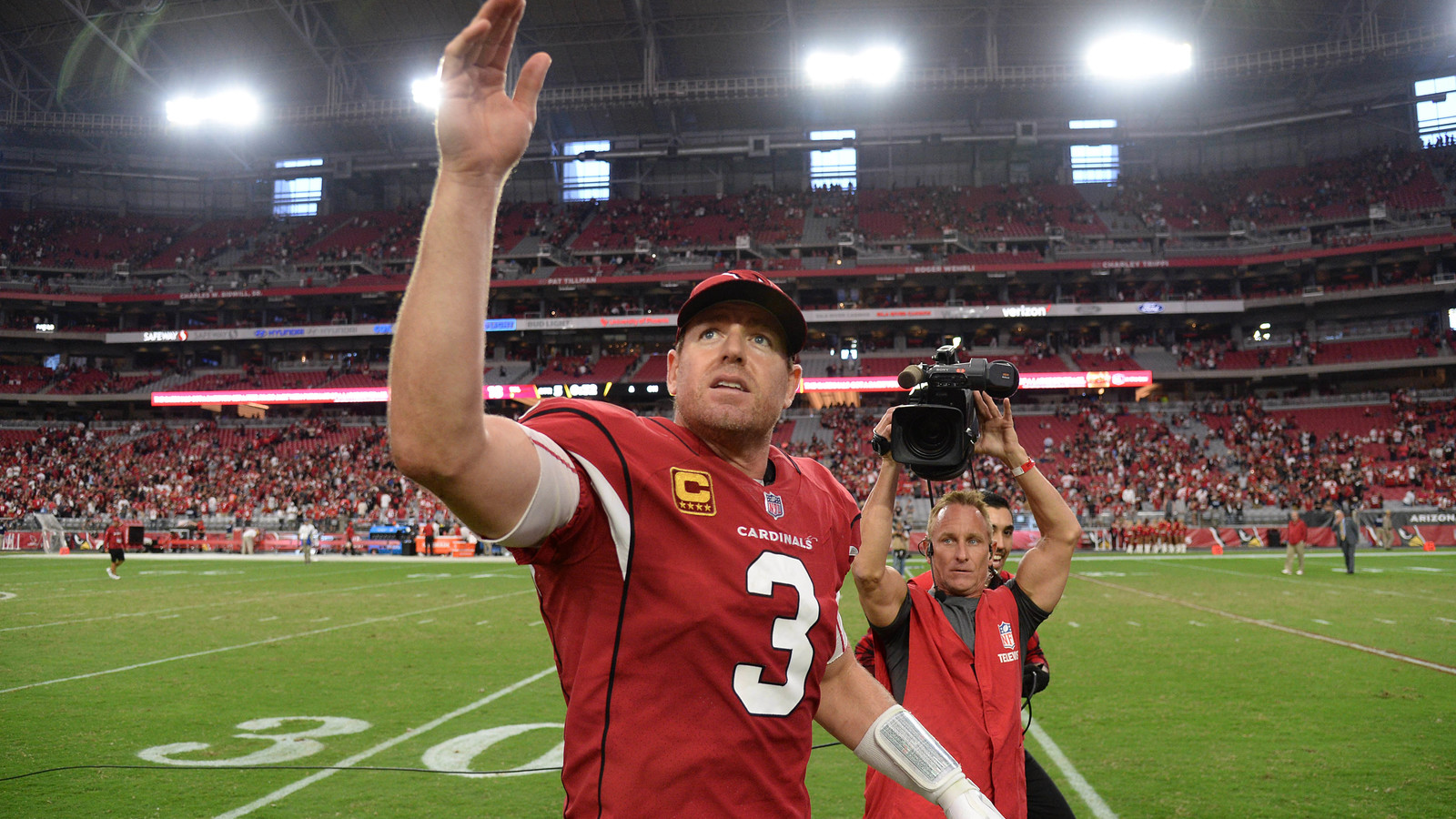 Arizona is certain to be looking for a new quarterback in the offseason.
Joe Camporeale-USA TODAY Sports
With Carson Palmer recently announcing his retirement, there is suddenly a vacancy at quarterback for the Cardinals.
So what can the Cardinals do to find his replacement? Sticking with Drew Stanton, assuming he re-signs, isn't exactly the best idea for the long-term direction of the franchise. He has not shown that he can be a capable starter in the league.
Their best options would be to either fill the position in free agency or draft their QB of the future.
Free Agency
The quarterback class is much stronger than it is most years. Sam Bradford, Teddy Bridgewater and Case Keenum—all quarterbacks for Minnesota—are on contract years. It's unlikely that all three of them stay with the Vikings.
Alex Smith is expected to become available as well—via trade—with the Chiefs investing a draft pick last year Patrick Mahomes II.
Kirk Cousins, however, would likely be the ideal target for the Cardinals. He has been franchise-tagged the past two years by the Redskins after they were unsuccessful in reaching a long-term deal. It is very likely that Cousins decides to move on from Washington and test free agency.
Being a quarterback that can set the tone for a franchise, Cousins will receive a lot of attention. However, he will be extremely picky about the franchise he accepts that attention from. He doesn't just want the money that teams like the Browns or Jets could offer him. He will be looking for a supporting cast that is already developed. Or, one that has the potential to develop quickly.
There are only two teams looking for a star quarterback in free agency that possess the supporting cast Cousins will be looking for: the Arizona Cardinals and the Denver Broncos.
With a very young group of wide receivers mentored by Larry Fitzgerald, one of the league's top running backs in David Johnson, and a defense full of stars such as Patrick Peterson and Tyrann Mathieu, Arizona could be a major contender with the right quarterback. With the retirement of Carson Palmer this offseason, they have freed up all the cap space they need to sign Cousins to the long-term deal he is looking for.
The Cardinals have all the weapons Cousins wants to surround himself with that Washington just can't offer. Arizona gives him the chance to get the contract he desires, become the NFL star he wants to be, and have the chance of making a run to the Super Bowl. The pieces are in place.
The Draft
Cardinals' GM Steve Keim told 98.7 FM Arizona Sports Station in late-October, "I would much rather draft and develop if you had your way." He was probably looking to draft a QB in this draft that could develop a year or two under Palmer. Then, have him ready for when Palmer retired. Now he is put in the spotlight as the quarterback they draft is expected to have an immediate impact.
Luckily for Keim, the 2018 Draft is full of potential at the quarterback position. Sam Darnold, Josh Rosen, Lamar Jackson, Josh Allen and Baker Mayfield are among the prospects expected to be taken in the first round.
Mason Rudolph, Luke Faulk, and Riley Ferguson are also quarterbacks that have potential, and will likely still be on the board at the end of the first-round. If Keim wants to draft a QB that could have an impact on his team, this is the draft to do so.
With the 15th pick, the Cardinals will probably not be able to get the QB they have at the top of their draft board. Darnold and Rosen will certainly be gone by the time the Cardinals' pick rolls around. Josh Allen is also likely to be drafted before No. 15.
Instead, the players Arizona could pick from might include Mayfield, Jackson and Rudolph. Much of who they select will be dependent on who they hire as their next head coach. Each head coach operates under their own offense, of course. But if Lamar Jackson is still available, there is a very good chance that he becomes their pick. Jackson has shown that he is capable of being the centerpiece for a team. Plus, he is a very athletic player that has showcased his ability to win games with both his legs and his arm.
However, if Keim wants a quarterback that resembles the style of Carson Palmer, Baker Mayfield would be a better option. He has a more accurate arm than Jackson and has a knack for making something out of nothing. The only problem with the 2017 Heisman-winner is his size. He is listed at 6′ 1″ on Oklahoma's roster, but many people believe he is shorter than that. If he measures in at less than 6′ at the NFL Combine at the end of February, his draft stock will take a huge hit.
Scouts look for height in quarterbacks so that they can more easily see over the offensive lineman in front of them and scan the field. Not many quarterbacks under 6′ 1″ have been successful in the NFL. Drew Brees has been the exception to that. But would Steve Keim take the chance that Baker Mayfield could be the next Drew Brees?
Kirk Cousins should be the first target for Keim and his Cardinals. If they are unable to get him to come to Arizona in free agency, then drafting would be their next solution. Either way, next season will be a fresh start for the franchise. One to watch as well, as the Cardinals attempt to get back into the playoffs after finishing the season 8-8.
NFL News

Delivered to your inbox

You'll also receive Yardbarker's daily Top 10, featuring the best sports stories from around the web. Customize your newsletter to get articles on your favorite sports and teams. And the best part? It's free!
PLAYERS:
Carson Palmer
,
Sam Bradford
,
Teddy Bridgewater
,
Case Keenum
,
Kirk Cousins
,
Drew Brees
,
Patrick Mahomes II
TEAMS:
Arizona Cardinals
,
Minnesota Vikings
,
Washington Redskins
,
New Orleans Saints
,
Kansas City Chiefs
,
Denver Broncos
MORE FROM YARDBARKER
NFL News

Delivered to your inbox

You'll also receive Yardbarker's daily Top 10, featuring the best sports stories from around the web. Customize your newsletter to get articles on your favorite sports and teams. And the best part? It's free!