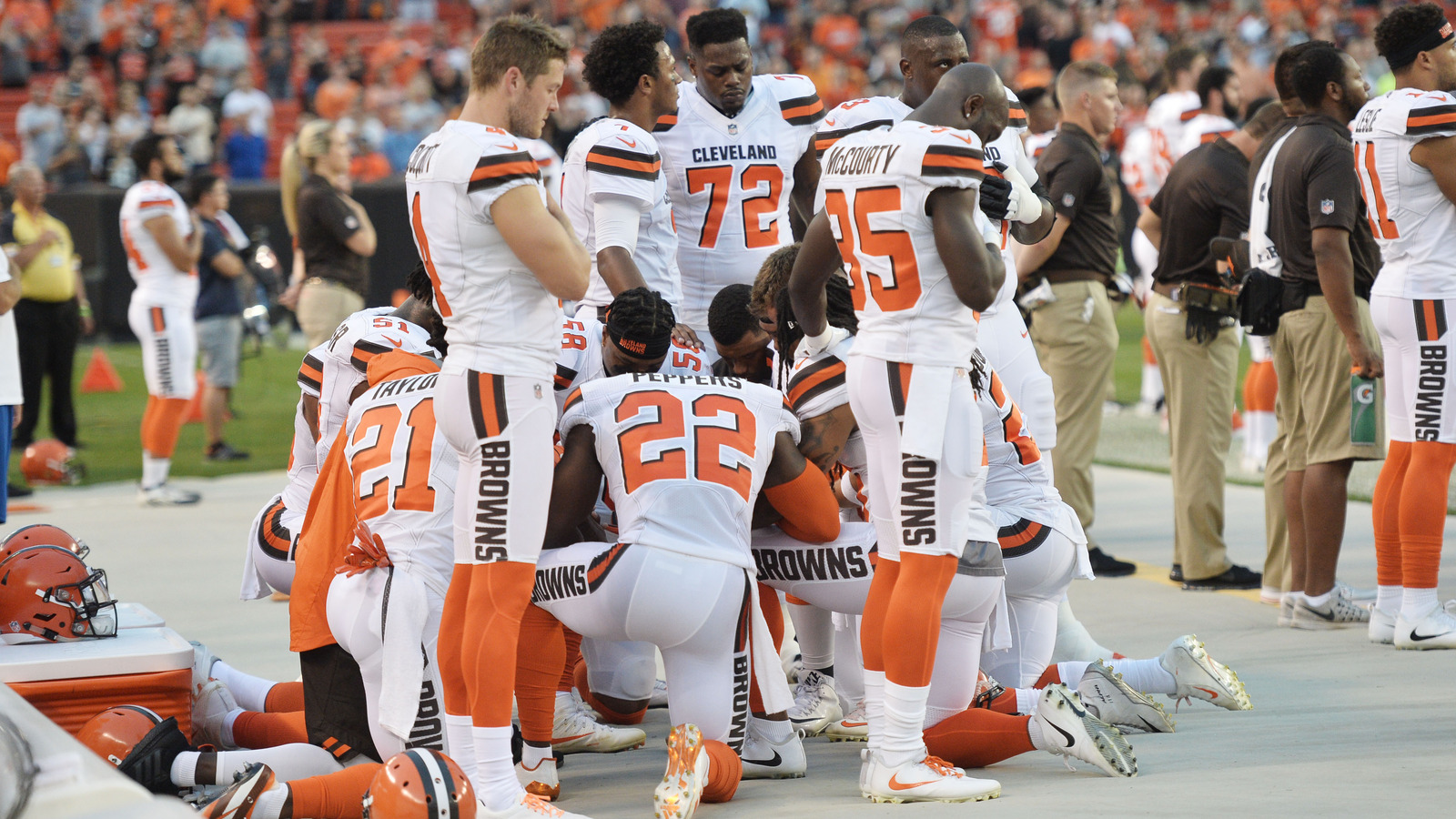 Browns players organized the largest group national anthem protest the NFL has seen.
Ken Blaze-USA TODAY Sports
More than a dozen Cleveland Browns players decided to organize a group protest of the national anthem before Monday night's preseason game, and one player who took a knee explained the motivation behind the demonstration.
Veteran linebacker Christian Kirksey says he and his teammates were praying.
"If anyone was wondering what was going on in that circle … we were praying over the country, praying over things that are going on and we tried to do it as respectfully as possible," Kirksey said, per Marla Ridenour of the Akron Beacon Journal. "We respect everything that happens with people in the military, we respect all of that. We felt it was the right time to do that."
Kirksey was among 12 Browns players who kneeled during the playing of "The Star-Spangled Banner," while five other players stood beside the group in support. Tight end Seth DeValve became the first white player to take a knee since Colin Kaepernick began his protest last season.
"I will be raising children that don't look like me, and I want to do my part as well to do everything I can to raise them in a better environment than we have right now," DeValve, who is married to a black woman, explained.
Browns head coach Hue Jackson said earlier this month that he hoped none of his players would take part in national anthem protests, but the team supported the 17 players with a statement released after the game.
MORE FROM YARDBARKER
NFL News

Delivered to your inbox

You'll also receive Yardbarker's daily Top 10, featuring the best sports stories from around the web. Customize your newsletter to get articles on your favorite sports and teams. And the best part? It's free!