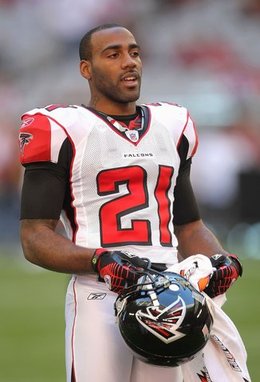 When DeAngelo Hall joined the Falcons in 2004, he had a front and center seat to the 'Michael Vick Experience', watching the dynamic quarterback take the league by storm in an almost revolutionary capacity.
Now in Washington, the veteran cornerback has the opportunity to work with another hyped signal-caller, Robert Griffin III, whom he feels might have more potential than the former one-man amusement park. (Ah, the memories.)
https://twitter.com/AdamSchein/status/210789964655509504
Granted, Vick was already well-established by the time Hall got to Atlanta, whereas Griffin has but a few practices under his belt. However, if you can looked past that, the physical similarities are unparalleled: each has a cannon attached to their shoulder, and are deadly when scrambling out of the pocket.
Hall, who went on record in April saying RG3 could become "The Prince of D.C.," has instead watched him morph into "The Arm," and is the latest teammate to sing his praises. He still may be wet behind the ears, but there's no denying Griffin, in short time, has acclimated himself quite well into the Redskins' lockerroom.
Photo: Patrick McDermott, Getty Images

Read the rest of this story...
MORE FROM YARDBARKER
NFL News

Delivered to your inbox

You'll also receive Yardbarker's daily Top 10, featuring the best sports stories from around the web. Customize your newsletter to get articles on your favorite sports and teams. And the best part? It's free!