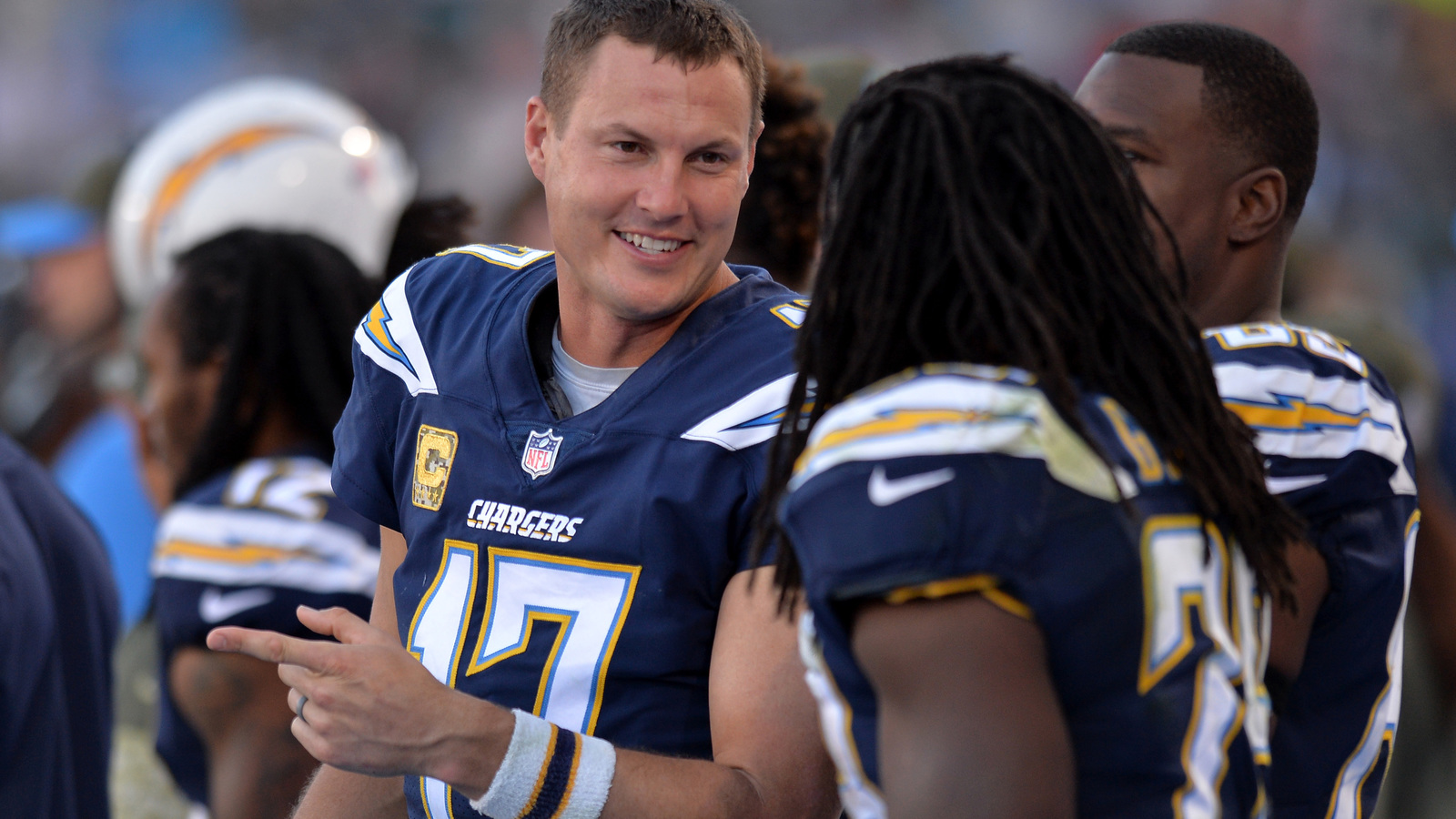 Jake Roth-USA TODAY Sports
Happy Thanksgiving weekend, all! I hope you enjoyed your meals and your football yesterday. Plus, we have much more to look forward to.
Alas, we have reached Week 12, which means we also reached the end of byes for the year. Every team has played at least 10 games to this point, and there's a good idea of who's making the playoffs and who's out of the mix. We're still six weeks out, and weirdness can still occur (i.e., Giants beating the Chiefs).
But I'm going to try my hand at predicting where every team will be at the end of the season.
NFC Playoff Predictions
1. Philadelphia Eagles (14-2)
This team looked vulnerable in the first half against the Cowboys, but that didn't stop the Eagles from outscoring Dallas 30-0 in the second half. With the third-ranked total offense and top-ranked rushing defense, I don't see them slowing down anytime soon. There's a chance they lose to the Rams or Seahawks down the stretch, of course. But it's more likely they'll lose to the Cowboys in Week 17 when they sit a bunch of players before the playoffs.
2. Minnesota Vikings (13-3)
The Vikings' dominant performance over the red hot Rams and their road Thanksgiving win over their division-rival Lions are exactly the statements Mike Zimmer wanted. We can talk all day about how this defense is among the top five in the league. However, you may be surprised to find out that the offense is also a top five unit in the league with Case Keenum at quarterback.
The Vikings average 375.7 yards per game, the highest average for Minnesota since 2009 when Brett Favre was under center. One more thing: Adam Thielen is severely underappreciated. He currently ranks second in the league in receiving yards (1,005) and has a great ability of making defenders miss.
3. New Orleans Saints (12-4)
What an achievement for the Saints for becoming the first team to win eight straight since starting 0-2. It didn't come easy as they had to rally back from a 31-16 deficit against the Redskins. There's reason to be concerned about this, especially since Washington controlled the game for 54 minutes. An injured Marshon Lattimore isn't good for them either. However, with the way they've been playing, I would be shocked if this team isn't hosting a playoff game come January.
4. Los Angeles Rams (11-5)
Tough blow for the Rams to lose Robert Woods for a few weeks. He's easily been their best wide receiver this year, despite the team having a plethora of weapons. This team is about to hit a speed bump as I don't think the Rams will be be able to beat the Saints or Eagles. However, I think the Rams can get revenge on the Seahawks, who will be without Richard Sherman and Kam Chancellor. With that victory, they should cruise to an NFC West title and host the first playoff game in Los Angeles since the 1993 season.
5. Carolina Panthers (11-5)
It feels like this team is about to go on a run. The defense has been incredible all year, and the offense is starting to catch up. Christian McCaffrey is becoming a star, especially in the passing game. The Panthers are about to get their best pass catcher back in Greg Olsen. Considering their schedule, this team should have at least 10 wins by the end of the season. Side note: This NFC is so deep. With how fun these teams are, I'm more excited for the NFC playoff rounds than the actual Super Bowl.
6. Atlanta Falcons (10-6)
There's plenty of options here, but the most realistic team to make it to the playoffs is the team that is rebounding from 4-4. The offense looks like it's finally starting to get going, though the Falcons almost blew another lead against the Seahawks. Their defense has come up huge in the last few weeks as well, from veteran Adrian Clayborn to almost Super Bowl LI MVP Grady Jarrett. Having the Saints x2, Vikings and Panthers on your schedule will be tough to deal with, but winning half of those games should get them in.
Remaining NFC Standings:
7. Washington Redskins (9-7)
8. Detroit Lions (9-7)
9. Dallas Cowboys (8-8)
10. Seattle Seahawks (8-8)
11. Green Bay Packers (7-9)
12. Chicago Bears (5-11)
13. Tampa Bay Buccaneers (5-11)
14. Arizona Cardinals (4-12)
15. New York Giants (3-13)
16. San Francisco 49ers (2-14)
AFC Playoff Predictions

1. New England Patriots (14-2)
I mean, would anyone be surprised if the Patriots, who started the season 2-2, won 12 straight? The Steelers stand in their way, which could be the ultimate test. But come on, do we really see this team losing to a bad Dolphins team, a sputtering Bills team or a rebuilding Jets team? Stranger things have happened in the NFL. However, Tom Brady is the leader in the MVP race, having a career year at age 40. The indestructible man alone will get this team to the top seed. And that "terrible" defense the team has? It's allowed 12 points per game during their six-game win streak.
2. Pittsburgh Steelers (13-3)
This team is possibly the only threat to the Patriots in the AFC. This team's strength is the defense, ranked fourth in the NFL. Unfortunately, the offense has been a drag all season. However, an incredible offensive performance against the Titans, especially by Antonio Brown, may be the kick in the pants that gets this team going. Outside of the Patriots, the only team I could see beating the Steelers down the stretch is the Ravens, but that would take a Ravens offensive overhaul. Pittsburgh is looking really good for January and probably a bye.
3. Jacksonville Jaguars (12-4)
After an up and down start to the season, the Jaguars seem to have finally found their groove. While their total defense was already among the best in the league, the addition of Marcell Dareus has been a crucial part of the team's four-game winning streak, making a drastic difference in the rush defense. As for the offense, Blake Bortles does not get as many opportunities to make mistakes. He can just hand it off to Leonard Fournette, who just had his fourth 100-yard rushing game this season. The upcoming schedule is really easy for the Jaguars. They just have to avoid hurting themselves in games.
4. Kansas City Chiefs (11-5)
I just don't think this Chiefs team can suck forever. Yes, they just lost to the Giants. No, they shouldn't have. But Andy Reid needs to get his team, which has all the talent it had during their 5-0 run, back on track and winning games. The Chiefs should beat the Bills and Jets over the next two weeks. The Raiders always play the Chiefs tough, and the Chargers look like the better AFC West team. So I'll say they lose one of the two, but the Dolphins and Broncos? Both have been really bad during the last few weeks, and it would be a shame if the Chiefs lost against them. I have them winning the division, albeit barely.
5. Tennessee Titans (11-5)
I can't figure out this Titans team. Tennessee is good enough to keep winning games, especially with an easy stretch, but the Titans haven't really been all that great either. The running game isn't as strong as it was last year, and Marcus Mariota is throwing too many interceptions. Their defense has been pretty good and has kept them in games, but it's not close to dominating games. This team will get into the playoffs with an easy schedule, but it'll really have to improve to make it to the divisional round.
6. Los Angeles Chargers (10-6)
WOW! The Chargers made a statement on Sunday, and it felt like we saw the team that we've waited for since preseason. Joey Bosa and Melvin Ingram are two of the best pass rushers in the league, and Philips Rivers is starting to get his offense on track. I could definitely see this team making a run now that it also just took care of the Cowboys. It won't be easy with teams like the Chiefs and Redskins still on the schedule, but I have faith that this team will win out and be a tough opponent come January.
Remaining AFC Standings:
7. Baltimore Ravens (9-7)
8. Buffalo Bills (8-8)
9. Oakland Raiders (7-9)
10. Houston Texans (6-10)
11. Cincinnati Bengals (5-11)
12. Indianapolis Colts (5-11)
13. Denver Broncos (5-11)
14. New York Jets (4-12)
15. Miami Dolphins (4-12)
16. Cleveland Browns (1-15)
Super Bowl Prediction
I say the Eagles and Patriots are destined to meet each other in Minneapolis this February, but I hope I'm wrong. It's not fun when the top seeds of each conference make it to the championship because it's expected.
So I'll throw a sleeper pick out there: Vikings versus Jaguars.
NFL News

Delivered to your inbox

You'll also receive Yardbarker's daily Top 10, featuring the best sports stories from around the web. Customize your newsletter to get articles on your favorite sports and teams. And the best part? It's free!
PLAYERS:
Mike Zimmer
,
Brett Favre
,
Adrian Clayborn
,
Grady Jarrett
,
Tom Brady
,
Marcell Dareus
,
Andy Reid
TEAMS:
Minnesota Vikings
,
Atlanta Falcons
,
New England Patriots
,
Jacksonville Jaguars
,
Kansas City Chiefs
,
Philadelphia Eagles
,
Carolina Panthers
,
Washington Redskins
,
Detroit Lions
,
Dallas Cowboys
,
Seattle Seahawks
,
Chicago Bears
,
Arizona Cardinals
,
Pittsburgh Steelers
,
Tennessee Titans
,
Los Angeles Chargers
,
Baltimore Ravens
,
Buffalo Bills
,
Oakland Raiders
,
Houston Texans
,
Cincinnati Bengals
,
Indianapolis Colts
,
Denver Broncos
,
Miami Dolphins
,
Cleveland Browns
,
New Orleans Saints
,
Los Angeles Rams
,
Green Bay Packers
,
Tampa Bay Buccaneers
,
New York Giants
,
New York Jets
MORE FROM YARDBARKER:
QUIZ: Name the last Pro Bowl QB for each NFL team
An invitation to the Pro Bowl recognizes great play throughout the season. Can you name the last Pro Bowl quarterback for each NFL team?
CLUE: TEAM / YEAR
MORE FROM YARDBARKER
NFL News

Delivered to your inbox

You'll also receive Yardbarker's daily Top 10, featuring the best sports stories from around the web. Customize your newsletter to get articles on your favorite sports and teams. And the best part? It's free!