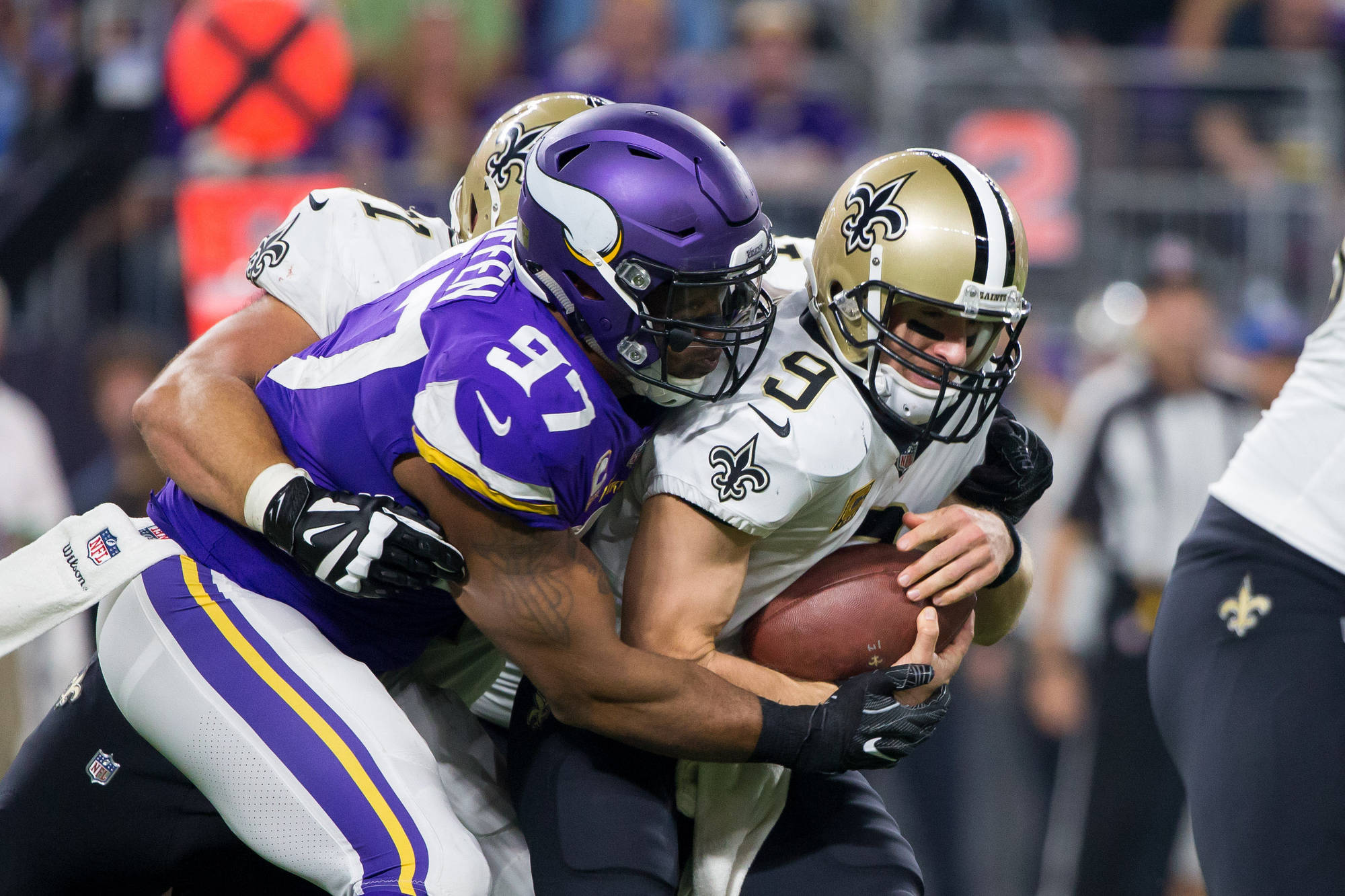 Brad Rempel-USA TODAY Sports
Last weekend began with 12 teams having a chance to make it to Super Bowl XLII. Today, there are four fewer teams in the dance. Tennessee, Atlanta, Jacksonville and New Orleans would extend their season for at least another game. Meanwhile the Chiefs, Rams, Bills and Panthers join 20 others watching from home.
Which team impressed me the most in the wild card round? That would be the New Orleans Saints. They are a scary team right now as long as Drew Brees is under center. Does anyone realize how good he really is? He's got career numbers that rival the best quarterbacks of all time. I'm sure the San Diego/Los Angeles Chargers are sorry they ever let him get away. Based on how the Saints disposed of the Panthers last Sunday, they gave the look as though they can play with any of the other teams remaining.
But the least impressive team? That would be Jacksonville. Neither the Jags nor Bills could muster much offense. And combined, they punted the ball back and forth 17 times. This was a result of not just good defense, but more so terrible offensive production. Regardless, the favored Jags did enough to win.
Now, summations of all four games and how I see the divisional games panning out after I correctly picked Atlanta, Jacksonville, and the Saints as wild card winners. I missed the Titans/Chiefs result—as most people did—thinking there was no way Tennessee would win on the road in Kansas City.
Tennessee 22, Kansas City 21 (My pick — Chiefs 34, Titans 7)
Not just blowing a 21-3 lead, the Chiefs also lost their sixth straight home playoff game. That's an NFL record. Despite getting knocked out of the playoffs for the third straight season, it appears Andy Reid retains his job. Additionally, Alex Smith may return for another season—meaning Patrick Mahomes would ride the bench for at least one more year.
Meanwhile, the Titans pulled the unthinkable. It's hard to fathom that a team 's success rides entirely on the shoulders of one man, but that is what appears to have happened to Kansas City when Travis Kelce left the game with an injury. Without him, the Chiefs' offense became inept. New England Patriots fans are thrilled with the result however, as New England now gets the Titans and not Kansas City—who had beaten the Patriots earlier in the season.
Atlanta 26, LA Rams 13 (My pick — Falcons 27, Rams 24)
The Falcons live to see another day. But can they make their way through the NFC and get another shot? Experience probably played a factor in this game. And despite having Todd Gurley in their backfield, Jared Goff could not outplay Matt Ryan. So Atlanta will now go on and attempt to take down the No. 1 seed in Philadelphia. The Rams had one of the most surprising seasons in the NFL this past season. They certainly have nothing to hang their heads about.
Jacksonville 10, Buffalo 3 (My pick — Jaguars 17, Bills 10)
A real snoozer. One touchdown, 17 punts, and ridiculously poor quarterback play.
Blake Bortles had a per-game rushing average of 20.1 in 2017. Against Buffalo, he finished with 88 yards—out-gaining his passing total of 87 yards. The Jags would manage just 15 first downs. And despite winning the game, they would fall short of Buffalo in total yardage—263-230. Jacksonville was awful on third down as well, converting just two of 12.
While the Jaguars did not lose any fumbles, they coughed the ball up three times. Buffalo was no better. On 18 third downs, the Bills created a first down just seven times. Tyrod Taylor was no better than Bortles either, finishing with just 134 yards passing and one interception. Jacksonville now gets the rematch that Ben Roethlisberger wanted so badly.
New Orleans 31, Carolina 26 (My pick — Saints 33, Panthers 24)
Here you have what might be the most dangerous team in the entire playoff pool. The Saints and Drew Brees are on fire and the score doesn't reflect how much better New Orleans were on Sunday. But Brees is the key. When the greatest quarterbacks of all time are mentioned, you often don't hear Brees' name. You'll hear Brady, Manning, Marino and even Unitas.
But ponder this—Drew Brees set an NFL record this season by completing 72 percent of his passing attempts. His 488 career touchdown passes tie him with Tom Brady for third-highest all-time. Another 51 of those and he ties the all-time leader Peyton Manning. Next season he will become the all-time leader in passing yards. Brees is so good that he has made the New Orleans offense potent to the degree that if they upend the Vikings this weekend, they are probably Super Bowl bound.
For the Panthers, they just didn't have enough weapons. Not to mention, their defense is not what it used to be. So it's simple—the better team won this game.
With the wild card round in the books, now comes the divisional round. For the eight teams remaining, they know they are just one win away from being on Super Bowl XLII's doorstep. I take my 3-1 playoff record into the next round and forecast this weekend's games.
Atlanta at Philadelphia
The Falcons are one team no other squad in the NFC wanted in the postseason. But here they are, still alive and fighting to repeat as NFC champions. The Eagles lost Carson Wentz to injury, so many Eagles fans are holding their breath and hoping former starter Nick Foles can lead them to their third Super Bowl in history. Philadelphia has lost both Super Bowls they've played in and as most fans know, they also made three straight NFC championship games from 2001-2003 only to lose them all.
Back inn 2008, the Eagles would also lose in that NFC title game. Now Philadelphia, while having home-field advantage, must fight off a very determined Atlanta team.
Final: Falcons 31, Eagles 21
Tennessee at New England
The Titans shocked the Chiefs on their field. Can they do it again in New England? NO ONE will be picking Tennessee to win this one. An upset here would be monumental.
Meanwhile, New England loves the result that took place in Arrowhead and welcomes the Titans to their stadium with open arms. It would be absolutely shocking if Tennessee pulls the upset. But with how this season has gone, anything is possible. The Patriots should simply have their way with an undermanned Titans team. A Patriots victory sets up yet another possible New England/Pittsburgh AFC tilt.
Final: Patriots 37, Titans 13
Jacksonville at Pittsburgh
Ben Roethlisberger gets his wish and Jacksonville's A.J. Bouye responded to Big Ben's desire to play the Jaguars in their first playoff game by saying:
"Be careful what you wish for. This is what he wanted, so this is what he is going to get. We remember the Week 5 game. … they are going to be motivated. We are, too. Everybody thinks we're not going to do it again. We know what we're capable of. We're looking forward to it."
For Steelers fans, they know full well that in the third quarter with just 6:38 to go in that period of the 30-9 victory Bouye speaks of, the Steelers were actually leading 9-7. Then the floodgates opened. Two consecutive interceptions for touchdowns by Jacksonville put the game on ice. A mop-up late 90-yard touchdown run by Leonard Fournette proved meaningless, of course. But if you take away those two lethal interceptions and the Steelers stop Fournette in his tracks, the game actually would have been 9-9.
The Steelers will be ready this time. Antonio Brown is back and at 100 percent. Following that loss to Jacksonville, the Steelers reeled off eight straight victories. It should have been 11 if not for the Jesse James non-touchdown catch against New England.
This is very much a different team than the one Jacksonville saw the first time around. Le'Veon Bell is also healthy for the Super Bowl run. Plus, JuJu Smith-Schuster is having a sensational rookie campaign. There is no more Martavis Bryant drama and he has been making plays. Simply put, on offense the Steelers just have too many weapons.
On defense, expect Pittsburgh to crowd the line of scrimmage to stop the run and make Blake Bortles pass his way to victory. If Bortles plays as he did against Buffalo, the Jaguars are in very serious trouble. Watch for extreme pressure on Bortles as Joe Haden makes his first playoff appearance of his career. Not taking anything away from Jacksonville's defense, they are outstanding. But the onus will be fully on them to win this game.
Final: Steelers 31, Jaguars 17
New Orleans at Minnesota
How good are the Vikings? Is Case Keenum playing above his head? The Vikes lost just three games all season and met the Saints on opening day—winning 29-19. But many things have changed since that September 11 game and New Orleans is the hottest team in the playoffs right now.
Minnesota had the NFL's best defense during the regular season while the Saints had the second-best offense. Something's gotta give. It will be a noisy dome in Minneapolis, site of Super Bowl XLII. No team has ever hosted a Super Bowl and also played in it. This could be the year that changes. With two weeks rest, the Vikings will be ready and this game should be a great one to cap off the divisional playoff weekend.
Final: Saints 34, Vikings 31
NFL News

Delivered to your inbox

You'll also receive Yardbarker's daily Top 10, featuring the best sports stories from around the web. Customize your newsletter to get articles on your favorite sports and teams. And the best part? It's free!
MORE FROM YARDBARKER
NFL News

Delivered to your inbox

You'll also receive Yardbarker's daily Top 10, featuring the best sports stories from around the web. Customize your newsletter to get articles on your favorite sports and teams. And the best part? It's free!