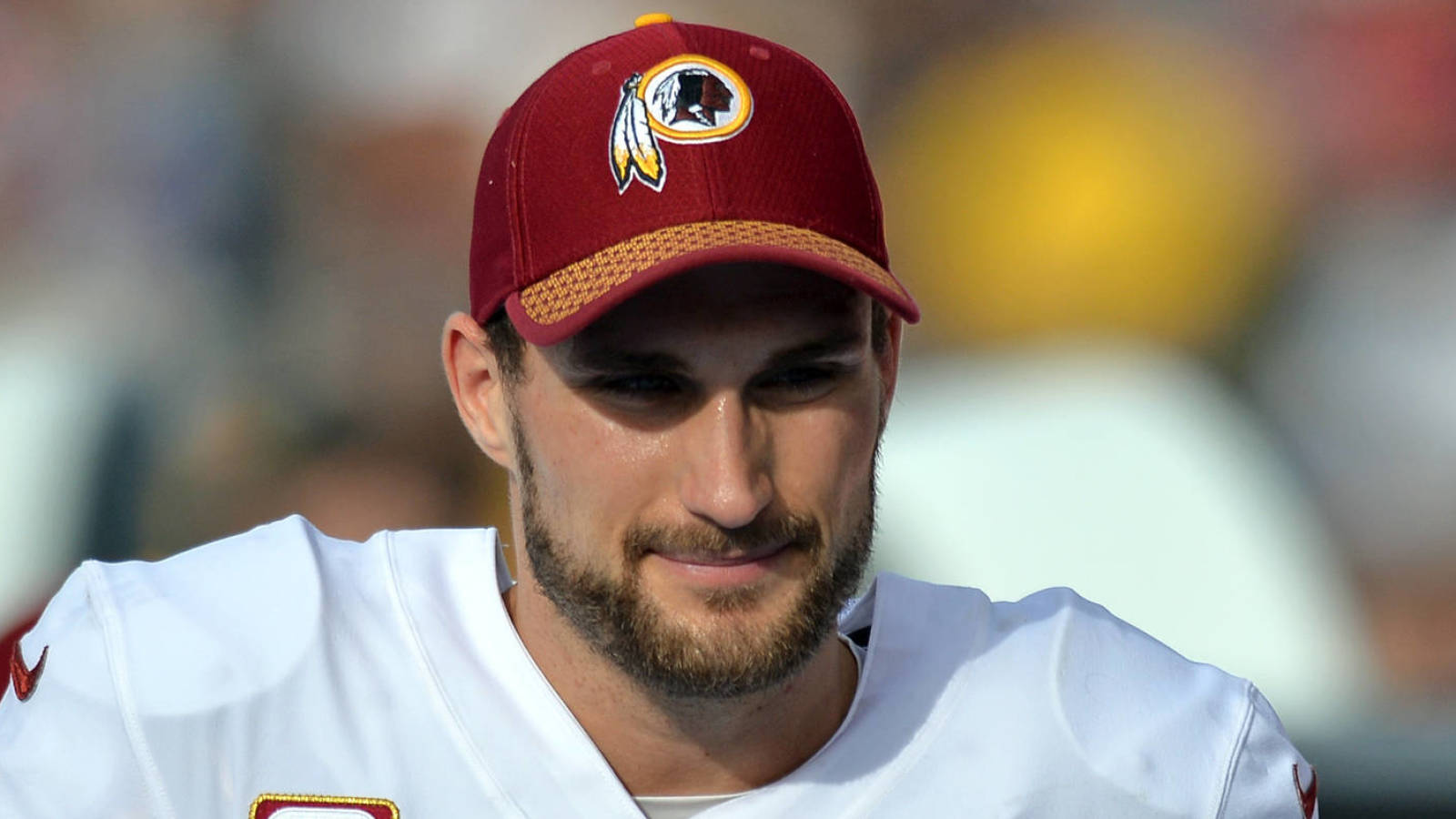 Jake Roth-USA TODAY Sports
NFL free agency is fast approaching, with action happening daily. The market is strong this season, and it includes a few top quarterbacks, which will be particularly intriguing on the market.
Who are the best players available? Here are the 15 best players currently poised to hit the open market when the free agency period starts.
1. Drew Brees, QB
No, Brees isn't leaving New Orleans — his coach has already said so. Still, he's a prospective free agent who's going to have to land on this list. Some of the 39-year-old's numbers dropped in 2017, most notably his 4,334 passing yards and 23 touchdowns down from where he's been for much of the last decade. He still led the Saints back to the playoffs, completed 72 percent of his passes, and looked every bit as controlled as he always has. The Saints will be thrilled to keep him as long as he remains effective.
2. Kirk Cousins, QB
Cousins is the best of the actually available quarterbacks on the market, and he'll draw enormous interest from a number of teams. Questions linger as to whether he's actually the elite franchise quarterback his next team will hope he is, but he's certainly put up the kind of gaudy numbers that make teams salivate. In his three full seasons as Washington's starter, he's averaged 4,392 yards, 27 touchdowns, and 12 interceptions per season. He already has one playoff team interested, with the high-ceiling Denver Broncos in tow, plus a big-money offer from the New York Jets likely incoming as well.
3. Andrew Norwell, G
Indisputably, Norwell is the best available offensive lineman in this year's free agent class. He's coming off an All-Pro season, having been a consistent, elite performer for the Carolina Panthers' offensive line. The Panthers probably won't be able to afford to keep him, opening the door to a free agent frenzy for the 26-year-old who didn't allow a single sack all season. Pretty much any team with the cap space and the need for a guard will be looking his way, which should result in a robust market. The Giants could be a suitor for him.
4. Case Keenum, QB
Is Keenum a franchise quarterback or a guy who took advantage of a favorable system and a good defense that set him up for success? That's the question that interested parties will have to answer, as it's becoming abundantly clear that the Minnesota Vikings are going to look in another direction for their long-term quarterback solution. Keenum's numbers certainly look legitimate — he won 11 of his 14 starts, threw for 22 touchdowns against just seven interceptions, and totaled up 3,547 yards. He could be a good backup plan for the teams that lose out on the Cousins sweepstakes.
5. Allen Robinson, WR
Robinson looked poised for stardom after a 2015 season that saw him catch 14 touchdowns and rack up 1,400 yards receiving. He failed to live up to those numbers in 2016 and followed it up by playing in just one game in 2017 before tearing his ACL. It was a devastating blow for Robinson, and it makes him something of a wild card heading to free agency. The Jaguars know what they have and would like to keep him, but if he does hit the market, the memory of 2015 will still linger in the minds of many teams. He is, after all, just 24, and nobody's going to be giving up on him yet.
6. Dion Lewis, RB
Is Dion Lewis a quality running back or another player who has the best brought out of him by the Patriots' system? That's the multi-million dollar question some team is going to have to answer. Lewis' potential is clear; he can hurt you in many different ways. Of his ten total touchdowns in 2017, six came on the ground, three in the passing game, and one on a punt return. That versatility will attract many teams and probably make him too costly for the Patriots, but he still faces questions about his size and has an injury history. He's a gamble, but a talented one.
7. Trumaine Johnson, CB
The Rams' decision to trade for Marcus Peters should more or less seal Johnson's fate. He's set to become a free agent after a strong season in which the 28-year-old had 57 tackles, 13 passes defended, and two interceptions. The Bears transition tagging Fuller makes Johnson the top free agent cornerback on the market. He's young enough, he's talented enough, and he's a good enough athlete that teams will be queuing up for his services.
8. Teddy Bridgewater, QB
Bridgewater will be one of the great mysteries of this free agent class. He could've topped this list if not for the devastating knee injury that has cost him two full seasons, leading to him becoming a free agent at 25 with many question marks. He's smart, he's physically gifted, and he's immensely talented, but nobody has any clue how he'll look after two years away from the game. A team like the New York Jets could certainly do far worse, but make no mistake, signing Bridgewater will be a big risk for whoever does it. It could just come with massive reward.
9. Malcolm Butler, CB
Whatever happened this past year, Butler can at least lean on very strong 2015 and 2016 seasons, and that should be enough to draw in many interested parties. His 2017 wasn't as good, and he's going into free agency on a very sour note after his abrupt Super Bowl benching. That may not be held against him in free agency, but he's still not entering on a high. It might not matter — his resume will be enough to attract wide interest, though it's pretty much a certainty he won't be going anywhere near New England again.
10. Bashaud Breeland, CB
There's a lot to like about Breeland. The 26-year-old defended 19 passes last season, has plenty of talent, and has been a starter for Washington since pretty much day one. Of course, he's also been inconsistent and at times frustrating for a team and fanbase that feels that he hasn't hit his full potential. Breeland will likely land elsewhere next season, and he's not a sure thing, but he has enough talent to ensure that a new team — and a change of scenery — could end up getting a really good corner.
11. Sheldon Richardson, DE
On talent alone, Richardson should be much higher on this list. The 27-year-old defensive tackle had eight sacks in 2014 and looked like he was on the way up, but his career has stagnated and he wasn't always a great teammate when he was with the New York Jets. A trade to the Seattle Seahawks prior to last season did nothing to reinvigorate his career, as he collected just one sack. Someone will take a chance on the talent — maybe even his old team — and perhaps they'll be rewarded. It's in there, but he's been trending in the wrong direction.
12. Jimmy Graham, TE
Graham is no longer the superstar that he was when with the New Orleans Saints, but discount him at your own peril. He's great as a red-zone threat, as evidenced by the ten touchdowns he reeled in for the Seattle Seahawks last season. That was his best single-season total since leaving New Orleans, which should offer some encouragement for potential free agent suitors. He's 31, which is a touch worrisome, but he's still producing, even if not at the levels he once was.
13. E.J. Gaines, CB
Gaines wasn't expected to be much when the Bills acquired him in the Sammy Watkins trade. He ended up establishing himself as a starter, and he was a steady contributor to a playoff defense. Guys like that get paid, especially when they play cornerback, so don't be surprised if Gaines lands himself a nice contract this offseason. He's had some injury issues, but he's certainly done well to establish himself as a good option.
14. Star Lotulelei, DT
Lotulelei isn't a downright elite player, but he's been a steady, reliable starter on what has ranked as one of the league's elite defenses over the last several years. There's definitely a market for guys like that, especially people who can plug up the middle and help pressure a quarterback, even if they aren't the ones collecting the sacks. Lotulelei does have 11.5 of them in his career, plus 88 tackles over his five NFL seasons. He won't anchor anyone's defensive line, but he can certainly contribute.
15. Sammy Watkins, WR
Watkins is inevitably still being measured against the expectations that he came into the league with, and he has not met them. That said, he's still a productive receiver who was good enough that the Rams considered using the franchise tag on him. In his season with the Rams, he underwhelmed with 593 receiving yards, but managed eight touchdowns, making him a valuable red zone contributor. Someone will find use for him, even if he isn't the superstar everyone hoped he would be.
NFL News

Delivered to your inbox

You'll also receive Yardbarker's daily Top 10, featuring the best sports stories from around the web. Customize your newsletter to get articles on your favorite sports and teams. And the best part? It's free!
MORE FROM YARDBARKER
NFL News

Delivered to your inbox

You'll also receive Yardbarker's daily Top 10, featuring the best sports stories from around the web. Customize your newsletter to get articles on your favorite sports and teams. And the best part? It's free!