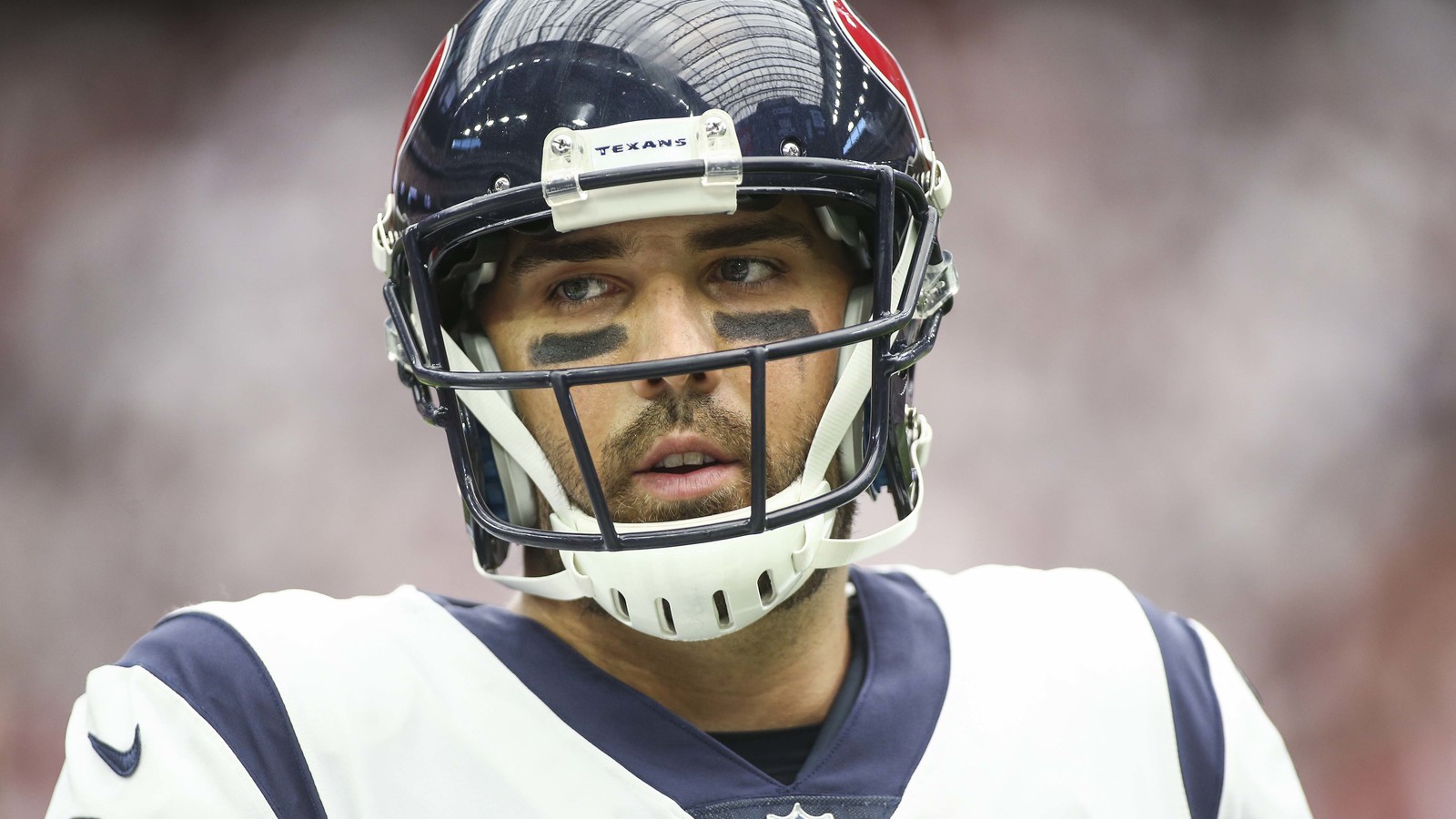 Sep 10, 2017; Houston, TX, USA; Houston Texans quarterback Tom Savage (3) reacts after a play during the second quarter against the Jacksonville Jaguars at NRG Stadium. 
Troy Taormina-USA TODAY Sports
Tom Savage may not have many people on his side after Sunday's performance, but his agent came to his defense on Wednesday.
Savage was benched after halftime in favor of rookie Deshaun Watson during Sunday's loss to the Jaguars. Savage completed 7-of-13 passes for 62 yards and was sacked six times during his time as the quarterback.
Savage did little to impress the Texans or their fans. However, his agent Neil Schwartz does not understand why his client was given such a quick hook.
"I'm still trying to figure this out. 31 plays and you're getting benched?" Schwartz told Mike Florio of ProFootballTalk. "It makes no sense."
Schwartz went on to say he had an issue with the benching because of what Savage did to earn the job during the offseason and leading up to the Texans' opening game.
"Tom earned the right to be the starter," Schwartz contined. "It wasn't given to him. And he's worked hard every day in training camp and the exhibition season to be the starter, on the field and off the field, to maintain a leadership role. After 31 plays, you bench him? I have an issue."
"I wanted to defend Tom and this was my choice," Schwartz said. "I spoke to Tom and he was OK with it and comfortable. Someone had to defend Tom and I didn't feel the coaching staff defended Tom or defended his performance.
Savage was the beneficiary of a quarterback benching last season when Bill O'Brien brought Savage in during a game against the Jaguars and removed Brock Osweiler. Savage started the following game against the Bengals.
This time, Savage is on the other side as it appears Watson will get the start for Houston's Week 2 game against the Bengals.
MORE FROM YARDBARKER:
QUIZ: Name every prominent quarterback in the history of the Houston Texans
While there are a few obscure quarterbacks who threw passes for the Houston Texans, the QBs featured in this quiz were the 'top passer' for the team that year, according to the number of yards passing. As an expansion team originating in 2001, the Texans have only had 5 quarterbacks, but have struggled to find a real star. How many of them can you name?
Clue: Years active
MORE FROM YARDBARKER
Texans News

Delivered to your inbox

You'll also receive Yardbarker's daily Top 10, featuring the best sports stories from around the web. Customize your newsletter to get articles on your favorite sports and teams. And the best part? It's free!