We've updated our Privacy Policy.
By continuing to use this site, you are agreeing to the new Privacy Policy.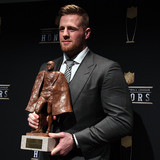 Houston Texans defensive end J.J. Watt has a collection of personally created footwear and apparel through his sponsorship with Reebok. As such, Watt received this tweet from a retired military veteran asking if the specially created Reebok shoes would help with his bad knee and back. Not only did Watt endorse his shoes as "phenomenal," he offered to send the veteran a free pair...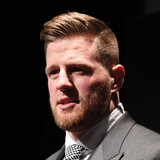 Houston Texans defensive end J.J. Watt, who ranked No. 50 on the SNIPdaily NFL Top 100 this past year, is doing some tremendous things to help his community.Watt's efforts of 2017 to raise money for the victims of Hurricane Harvey are over, but the work did not stop there. Watt has been diligently working with families to help rebuild homes that were destroyed by that devastating...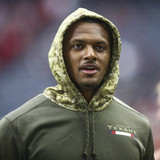 The rehabilitation of Houston Texans superstars J.J. Watt and Deshaun Watson appears to be going extremely well based on a short video clip Watt posted Thursday morning.Here's the two of them running from one end of a football field to the other, looking quite comfortable, we might add. No limps to speak of, and both look light on their feet.If Houston is going to have a big season...
LIKE WHAT YOU SEE?
GET THE DAILY NEWSLETTER: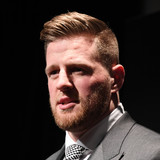 There are a couple of schools of thought running around right now when it comes to high-profile athletes. Some believe they should "shut up and dribble," staying out of politics and social issues altogether and acting as pure entertainment for the masses. Others believe athletes should use their platforms to speak up on those types of issues.It's safe to say we can place Houston...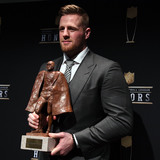 JJ Watt knows a fake when he sees one — especially when it comes to his autograph.A fan sent Watt a tweet on Thursday showing a photo of an autographed football purportedly given by the Houston Texans defensive lineman to a charity. However, as Watt noted, the autograph is a phony and doesn't even spell his name right. It's spelled "Watts" instead of "Watt" on the ball. Watt also...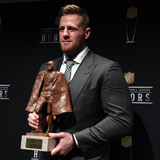 Houston Texans defensive end J.J. Watt received an award on Tuesday for his fundraising efforts after Hurricane Harvey rocked Houston and the surrounding areas.Naturally, the Texans PR Twitter page proudly recognized Watt's accomplishment. Things took a bit of a contentious turn afterwards.While acknowledging Watt as a "great man," an adult cake maker in Houston noted that neither...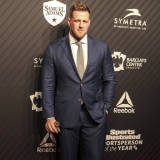 Houston Texans superstar J.J. Watt has done so much more off the field than he was able to do on it during the 2017 season. He's a finalist for the Walter Payton NFL Man of the Year award, thanks to his monumental efforts helping raise over $37 million to help in the Hurricane Harvey relief efforts.Watt has already helped some folks move into their homes after they were destroyed...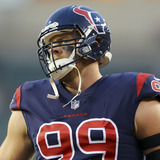 J.J. Watt punctuated Houston's 13-9 win over the Cincinnati Bengals on Thursday night with a big hit to end the game.The Bengals were down to their final play at their 20 and needed to go 80 yards to win the game. They were too far for a Hail Mary, so they tried to run a play involving multiple laterals. They were slowly progressing up the field one lateral at a time, until Watt...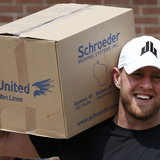 Not everyone is enjoying a relaxing Labor Day Weekend, which we recently learned on Twitter.Texans defensive end J.J. Watt and his teammates have been doing whatever they can to help provide aid to the victims of Hurricane Harvey. Watt shared a photo on Sunday morning showing a warehouse filled with donations — food, water, stocks, clothing and supplies. If you thought that's a lot...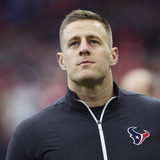 JJ Watt is the latest athlete to weigh in on NFL Network's annual Top 100 players list — and his comment about it is not positive.The Houston Texans defensive end only played in three games last season because of a back injury that required surgery, but he still was ranked No. 35 on the list, as voted on by the players. In light of that, Watt called the list "a joke." Watt is a three...
MORE STORIES >>
Texans News

Delivered to your inbox

You'll also receive Yardbarker's daily Top 10, featuring the best sports stories from around the web. Customize your newsletter to get articles on your favorite sports and teams. And the best part? It's free!