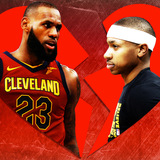 It's Valentine's Day, so you would assume the levels of love in the air would be elevated today. However, it would seem that no one told NBA players this, as the week following the league's trade deadline has been filled with the airing of grievances, most of which are of the petty variety.In Detroit, Blake Griffin refused to shake hands with his old squad following a loss, while...
MORE STORIES >>
NFL News

Delivered to your inbox

You'll also receive Yardbarker's daily Top 10, featuring the best sports stories from around the web. Customize your newsletter to get articles on your favorite sports and teams. And the best part? It's free!