Bruce Miller had himself an eventful evening on Sunday before he was arrested for assault, and that evening apparently included a heated exchange over a sandwich. A manager at the restaurant Tommy's Joynt in San Francisco told Jenna Lyons of the San Francisco Chronicle that Miller walked into the establishment around midnight Monday — three hours before he was arrested — and stared...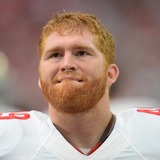 Under the guidance of former owner Eddie DeBartolo, the San Francisco 49ers became a winning franchise built on a foundation of class. DeBartolo ran his organization in a way that made players want to play for him and not bring shame or embarrassment to the organization. Unfortunately, current 49ers CEO Jed York doesn't have the same buy-in from the players or his staff. Since 2011...
Bruce Miller was released by the San Francisco 49ers on Monday shortly after news that he was arrested for an alleged assault emerged. According to KTVU, Miller beat up a father and son at a San Francisco hotel, sending both to the hospital. The older man was 70 years old. Now KTVU's Tara Moriarty shares video of Miller looking bloodied and disoriented following the alleged assault...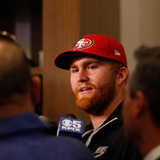 The San Francisco 49ers released fullback Bruce Miller on Monday, hours after news emerged that he was arrested for assault Monday morning. According to KTVU, Miller allegedly tried to check into the Fisherman's Wharf Marriott Hotel on Sunday night and was told it was full. KTVU explains what happened next: Sources say he returned Monday morning and knocked on one of the guest...
San Francisco 49ers fullback Bruce Miller has been arrested after he allegedly assaulted two men, one of whom was a 70-year-old man. According to KTUV Fox 2, Miller tried to check in at Fisherman's Wharf Marriott Hotel on Sunday night only to be told the hotel was full. Then on Monday, he allegedly knocked on a door, was told by the man who answered that he had the wrong room and...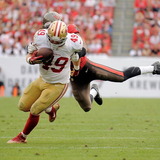 By Vincent Frank The hits keep coming for the San Francisco 49ers off the field. We already know the situation that team has found itself in with current linebacker Aldon Smith and former defensive lineman Ray McDonald. Now, lead blocker Bruce Miller will likely have to appear in court in California to answer to vandalism charges. Miller, the team's seventh-round pick in 2011,...
By Larry Brown. San Francisco 49ers FB Bruce Miller was arrested last week in Santa Clara on suspicion of domestic battery. A look at the Santa Clara police log shows Miller was arrested just before midnight on Thursday for spousal battery.   "The San Francisco 49ers organization is aware of the matter involving Bruce Miller," the 49ers said in a statement via CSN Bay Area. ...
The San Francisco 49ers have placed fullback Bruce Miller on the injured reserved list effectively ending his season.  This is an unfortunate turn of events and a huge loss for San Francisco because Miller is such an important part of this team.  He is one of those guys that does things that don't show up on the stat sheet but are crucial to the success of a football team. Miller...
Bruce Miller might be a fullback, but he's still thinking like a defensive end. Miller scored his first touchdown of his pro career on a 30-yard pass from Alex Smith. It was the 49ers only touchdown in their 19-11 win over the Redskins. Miller, who played defensive end last year at Central...
Ask rookie Bruce Miller how he has made such a smooth transition from college defensive end to NFL fullback and he'll explain that he has leaned on some one-of-a-kind resources. For starters, there is his position coach, Tom Rathman , one of the best fullbacks in 49ers ' history. And, then,...
MORE STORIES >>
49ers News

Delivered to your inbox

You'll also receive Yardbarker's daily Top 10, featuring the best sports stories from around the web. Customize your newsletter to get articles on your favorite sports and teams. And the best part? It's free!