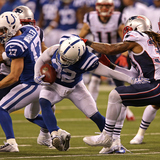 The Indianapolis Colts helped the New England Patriots beat them Sunday night by running one of the most inexplicable, idiotic plays in National Football League history. And in case you couldn't tell by watching the play, the ball was not supposed to be snapped. Trailing 27-21 and facing a 4th-and-3 situation, Chuck Pagano called for a ridiculous formation that sent nine players...
To become an NFL player you have to be a physical beast. Average athletes do not make it in college let alone the NFL. So even the every down players have to be pretty freaking athletic, and probably work as hard if not harder than the starters so they can earn time. Indianapolis Colts free safety Colt Anderson was working out in preparation for the coming season recently and when...
The Eagles' 2014 season officially begins quietly on April 22 with the first of the "voluntary" OTA's… and the news that Colt Anderson, perhaps their best Special Teams tackler and "gunner", has signed a contract with the Indianapolis Colts. Colt is an example of a can-do personality who made the transition from collegiate star defensive back to Mr. Utility Player in the NFL. At...
It's easy to forget as we scout the individual glamor positions in the upcoming NFL Draft, but special teams talent goes a long way in evaluating a guy's ability to make a roster and contribute to winning in this league...Take a guy like Colt Anderson, Eagles' safety and special teamer who has for the past three months come to NovaCare Complex every day to rehab his surgically-repaired...
MORE STORIES >>
Bills News

Delivered to your inbox

You'll also receive Yardbarker's daily Top 10, featuring the best sports stories from around the web. Customize your newsletter to get articles on your favorite sports and teams. And the best part? It's free!