We've updated our Privacy Policy.
By continuing to use this site, you are agreeing to the new Privacy Policy.
Jon Gruden likely spoke on behalf of many old-school NFL fans when discussing the hit Danny Trevathan put on Davante Adams last Thursday night.The former NFL head coach turned ESPN analyst appeared on ESPN's "Mike & Mike." He said essentially that Adams getting hurt was an unfortunate byproduct of Trevathan making a "heck of a play.""I don't want to see anybody get hurt," Gruden...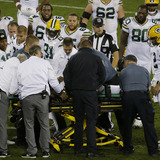 During Thursday night's game at Lambeau Field, Davante Adams was the victim of a dangerously illegal hit by Danny Trevathan. He immediately crumpled to the ground after being tagged with the vicious helmet-to-helmet blow, and it wasn't long afterwards that he was taken by ambulance to a nearby hospital. Thankfully, he avoided a serious spinal chord injury but did sustain a concussion...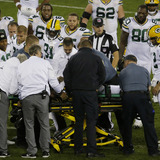 Danny Travathan is likely going to be fined for the vicious hit he put on Davante Adams Thursday night, but the Chicago Bears linebacker does not feel he should be suspended for a head shot he insists was unintentional.Following the game, Trevathan said his main concern is that Adams is OK and apologized for hitting the Green Bay Packers receiver in the head."I was just trying to...
LIKE WHAT YOU SEE?
GET THE DAILY NEWSLETTER: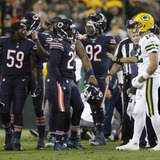 Bears linebacker Danny Trevathan was the subject of much criticism on Thursday night when he put a late hit on Packers receiver Davante Adams at the end of a play.It happened late in the third quarter when Adams caught a pass, was eventually wrapped up by a few Bears defenders and was on his way to the ground. Trevathan then came flying in and hit him right in the head — leading...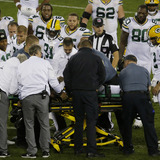 Davante Adams was carted off the field in the third quarter of Thursday night's Green Bay Packers-Chicago Bears game after taking a late hit to the head from Danny Trevathan.Green Bay was facing a 3rd and goal play from the 16 when Aaron Rodgers threw underneath to Adams. Adams was being stood up by a few Bears and failing to make forward progress when Trevathan came in late and...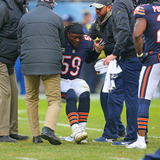 The Chicago Bears have been bitten by the injury bug more than any team in the NFL this year, and they watched another starter go down for the season Sunday. Linebacker Danny Trevathan suffered a ruptured patellar tendon and is out for the year. John Fox confirms Danny Trevathan ruptured his patellar tendon in his right knee and will be moved to IR. — Chicago Bears (@ChicagoBears...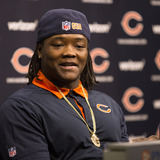 The Chicago Bears are off to an 0-2 start, and they got some more bad news on Tuesday. Bears head coach John Fox said that linebacker Danny Trevathan will have thumb surgery on Wednesday morning, per Jeff Dickerson of ESPN. Though Fox made sure to stress that the injury is not a season-ender, Trevathan will be out indefinitely. Trevathan, 26, signed a four-year, $24.5 million contract...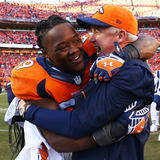 Former Denver Broncos linebacker Danny Trevathan now plays for the Chicago Bears, but he still wanted to fly with his former teammates to meet the president on Monday. Now that he is no longer part of the organization, did the Broncos make him fly coach? Trevathan sent a tweet on Monday about having an economy class seat for his flight to Washington, D.C. They booked my flight...
This promises to endear new Chicago Bears linebacker Danny Trevathan to fans in the Windy City. Just a day after inking a four-year, $28.5 million contract with Chicago, the former Denver Broncos linebacker had a pretty interesting remark regarding his new team's bitter division rival: "I wish they (the Packers) would have (called me), but they didn't," Trevathan told NFL Network...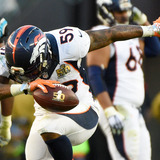 The Denver Broncos hoisted the Lombardi Trophy Sunday night after besting Cam Newton and the Carolina Panthers, ending one of the most impressive postseason runs in recent memory and sparking linebacker Danny Trevathan to claim his unit performed better than even the historic 1985 Chicago Bears unit. "You're going to ask me? No. 1. No. 1 in my opinion, over '85 Bears," Trevathan...
MORE STORIES >>
Bears News

Delivered to your inbox

You'll also receive Yardbarker's daily Top 10, featuring the best sports stories from around the web. Customize your newsletter to get articles on your favorite sports and teams. And the best part? It's free!