We've updated our Privacy Policy.
By continuing to use this site, you are agreeing to the new Privacy Policy.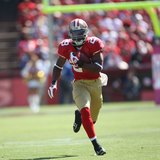 Glen Coffee stunningly retired from the NFL back in 2010 after spending just one year in the league. Seven years later, he's back.Coffee has been enrolled in the United States Army since 2013 and completed training to become an Army Ranger. Now he's looking for another shot to fulfill his NFL dream. It's hard to imagine Coffee will receive much interest around the league. The biggest...
It's just so easy to criticize developments we don't understand. Today's example - former 49ers running back Glen Coffee . He's back playing football , this time on an elementary school field. Who knows what the next move will be for the 49ers former third-round pick....
LORD WILLING
Tim Tebow inspired the "friar" nickname with his jacked up rookie hazing haircut last weekend, but we may be seeing another friar for a different reason. Former Alabama running back and 49ers backup Glen Coffee shocked many people by deciding he was going to retire from football. The last impression Coffee left on the Niners was a poor one — he was berated by a coach for getting...
LIKE WHAT YOU SEE?
GET THE DAILY NEWSLETTER:
In the strangest twist to this increasingly bizarre training camp, second-year running back Glen Coffee abruptly retired from the 49ers. Coffee met with head coach Mike Singletary this morning to express his intentions. No reasons were provided and Coffee only spoke through a statement:... Glen Coffee - Mike Singletary - Running back - Tea and Coffee - Head coach
MORE STORIES >>
49ers News

Delivered to your inbox

You'll also receive Yardbarker's daily Top 10, featuring the best sports stories from around the web. Customize your newsletter to get articles on your favorite sports and teams. And the best part? It's free!