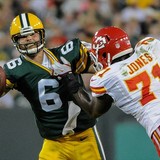 Following what can only be described as an uninspired and disappointing training camp, including lackluster preseason game performances, Green Bay Packers backup quarterback Graham Harrell was released on Saturday, according to reports. Here's a video report from ESPN's Adam Schefter about the situation:While there was apparently no doubts about the nature of Harrell as a great teammate...
When Graham Harrell signed with the Packers in 2010, he had the pedigree to prove he belonged in the NFL. A two time 5,000 yard passer during his time at Texas Tech, he ended his college career as the all time leader in passing touchdowns with 143. His 15, 793 passing yards ranked second all time. And following a Senior year which saw him throw for 5,111 yards and 45 touchdowns,...
Backup quarterback Graham Harrell has struggled all summer Get ready to read a bunch of stories from the so-called experts about how the Packers need to find a replacement for No. 2 quarterback Graham Harrell – stories that should've been written weeks or even months ago. I'm not going to write that story. Instead, I'm going to cut and paste excerpts from some past posts. —Free...
Green Bay Packers backup QB Graham Harrell is well aware of fans' concerns over whether the team would be absolutely screwed if MVP QB Aaron Rodgers went down with an injury during the season. But fear not, because Graham is ready dammit, to take the team to the promised land if that unfortunate event were to happen. Despite never playing in an NFL game, he told the Milwaukee Journal...
MORE STORIES >>
Jets News

Delivered to your inbox

You'll also receive Yardbarker's daily Top 10, featuring the best sports stories from around the web. Customize your newsletter to get articles on your favorite sports and teams. And the best part? It's free!