We've updated our Privacy Policy.
By continuing to use this site, you are agreeing to the new Privacy Policy.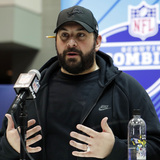 Because most NFL coaching changes happen in January, those moves can often be overshadowed by the postseason and – subsequently – the major moves that teams makes in free agency. However, those coaching changes shouldn't be overlooked.A year ago, 15 of the league's 32 teams made changes to at least one of their head coach, offensive coordinator, or defensive coordinator spots, and...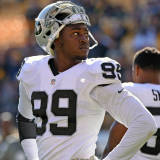 To nobody's surprise, the Oakland Raiders officially released linebacker Aldon Smith on Monday after an alleged domestic violence incident, which included him fleeing the scene.Following news of the release, Jack Del Rio — who coached Smith in Oakland — lashed out at the league for its rules. https://t.co/hk0ENVhqWb— Jack Del Rio (@coachdelrio) March 5, 2018 There's no real surprise...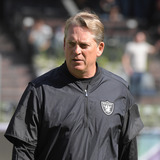 The New York Giants are expected to reach a deal at some point to make Pat Shurmur their next head coach, and it would appear the Minnesota Vikings offensive coordinator has already been contacting potential assistants.ESPN's Chris Mortensen reports that former Oakland Raiders head coach Jack Del Rio is one of the top candidates to become Shurmur's defensive coordinator with the...
LIKE WHAT YOU SEE?
GET THE DAILY NEWSLETTER: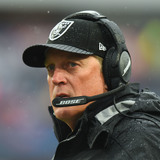 The New York Giants are expected to hire Minnesota Vikings offensive coordinator Pat Shurmur after his team is finished playing. Now it's being reported former Oakland Raiders head coach Jack Del Rio could join him as the team's defensive coordinator.Chris Mortensen of ESPN reports Del Rio is a "leading candidate" for the job."Del Rio has been prominent on Shurmur's list of defensive...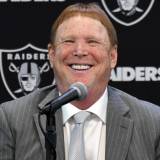 The NFL reportedly let the Oakland Raiders go free and clear on the Rooney Rule because of their interpretation of a contract offer that wasn't.The league made clear Friday that, in their eyes, the Raiders did not violate the Rooney Rule during a hiring process that started and ended with Jon Gruden. In a further explanation to ProFootballTalk's Mike Florio on Saturday, the league...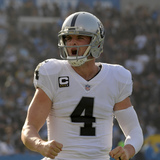 Going from Jack Del Rio to Jon Gruden may not exactly be a magic fix to all of the Oakland Raiders' problems.In an appearance this week on 95.7 The Game in the Bay Area, Greg Papa, the longtime radio voice of the Raiders, reported that quarterback Derek Carr lost the faith of the team's coaching staff towards the end of the 2017 season."This coaching staff turned on Derek Carr,"...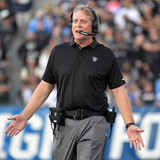 Oakland Raiders quarterback Derek Carr appears to be a bit shaken up over the firing of head coach Jack Del Rio.Speaking with reporters minutes after Del Rio was fired following a season-ending loss to the Los Angeles Chargers, Carr reacted to the news saying, "It hurts," per Matt Schneidman of The Mercury News. Amidst high expectations, the Raiders finished the 2017 season at just...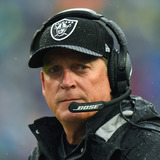 The Oakland Raiders and their fans are, unlike the rest of us, not amused that Gene Steratore used a piece of paper measuring a first down Sunday night. Raiders head coach Jack Del Rio is even less amused that, when Steratore gave the signal for a first down, he did it with a smile on his face. "How you can look at that then get up with a smirk?" Del Rio said today, per Pro Football...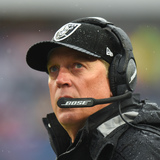 Raiders head coach Jack Del Rio was surprised at how referee Gene Steratore decided a critical fourth-down measurement late in Sunday night's game against the Cowboys.The play in question happened with five minutes remaining in the fourth quarter, when the Cowboys went for it on a fourth-and-one scenario. Dallas elected to run a quarterback sneak with Dak Prescott, and the spot was...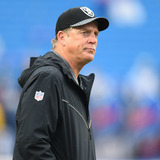 While the NFL may see international games as an opportunity to expand into new markets, Oakland Raiders coach Jack Del Rio sees it differently.Del Rio's Raiders will technically be the home team on Nov. 19 against the New England Patriots when the two teams play in Mexico City. The coach sees that as a lost home game, however. This is absolutely an undeniable truth. Teams that "host...
MORE STORIES >>
NFL News

Delivered to your inbox

You'll also receive Yardbarker's daily Top 10, featuring the best sports stories from around the web. Customize your newsletter to get articles on your favorite sports and teams. And the best part? It's free!