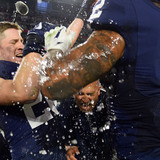 You would have expected James Franklin to be happy after his Penn State Nittany Lions beat Washington 35-28 in the Fiesta Bowl on Saturday. After all, the guy got a Gatorade bath following the win that made his team 11-2.But Franklin was pretty steamed after being doused, possibly because his glasses got knocked off. Watch him go looking for someone after the bath: Just judging by...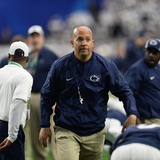 All was going well for Penn State at halftime of the PlayStation Fiesta Bowl. The Nittany Lions were up 28-14 on Washington. James Franklin should have been pretty happy. But there was one thing that was bothering him.After a touchdown pass to put Penn State up 7-0 in the first quarter, quarterback Trace McSorley gave Franklin a nudge to the midsection. Apparently it left a little...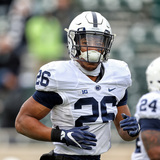 Penn State running back Saquon Barkley — one of the most electric college football players in recent memory — is widely expected to be a top-five pick in the 2018 NFL Draft. This doesn't mean that Barkley, who has one year of eligibility remaining with the Nittany Lions, has already decided to turn pro, though.In fact, Barkley just recently noted that he will wait until after Penn...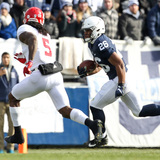 Through two-plus quarters, it's been like pulling teeth to get Saquon Barkley involved in Penn State's offense against Rutgers on Saturday. Finally, in the third quarter, James Franklin managed to get Barkley loose on a crazy trick play, which led to a one-yard touchdown.And, of course the play wouldn't be complete without Barkley showing off his signature hurdle move. To this point...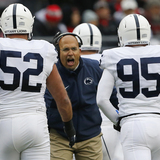 One of the odd developments following Penn State's upset loss to Michigan State on Saturday was what happened just after the game ended.The Spartans kicked a field goal as time expired to win the game 27-24. Penn State head coach James Franklin was then seeing running around the field and rounding up some of his players to keep them from exiting Spartan Stadium. So why did Franklin...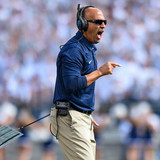 James Franklin slighted rival Pitt after Penn State handled the Panthers 33-14 on Saturday.Last year, the Nittany Lions dropped only two games in the regular season before falling to USC in the Rose Bowl. Their first loss of the season came to Pitt 42-39.Winning on Saturday was a measure of revenge for Penn State, and Franklin took the opportunity to downplay his opponent. That certainly...
Penn State announced a six-year extension for head football coach James Franklin on Friday. Franklin, 45, is entering his fourth at Penn State and has compiled a 25-15 (14-11 Big Ten) record in Happy Valley. That mark includes a breakout year for the Lions a season ago, culminating in a Rose Bowl berth for the first time since 2008. While nobody will argue that Franklin's first two...
Class of 2016 four-star defensive end Shane Simmons is committed to Penn State and is proud to be so, and he felt it was only appropriate that he welcome Nittany Lions coach James Franklin to his home in Hyattsville, Maryland in an epic fashion. In a video posted to his personal Twitter, Simmons gave Franklin a welcome equivalent of a pep rally, with a cheer section and everything...
It's homecoming week at Penn State University and with TV star and comedian Keegan-Michael Key serving as grand marshal, you knew there were going to be some laughs. Sure enough, Nittany Lions head football coach James Franklin called Key in to help prank the players. How, you ask? Why, dress up as him and run a team meeting of course! Check out how it went down in the video below...
This is a big week it seems. Not only did the first episode of the Nittany Lions Den Podcast go live, but so too did my first contribution to Athlon Sports. I will be contributing to Athlon Sports this season, and it looks like most of my content will be focused on Penn State and the Big Ten. Whenever I write something up about Penn State, I will be sure to share a link here so you...
MORE STORIES >>
College Football News

Delivered to your inbox

You'll also receive Yardbarker's daily Top 10, featuring the best sports stories from around the web. Customize your newsletter to get articles on your favorite sports and teams. And the best part? It's free!
THE COLLEGE FOOTBALL HOT 10