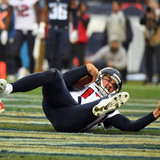 NFL free agency frenzy is in full swing, and players signed new deals left and right during the first wave. Things happened so fast, it was difficult to keep track of all of the activity.Not surprisingly some players are signing some pretty hefty contracts. Contracts that at least a few of them won't exactly live up to. There are bound to be free agency signings that inflict some...
The whole NFL is rapidly approaching the start of Free Agency. The benefit of having free agency before the draft is that teams can address needs with veterans if they want.  Right now there is only one position I would say cannot use an upgrade and that is kicker. Not because Dan Bailey played so well, it's just that Dallas has three on the roster two vets and one said to be better...
MORE STORIES >>
NFL News

Delivered to your inbox

You'll also receive Yardbarker's daily Top 10, featuring the best sports stories from around the web. Customize your newsletter to get articles on your favorite sports and teams. And the best part? It's free!