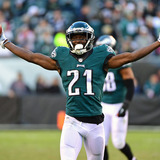 It's fair to say that Philadelphia Eagles cornerback Leodis McKelvin came away unimpressed after facing the Atlanta Falcons. McKelvin, whose interception with less than two minutes remaining on Sunday sealed the Eagles' 24-15 victory, made clear his belief that the vaunted Atlanta offense loses its swagger when plays are made against them. "I was telling the defense, this is the...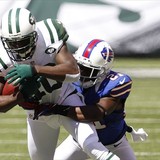 The Buffalo Bills came up short on Sunday in its pursuit of a three-game winning streak, losing to the Kansas City Chiefs by a score of 17-13. Cornerback Leodis McKelvin clearly believes the loss was an aberration and not a developing trend, as clearly evidenced by his profane proclamation of overconfident bravado following the game....Read More The post Bills corner Leodis McKelvin...
An apologetic Buffalo Bills cornerback Leodis McKelvin acknowledges he was wrong and will not dispute a $75 fine for failing to follow a crew member's orders during a flight to Buffalo. McKelvin said Thursday that he was ticketed for refusing to turn off his cellphone and failing to buckle his seatbelt while traveling from New York City on Tuesday. He says he's apologized and intends...
BAD IDEA INTERFERENCE
WIVB is reporting that Buffalo Bills cornerback Leodis McKelvin was issued a Notice of Violation by the Niagara Frontier Transportation Authority (NFTA) Police Tuesday for of interfering with a Delta Air Lines crew on a flight from New York LaGuardia to Buffalo Niagara International Airport. NFTA Spokesman Doug Hartmayer says McKelvin was repeatedly asked to turn his cellphone...
SPECIAL PLAY
The Bills are trying to bounce back after a near win against New England. Return man Leodis McKelvin helps the cause when he takes this punt and returns it 79 yards for a TD against the Dolphins on Thursday Night Football...
MORE STORIES >>
NFL News

Delivered to your inbox

You'll also receive Yardbarker's daily Top 10, featuring the best sports stories from around the web. Customize your newsletter to get articles on your favorite sports and teams. And the best part? It's free!