Michael Vick's brother, Marcus, never made it to the NFL after his Virginia Tech stint was marred by off-the-field issues. But man, he can run. In the 2006 NFL Combine, he ran a 4.42 40-yard dash. So when a few police officers attempted to arrest him for charges stemming from a civil case back in April, he sure didn't make it easy for them. Vick was in a gym at Newport News at the...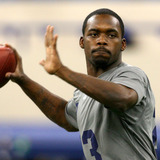 Marcus Vick, the younger brother of NFL quarterback Michael Vick, was arrested over the weekend and charged with assault on a police officer among other offenses. According to court records obtained by WTKR in Virginia, Newport News Police say Vick had a warrant out for his arrest stemming from a contempt of court charge in a different county. When police approached him to take...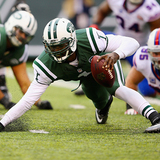 Marcus Vick has a reputation for saying some incredibly dumb things on Twitter, but at least he tried his best to be objective on Sunday. Rather than focusing on the New York Jets coaching staff or criticizing the team's wide receivers, Marcus actually said something negative about his older brother Michael. He meant "easy" throws, of course. Michael Vick took over for Geno Smith...
MORE STORIES >>
NFL News

Delivered to your inbox

You'll also receive Yardbarker's daily Top 10, featuring the best sports stories from around the web. Customize your newsletter to get articles on your favorite sports and teams. And the best part? It's free!