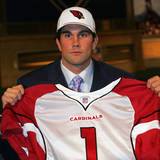 Quarterback is the most important position on the football field, but finding the right quarterback in the NFL Draft is an inexact science. Here's the last quarterback drafted in the first round by all 32 teams.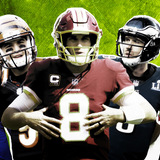 It is hard to believe that it's been over three weeks since Alex Smith was dealt to Washington, setting the quarterback carousel spinning. No wheeling and dealing frenzy ensued, and the sports world has been left with a whole lot of time for prognostication, which the sports world invariably loves to do.The next predicted domino to fall is Kirk Cousins, but his decision won't come...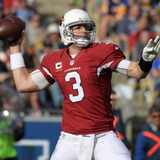 There's been growing talk in the desert that the Arizona Cardinals may look to select a quarterback in the first round of the upcoming 2017 NFL Draft. The reasoning here is simple. Arizona needs to find an eventual heir apparent to 37-year-old signal caller Carson Palmer.Remember, it was just a couple short months ago that the Cardinals weren't sure whether Palmer would return for...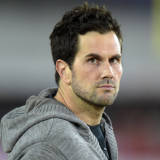 Matt Leinart trolled Oklahoma via Twitter on Thursday with a line about Applebee's. After a failed career as an NFL player, Leinart is now serving as a broadcaster/analyst for FOX. He'll be part of the crew covering the Oklahoma-Ohio State game this weekend, which led him to tweet this on Thursday: Headed to Norman tomorrow. Haven't been back since I was treated to Applebee's...
Former Arizona Cardinals quarterback Matt Leinart and his girlfriend Josie Loren are tying the knot. Leinart proposed to Loren, an actress, over the weekend. She shared a photo on Instagram showing off the ring: Woke up this morning (with a headache) thinking last night was a dream but my left hand told me it was real...yep, I get to spend the rest of my life with...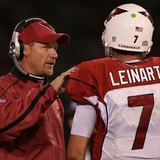 Matt Leinart predicted roughly one year ago that Ken Whisenhunt would not keep his job with the Tennessee Titans very long, and the former NFL quarterback was proven right on Tuesday. Shortly after the Titans announced that they have relieved Whisenhunt of his duties, Leinart was quick to bash Whiz on Twitter: Titans coach fired. Now Marcus Mariota has a chance! — Matt Leinart...
By Larry Brown Former Heisman Trophy winner Matt Leinart is in a football controversy, and no, it doesn't have to do with a battle for the starting quarterback position. Instead, Leinart is in some hot water for using his charity's non-profit status to secure fields for his flag football league at a discounted rate. The Orange County Register reports that Leinart's brother, Ryan...
Matt Leinart never became the elite franchise QB that he was projected to be coming out of college, so he's now moved on to bigger and better things—beefing with Superman. Yes, you heard that right. Leinart and Dean Cain have been firing shots at one another. And it all started when Cain had a message for Johnny Manziel, and said that if he didn't stay away from the Hollywood scene...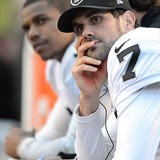 At one time Matt Leinart was the man. He was the hottest quarterback in college football, his team was winning game after game, for some odd reason the ladies liked him, and he was staring millions in NFL dollars in the face. But than he actually tried to play in the NFL, and--well, things didn't go very well.He might not be done just yet, but if he is the man is playing it smart...
MORE STORIES >>
NFL News

Delivered to your inbox

You'll also receive Yardbarker's daily Top 10, featuring the best sports stories from around the web. Customize your newsletter to get articles on your favorite sports and teams. And the best part? It's free!