We've updated our Privacy Policy.
By continuing to use this site, you are agreeing to the new Privacy Policy.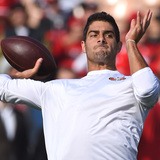 With NFL free agency in full swing, it is hard to ignore the quarterback pay scale. As it stands, the top four highest-paid quarterbacks in the league are now Kirk Cousins, Jimmy Garoppolo, Matthew Stafford and Derek Carr.Do we see a Super Bowl champion quarterback among these names? Of course not. But it gets worse. Happy new year indeed. The Minnesota Vikings just made Cousins...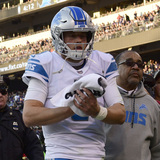 Detroit Lions quarterback Matthew Stafford avoided the worst-case scenario after suffering a hand injury on Sunday.Stafford was knocked out of the game against the Baltimore Ravens amid some initial fears that he fractured his throwing hand. X-rays came back negative, though, and Stafford escaped with only a bruise. This is far from the first time Stafford has been beaten up this...
The Detroit Lions' offense has one of the coolest audibles we've heard.During the third quarter of the Lions' Monday night game against the New York Giants, quarterback Matthew Stafford could be heard saying "Kershaw" for one of his calls at the line of scrimmage: The "Kershaw" audible seemed to be a nod to Stafford's childhood friend, Clayton Kershaw.The two grew up playing sports...
LIKE WHAT YOU SEE?
GET THE DAILY NEWSLETTER: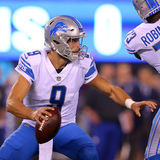 Lions quarterback Matthew Stafford was the unfortunate recipient of a cheap shot in Monday's game against the Giants.It happened in the second quarter of the game, with the game tied at 7-7 and the Lions looking to regain their lead, in Giants' territory. Stafford dropped back to pass, and he was then drilled by Jason Pierre-Paul while in the act of throwing. That was the least of...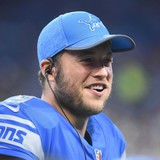 The Detroit Lions just made quarterback Matthew Stafford the highest-paid player in the NFL. Stafford agreed to terms on a whopping five-year extension worth $135 million on Monday evening.So, what exactly does Stafford plan to spend his new paycheck on? Not cars, or a new house. Not even a luxurious vacation home. Diapers. And, lots of them. Stafford's wife Kelly gave birth to two...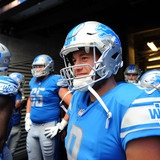 Matthew Stafford has spent his entire NFL career with the Lions and that will continue thanks to an extremely lucrative contract extension.Earlier this month, Lions general manager Bob Quinn indicated the two sides were not close in working towards an extension. Whatever issues there may have been have apparently been resolved, because Stafford will soon be the highest-paid player...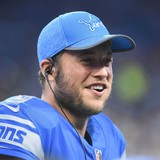 Move over Derek Carr, you have some company.According to ESPN's Adam Schefter, the Detroit Lions are expected to sign quarterback Matthew Stafford to a five-year contract extension that will make him the highest-paid player in NFL history. A deal between the two sides had been bandied about for some time. But the closer we moved to the regular season, the less likely an extension...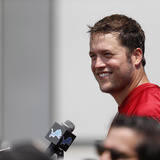 The Detroit Lions are trying to work out a long-term contract extension for nine-year quarterback, Matthew Stafford. Preferably, this takes place before the start of training camp. Team general manager Bob Quinn says he's "confident" a deal will get done.Stafford could wind up the highest paid NFL player to date, which is something Detroit's president Rob Wood would have no problem...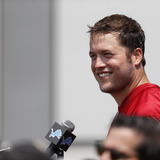 Detroit Lions quarterback Matthew Stafford is pushing all talk of a new contract off to the side for now.Stafford, who is entering the final year of his contract, isn't sweating potential comparable deals for Derek Carr and Kirk Cousins, preferring to focus on football right now."I'm not too worried about what those guys do," Stafford said Wednesday, via Michael Rothstein of ESPN...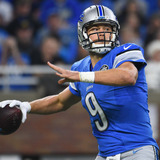 Matthew Stafford dislocated the middle finger on his right hand during the Detroit Lions' 20-17 victory over the Chicago Bears. But Stafford made it perfectly clear while speaking to reporters Wednesday he isn't giving much thought to it heading into Sunday's showdown with the New York Giants. More than that, Stafford insists the injury shouldn't limit him in any capacity, nor...
MORE STORIES >>
Lions News

Delivered to your inbox

You'll also receive Yardbarker's daily Top 10, featuring the best sports stories from around the web. Customize your newsletter to get articles on your favorite sports and teams. And the best part? It's free!