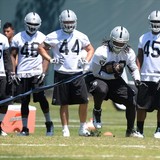 Jets running back Mike Goodson has been indicted on two weapons charges stemming from a May 17 arrest in which he and another man were in a stopped vehicle on a New Jersey highway. The Morris County (N.J.) prosecutor's office announced Thursday that Goodson, who is currently rehabbing a season-ending knee injury, and the driver of the car, Garant Evans, were indicted on charges...
The New York Jets have had to make many roster moves since the start of the season. 13 different players have been added to the roster since the 53-man roster was set before the first week of the season. The Jets hope newly acquired Joshua Cribbs can add some depth to their injury plagued wide receiving core The Jets lost both running back Mike Goodson and wide receiver Clyde Gates...
The New York Jets will be boosted this week by the return of running back and kick returner Mike Goodson. After being signed in the off-season to a three year contract, Goodson was suspended for the first four games for violating the NFL's policy and program for substances of abuse. Despite Bilal Powell's terrific start (66 carries, 292 yards, 11 receptions, 108 yards), the Jets...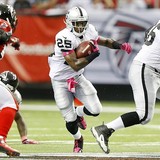 Last week, Mike Goodson, who was signed by the Jets two months ago to a three year, $6.9 million contract, was arrested on weapons and drug charges. The running back allegedly was in possession of marijuana and a semi-automatic .45-caliber gun. While Goodson was not driving the SUV that when it was pulled over, that didn't absolve him from responsibility. With such serious charges...
Keeping up with recent film studies done on the New York Jets free agent signings (In case you missed them here is Willie Colon and Antonio Garay), let's take a look at running back Mike Goodson.  With the departure of Shonn Greene, the Jets certainly needed to add depth at the running back position, and went ahead and added Goodson, who previously played for the Raiders in 2012...
The New York Jets made their first "big" signing of the off-season today by locking up former Oakland Raiders running back Mike Goodson to a 3 year, 6.9 million dollar contract. This is a decision Jets fans should be happy about. Why? You just saw two things we haven't seen in the Jets backfield in a LONG time, a successful screen pass and speed. Here is what you need to know about...
Oakland Raiders running back Mike Goodson says his neck is still sore after taking a hard hit that sent him to the hospital earlier in the week but is relieved there is nothing more serious wrong with him. Goodson was back out at the practice field for the Raiders (tied for No. 23 in the AP Pro32) for the first time Friday since being taken by ambulance to the hospital three days...
Mike Goodson didn't get a carry last season, but he has some experience and he's still young, so the Raiders traded a reserve offensive lineman to get him from the Carolina Panthers. Now he is getting the bulk of the 1st team reps in OTAs at running back. This is not an indictment on Darren McFadden, who is simply absent while leading a youth football camp, but it is something worth...
MORE STORIES >>
NFL News

Delivered to your inbox

You'll also receive Yardbarker's daily Top 10, featuring the best sports stories from around the web. Customize your newsletter to get articles on your favorite sports and teams. And the best part? It's free!