Linebackers aren't supposed to be able to do this. Perry Riley Jr's flying backwards one-handed INT off Drew Brees https://t.co/AgNHhqni2K — NFL (@NFL) November 15, 2015 Jack linebacker Perry Riley sealed the Washington Redskins' 47-14 victory over the New Orleans Saints when he lay out for a one-handed interception over Saints tight end Ben Watson. Coming into Sunday's game...
Perry Riley, a 2010 4th round pick, has been starting for the Redskins at middle linebacker for about 2 ½ years, since the middle of the 2011 season. He was about an average starter in both 2011 and 2012, for the first 1 ½ year and a half of his career, but he struggled mightily in his contract year last year, grading out as Pro Football Focus' 46th ranked middle linebacker out of...
There is a report out that the Washington Redskins have re-signed free agent ILB Perry Riley. Perry Riley has re-signed with the #Redskins. Will be announced tomorrow. — BurgundyBlog.com (@BurgundyBlog) March 10, 2014 No financial details yet and we're still waiting for some other signs that this happened. We have one report, unconfirmed, so far. We'll update if we get more more...
The Washington Redskins knew they would have a huge hole to fill in the middle of their defense after aging LB London Fletcher announced his retirement.  What they didn't see coming was they may lose both of their inside LB's from last season as the Perry Riley contract talks seemingly have hit a wall as [...]
Washington Redskins ILB Perry Riley will be an unrestricted free agent soon. Like any unrestricted free agent, he's looking for the best deal he can get. Evidently, he thinks he can get a VERY good deal. Riley's salary demands are high enough that the Redskins have wisely decided to let the open market determine his value. The #Redskins have had negotiation talks with Perry Riley...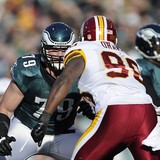 Washington Redskins ILB London Fletcher, defensive team captain and all around leader, thinks the Skins need to re-sign ILB Perry Riley and OLB Brian Orakpo, both of whom are free agents. "It's not ideal to have more than half your defense not under contract," Fletcher said Thursday at Redskins Park. "That's something that you don't see most teams do. But it's kind of it is what...
The Redskins levied two bruising hits on St. Louis punt returns and received two unnecessary roughness penalties, the first of which Shanahan contends was a bad call by officials. Midway through the second quarter, Sav Rocca punted to the Rams' 33-yard line. Fielding the punt, Austin Pettis was immediately hit by a flying Perry Riley and couldn't hold onto the ball. Riley drew the...
A day after rookie linebacker Perry Riley committed a costly penalty on special teams in a loss to Minnesota, Coach Mike Shanahan expressed strong support for Riley who, he said, displayed great "effort." Riley's block in the back nullified a potential go-ahead touchdown for the Redskins on a long punt return by Brandon Banks midway through the fourth quarter of the Vikings' 17-13...
Redskins rookie linebacker Perry Riley provided perhaps the most crucial play in Sunday's 17-13 loss to Minnesota, blocking Vikings defensive lineman Everson Griffen in the back and thus negating a 77-yard punt return for a touchdown by Washington's Brandon Banks. Riley initially declined to speak to reporters in the Redskins' locker room, and he left FedEx Field without commenting...
Rookie linebacker Perry Riley played in a 4-3 at LSU, where he was a two-year starter and recorded 185 total career tackles en route to becoming the Redskins' fourth-round draft pick this year. Here in Washington, Riley is among the many players adjusting to the new 3-4 scheme. The rookie says he has enjoyed the process - and the defense. Washington Redskins - Perry Riley - NFL ...
MORE STORIES >>
Raiders News

Delivered to your inbox

You'll also receive Yardbarker's daily Top 10, featuring the best sports stories from around the web. Customize your newsletter to get articles on your favorite sports and teams. And the best part? It's free!