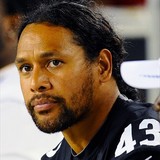 Former Arizona Cardinals fullback Reagan Mauia added even more confusion to the story of Manti Te'o's fake girlfriend on Wednesday night when he claimed to have met the non-existent young lady, Lennay Kekua. Like most of the details that have emerged since Deadspin broke the major story, Mauia's recollection of how and when he met Kekua makes little sense. In addition to describing...
As if the Manti Te'o fake girlfriend situation wasn't bizarre enough already, Arizona Cardinals fullback Reagan Mauia added more confusion to the mystery on Wednesday night. Te'o and Notre Dame athletic director Jack Swarbrick say the star linebacker was the victim of an elaborate hoax, and that he had an online and telephonic relationship with a woman that never actually existed...
MORE STORIES >>
Cardinals News

Delivered to your inbox

You'll also receive Yardbarker's daily Top 10, featuring the best sports stories from around the web. Customize your newsletter to get articles on your favorite sports and teams. And the best part? It's free!