We've updated our Privacy Policy.
By continuing to use this site, you are agreeing to the new Privacy Policy.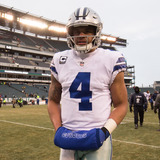 Pressure accompanies every player that competes at the highest level, but some NFL stars will enter the upcoming 2018 NFL season with almost crushing pressure to succeed.A certain duo in Dallas is among them, as are two quarterbacks who just set the new market with brand new mega-deals. A new duo of defenders make this list after their new team made bold moves to land them, too.Whether...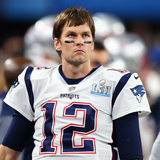 The director of the recent Facebook documentary about Tom Brady says he has a "hard time envisioning" the New England Patriots quarterback playing well into his 40s, as Brady himself once pledged to do.Gotham Chopra, who had unprecedented access to Brady and his family over the past year while compiling footage for "Tom vs. Time," recently expressed doubt about Brady being able to...
Much has been made of Gisele Bundchen's weariness and concern over husband Tom Brady's NFL career over the past year. So much so, in fact, that reports have surfaced suggesting Bundchen want Brady to retire. But to hear it from Brady himself, his wife is "so supportive" of his decision to keep playing. "At the end of the day, she's been such a supportive wife, and been so supportive...
LIKE WHAT YOU SEE?
GET THE DAILY NEWSLETTER: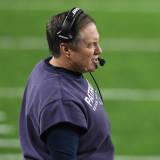 Patriots head coach Bill Belichick runs a tight ship, but that wasn't really an issue in the past.But that was then, and this is now.A young Tom Brady and a group of "foot soldiers' was one thing, but being a disciplinarian among a team full of players that have experience and have played in Foxboro for a number of years is a different story.Brady has been suiting up for the Patriots...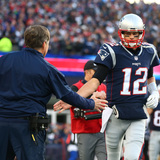 The NFL season coming to an end may not mean the end of the supposed power struggle within the New England Patriots organization.NBC Sports Boston's Mike Giardi tweeted on Thursday that Bill Belichick has been making some of the top Pats players like Rob Gronkowski and Tom Brady "miserable." He also says a lot of the issues revolve around the Alex Guerrero problems. Guerrero is Brady...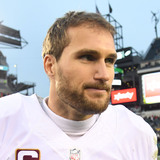 It's all but certain that Kirk Cousins will ink a massive deal with the Minnesota Vikings sometime on Thursday. However, the Vikings organization had to audible out of their standard wine-and-dine game plan for free agents due to Cousins recently taking to a more restrictive diet touted by New England Patriots signal-caller Tom Brady.The Vikings welcomed Cousins, his wife, Julie...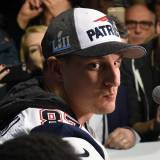 Like quarterback Tom Brady, New England Patriots tight end Rob Gronkowski took to social media to wish former teammate Danny Amendola well after he signed with the division-rival Miami Dolphins.Unlike Brady, Gronkowski might have included a hidden message to the Patriots in said post. "Be FREE, Be HAPPY."A lot has been made of Gronkowski's unwillingness to commit to playing next...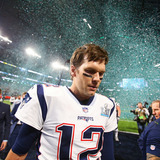 Tom Brady was not about to allow a social media troll get the last word while reacting to a comment he left on Richard Sherman's farewell post about his recent departure from the Seattle Seahawks.Sherman — who ultimately signed with the division-rival San Francisco 49ers — took to Instagram to say his goodbyes following his release.As noted by Mark Daniels, New England Patriots beat...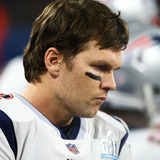 It's been said that Patriots quarterback Tom Brady can chug beers with the best of them, but we had never actually seen him do it — until now.Brady appeared on "The Late Show with Stephen Colbert" on Monday, and the show's host put him to the test. And Brady — much like he does on the football field — destroyed his opponent.The two clinked glasses and then squared off in a chugging...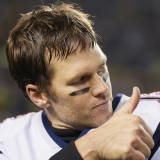 It didn't appear as if the cut on Tom Brady's hand affected his throws all that much in Super Bowl LII, but that doesn't necessarily mean the gash wasn't noteworthy.We now know that it was fairly deep and also located on a particularly important place on the bottom of his thumb, via footage from the series finale of "Tom vs. Time."In the episode of his Facebook documentary series...
MORE STORIES >>
Patriots News

Delivered to your inbox

You'll also receive Yardbarker's daily Top 10, featuring the best sports stories from around the web. Customize your newsletter to get articles on your favorite sports and teams. And the best part? It's free!