We've updated our Privacy Policy.
By continuing to use this site, you are agreeing to the new Privacy Policy.
The end of line might be here for former third overall pick Trent Richardson. The Baltimore Ravens tweeted out Tuesday that the team has released Richardson, who officially signed with the team back in April. We have waived RB Trent Richardson and signed WR Chuck Jacobs. — Baltimore Ravens (@Ravens) August 2, 2016 The Ravens signed receiver Chuck Jacobs in a corresponding move...
Trent Richardson's NFL career is not dead yet. According to Matt Zenitz of al.com, he's set to sign a free-agent contract with the Baltimore Ravens, pending a physical. The running back has been the butt of many a joke since being drafted No. 3 overall in the 2012 NFL Draft. His rookie campaign with Cleveland wasn't bad statistically, but just a year later the Browns happily shipped...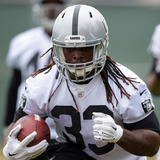 By Rachel Wold Does former 2012 first-round draft pick, running back Trent Richardson deserve the title of the worst running back of all time? Richardson's release by the Oakland Raiders on Tuesday during the team's first round of cuts sparked a strong reaction from former NFL safety Ryan Clark. In a conversation on ESPN's First Take, Clark didn't hold his tongue when asked what...
LIKE WHAT YOU SEE?
GET THE DAILY NEWSLETTER: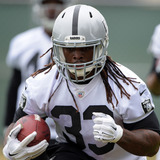 By Rachel Wold. Flip a coin and call heads or tails, and you have nearly the same chance of guessing correctly as Oakland Raiders embattled running back Trent Richardson has of making the team's final 53-man roster. According to NFL Media's Ian Rapoport, Richardson's chances of playing in Week 1 are "about 50-50." The running back is on thin ice to say the least as the preseason...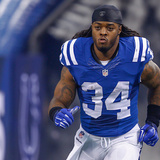 By Rachel Wold Running back Trent Richardson was released by the Indianapolis Colts on Thursday. This news is not too surprising considering the way he was phased-out of the team's lineup towards the end of the 2014 season. According to ESPN's Mike Wells, the Colts might not have had just cause to suspend Richardson for conduct detrimental to the team. Richardson will likely file...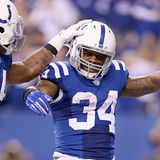 By Steve DelVecchio The Indianapolis Colts grew increasingly frustrated with Trent Richardson throughout the course of the 2014 season, and there is more to it than the former first-round pick's inability to carry the ball beyond the line of scrimmage. Mike Wells of ESPN.com reports that the Colts were upset with Richardson over his weight issues and "accessibility" in addition...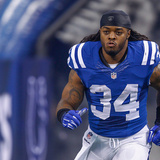 By Steve DelVecchio Indianapolis Colts general manager Ryan Grigson revealed on Friday that Trent Richardson was suspended for his team's two playoff games, according to ESPN's Mike Wells. Richardson was somewhat of a surprise inactive for Indy's divisional round playoff game against the Denver Broncos, though he had clearly fallen to third on the depth chart and was frustrated...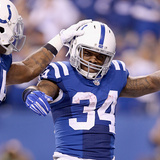 By Steve DelVecchio Indianapolis Colts running back Trent Richardson will not play in the AFC Championship Game against the New England Patriots on Sunday, as he reportedly missed a walkthrough on Saturday and did not travel to Foxboro with the team. Richardson may have a very good reason for his absence. Stephen Holder of the Indianapolis Star reports that Richardson is dealing...
By Larry Brown Trent Richardson did not make the trip to New England with his Indianapolis Colts teammates for Sunday's AFC Championship Game, and now we know why. According to WTHR's Bob Kravitz, Richardson missed the team's walk through on Saturday without prior notice. Kravitz says Richardson was likely to be a healthy scratch for the game anyhow. When the news first emerged...
MORE STORIES >>
Colts News

Delivered to your inbox

You'll also receive Yardbarker's daily Top 10, featuring the best sports stories from around the web. Customize your newsletter to get articles on your favorite sports and teams. And the best part? It's free!