Former St. Louis Rams and New York Jets running back Zac Stacy has announced he is retiring from the game of football after just three seasons. Originally a fifth-round pick out of Vanderbilt, Stacy exploded onto the scene as a rookie with the Rams, rushing for 973 yards and seven touchdowns in 2013.He then saw his production fall in 2014 due to injuries and the emergence of then...
There is going to be a crowded backfield in St. Louis, and it sounds like Zac Stacy doesn't want to be a part of it. The Rams drafted Todd Gurley with the No. 10 pick in the first round of this year's draft, making it two years in a row that they drafted a running...Read More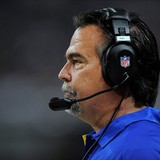 This cannot be another rebuilding year for the St. Louis Rams. This is year three under coach Jeff Fisher and general manager Les Snead. They have had three years to draft and develop players and to act in free agency. Three years is often even considered to long for a franchise to see success and winning seasons in a cutthroat league that demands success on the field. With a solid...
St. Louis Rams owner Stan Kroenke (Photo courtesy of St. Louis Post Dispatch)The St. Louis Rams have been very quiet this offseason. Although they did inquire about a few big name free agents, they made no real big effort to lure them to come play in the Dome. Early signs are pointing to the Rams trying to build through the draft, but their biggest offseason move might not even...
This years No. 2 pick can help the St. Louis Rams make the playoffsJadeveon Clowney (Photo credit: sportsillustrated.cnn.com)The NFC West was once considered the laughing stock of the eight NFL divisions, but now it is viewed as the premier division. The most recent Super Bowl champion came out of the West. Some are even saying this past NFC championship game between the Seattle...
Photo Courtesy of ESPNThe Super Bowl is only 7 days away and it got me thinking, what would it take for the St. Louis Rams to return to the big game? There is the obvious, trade for Peyton Manning, sign the entire Seattle Seahawks defense and resurrect Vince Lombardi so that he could coach the team. Obviously none of that is going to happen, so what small alterations could the Rams...
MORE STORIES >>
Rams News

Delivered to your inbox

You'll also receive Yardbarker's daily Top 10, featuring the best sports stories from around the web. Customize your newsletter to get articles on your favorite sports and teams. And the best part? It's free!