We've updated our Privacy Policy.
By continuing to use this site, you are agreeing to the new Privacy Policy.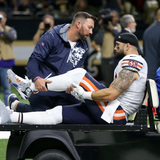 Chicago Bears tight end Zach Miller had his 2017 season cut short due to a gruesome knee injury. The injury was so bad, in fact, that it nearly cost Miller his leg. But while it did end his season, Miller noted that as of now, he's not planning on letting that be a career ender.In an interview with Scott Voorhees of 1110 KFAB in Omaha, Miller made it clear that he wants to play again...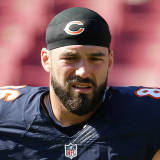 After a scary leg injury last year, Bears tight end Zach Miller says that he hopes to continue playing. At the same time, he acknowledges that he may be facing an uphill battle. "[If it doesn't happen], then that's just the way it goes and we've got to move on and do something else," Miller told Scott Voorhees of 1110 KFAB (audio link). "Physically I've been through a number of...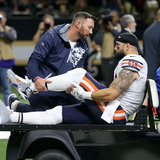 Since injuring his knee against the New Orleans Saints in the final weekend of October, Chicago Bears tight end Zach Miller has been through the ringer.On Monday, Miller was at Halas Hall speaking with reporters for the first time since the traumatic injury. He revealed he's needed eight surgeries since injuring his leg. He also got into the tremendous support he's received, both...
LIKE WHAT YOU SEE?
GET THE DAILY NEWSLETTER: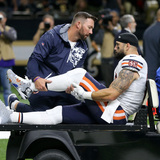 It took three long weeks, but Chicago Bears tight end Zach Miller is finally at home following the traumatic leg injury he suffered, which caused an extensive hospital stay.Miller tweeted the good news to his fans Monday evening. The injury occurred during Chicago's road game against the New Orleans Saints. Miller jumped up to haul in a pass and came down hard on his leg, but the...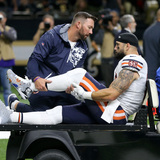 Zach Miller suffered a terrible knee injury Sunday against the New Orleans Saints that required emergency surgery to save his leg. On Monday, following successful surgery, the Chicago Bears issued a statement of support. Anyone who saw the injury knew it was a bad one right away. Miller's foot got stuck in the artificial turf, and all of his weight came crashing down on the knee...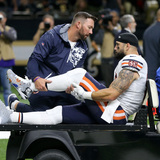 On Sunday, we touched on Zach Miller's devastating leg injury in against the Saints. As it turns out, it became even worse than we could have imagined. That's because on Sunday night, the Bears' tight end underwent emergency vascular surgery in order to save his leg.Doctors were able to stabilize the injury, which was diagnosed as a torn popliteal artery. So, is there good news?...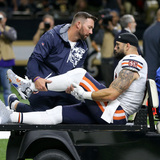 Bears tight end Zach Miller was carted off the field in Sunday's game against the Saints after he went down with a gruesome left leg injury. Head Coach announced after the game that Miller had a dislocated knee and is currently at the hospital.Miller went down with the injury as he was catching what was initially called a touchdown from Mitchell Trubisky. However, to literally add...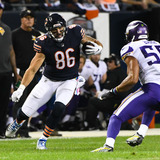 Bears TE Zach Miller appeared to make a stellar catch in Sunday's game against the Saints, but may have suffered a season-ending injury in doing so.Miller ran a fade route in the end zone and laid out to make a great grab. Unfortunately, he appeared to have suffered a broken leg in doing so.To add salt in the wound, the officials overturned the call on the field — a touchdown — and...
The Seattle Seahawks have a minor offensive setback at tight end, as Zach Miller has to undergo ankle surgery. His replacements include Luke Willson, Cooper Helfet, Garry Gilliam and Cassius Marsh. Several news outlets have analyzed the ramifications of Miller's absence, namely his zone blocking ability. Dave Boling of The Tacoma News Tribune believes there is no one-for-one replacement...
MORE STORIES >>
Bears News

Delivered to your inbox

You'll also receive Yardbarker's daily Top 10, featuring the best sports stories from around the web. Customize your newsletter to get articles on your favorite sports and teams. And the best part? It's free!