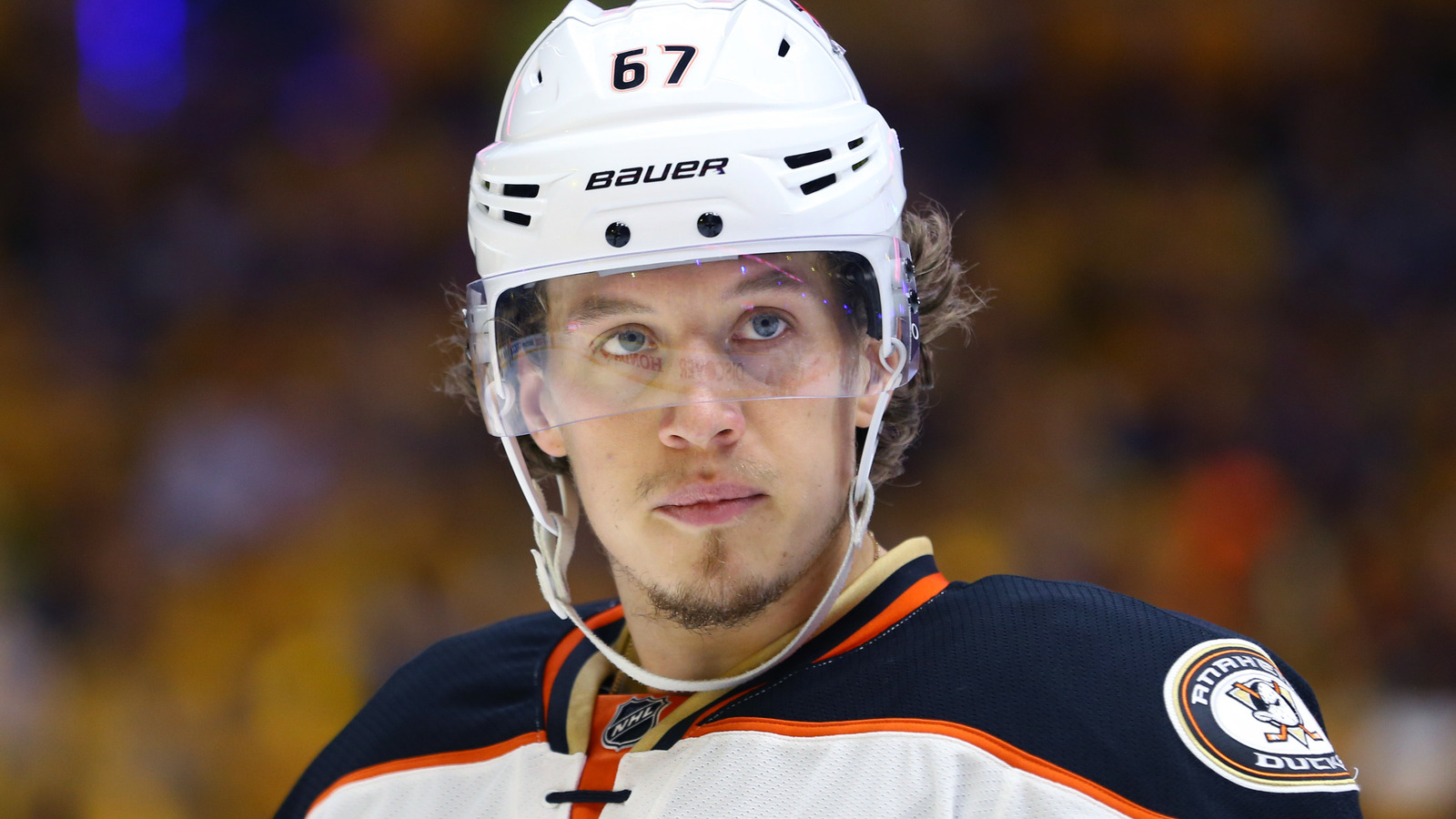 Rickard Rakell helped inspire a cancer patient, Katie Hawley, whom was added to the Ducks' opening-night roster.
Aaron Doster-USA TODAY Sports
The Anaheim Ducks on Thursday night continued a fantastic and heartwarming tradition started in 2015 by naming a fan who "who exhibits great perseverance, character, courage and inspiration" to their opening night roster.
The fan afforded the honor of being named the "21st Duck" this season is 17-year-old Katie Hawley. To say Hawley deserves it would be an understatement, as she is currently is battling the cancer for the third time in her young life.
Originally diagnosed at the age of nine, Hawley learned in 2016 her cancer had returned. She told her parents upon the latest diagnosis that she "didn't want to fight anymore." But the 17-year-old was inspired to continue her battle after meeting Ducks winger Rickard Rakell, who happens to be her favorite player.
The Ducks found themselves down 4-1 to the Arizona Coyotes in their season opener at Honda Center before rallying from the three-goal deficit to win a 5-4 thriller. Rakell fittingly notched the game-winner with 3:30 remaining in regulation, and Hawley joined her favorite player for the post-victory interview.
Via the Orange County Register:
"It's kind of a Cinderella story, I guess," Rakell said after completing the Ducks' improbable – and yes, fairytale – 5-4 win. "It couldn't have ended any better."

Added Katie, with a voice hoarse from all the delightful shrieking, "I knew he was going to score. I knew he wanted to so badly."
According to Puck Daddy, Hawley has undergone "at least a dozen surgeries, two dozen chemotherapy sessions, 30 radiation treatments, 80 scans, and 40 blood transfusions" in beating cancer twice. While she's still undergoing treatment, Hawley intends to attend college next year.
MORE FROM YARDBARKER:
QUIZ: Name every player on the 2006-07 Stanley Cup winning Anaheim Ducks
Can you name every player on the 2006-07 NHL Stanley Cup winning Anaheim Ducks?
Clue: Number/Position
MORE FROM YARDBARKER
Ducks News

Delivered to your inbox

You'll also receive Yardbarker's daily Top 10, featuring the best sports stories from around the web. Customize your newsletter to get articles on your favorite sports and teams. And the best part? It's free!