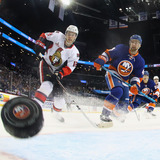 Sidney Crosby got a lot of points, Alex Ovechkin scored a lot of goals and, yes, the regular season is really long. These have been the storylines at the end of every NHL season for the past 10 years, and this year was no different. Thankfully, some new blood came along this year to inject a little more variety into the NHL, but even then those stories got overplayed. We get it,...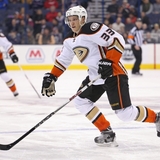 WINNIPEG, Manitoba (AP) Jakob Silfverberg scored at 4:01 of overtime to lift the Anaheim Ducks to a 3-2 victory over the Winnipeg Jets on Sunday. Silfverberg's 13th goal of the season came as he was left all alone in front of Jets goalie Michael Hutchinson, who made a glove save on the first attempt but couldn't corral the rebound, allowing Silfverberg to score. Jamie McGinn and...
On Friday, the Anaheim Ducks checked off another box on their offseason to-do list in re-signing RW Jakob Silfverberg. While not yet confirmed, the deal is reported to be four years and $15 million, an AAV of $3.75 million. Is the price right for Silfverberg? Jakob Silfverberg was part of the return in a trade that sent Bobby Ryan to the Ottawa Senators in exchange for Stefan...
ANAHEIM, Calif. -- Right wing Jakob Silfverberg agreed to a four-year, $15 million contract with the Anaheim Ducks on Friday through the 2018-19 season. Silfverberg was a restricted free agent after he set career highs with 13 goals and 26 assists last season, playing frequently on the second line for the Pacific Division champion Ducks. The 24-year-old Swedish Olympian is among...
The Anaheim Ducks became the first team to advance to the second round of the 2015 Stanley Cup Playoffs after a 5-2 win against the Winnipeg Jets on Wednesday night. The Ducks are the only team to sweep their opponents and win their series in only four games in the first round. The sweep was the fourth in franchise history for the Ducks. The Ducks are also the first team in the NHL...
MORE STORIES >>
Ducks News

Delivered to your inbox

You'll also receive Yardbarker's daily Top 10, featuring the best sports stories from around the web. Customize your newsletter to get articles on your favorite sports and teams. And the best part? It's free!