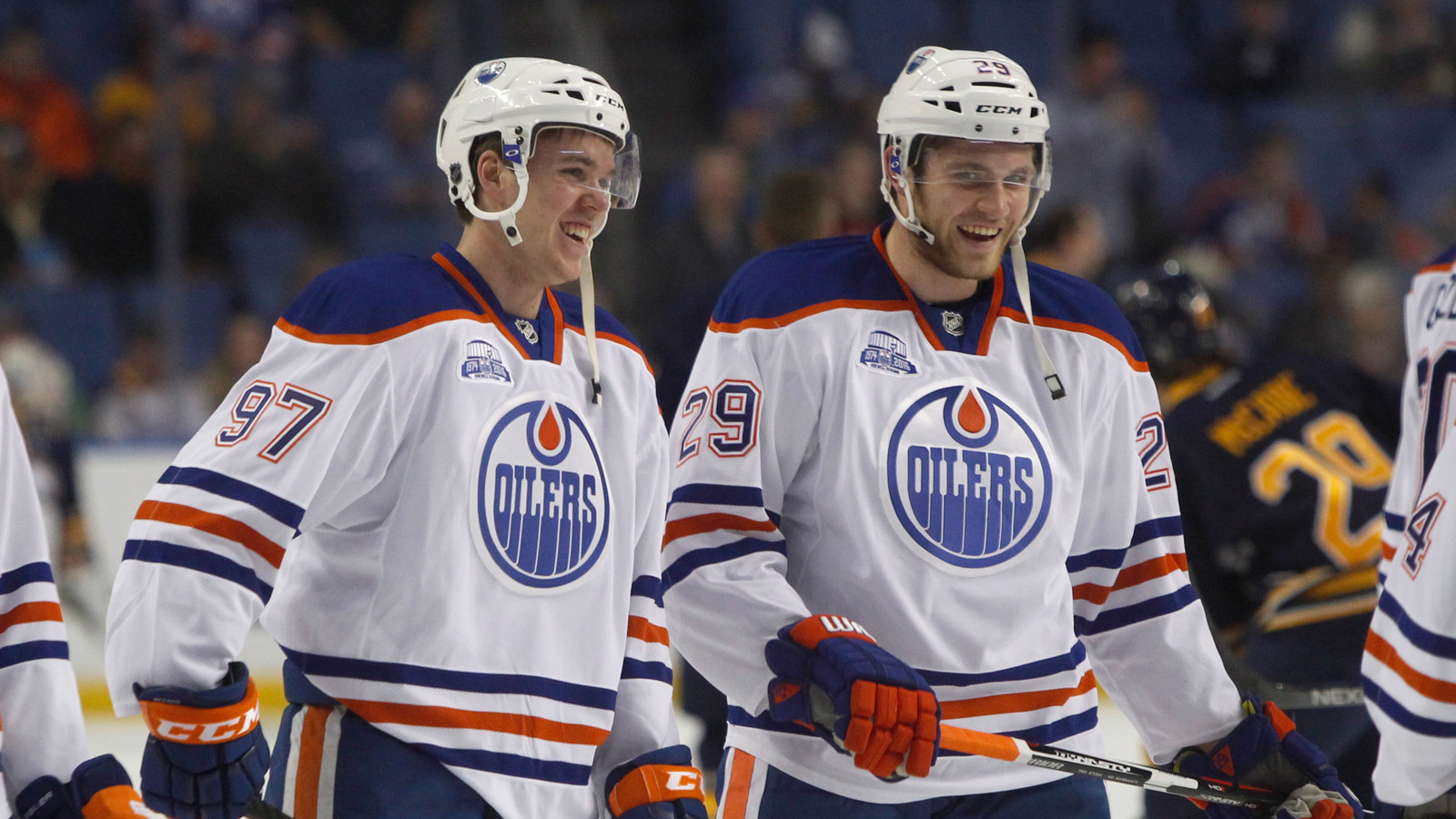 Edmonton Oilers stars Connor McDavid and center Leon Draisaitl are laughing all the way to the bank.
Timothy T. Ludwig-USA TODAY Sports
When a 20-year-old Hart Trophy winner and a 21-year-old third overall pick play for the same team, there are going to be lots of questions about how the team handles financial concerns. Not only are these players good enough to get hefty raises, but also they are young enough to give the team sky-high potential for a long period of time. The Edmonton Oilers are in this position right now, with Connor McDavid and Leon Draisaitl busting through defenses like a bulldozer through a decrepit house.
Unsurprisingly, both players were rewarded during the offseason. McDavid, who is likely going to be the captain of the Oilers for a very long time, signed an eight-year, $100 million contract in early July, giving him the highest per-season value for any NHL player at $12.5 million. Draisaitl got his contract a month later, signing a $68 million contract for eight years to serve as McDavid's "sidekick."
That is a lot of money ($168 million) for just two players, but such a strategy has had success in recent years. The Chicago Blackhawks are the most notable example of a team that went all in on their best players. During their Stanley Cup years, Patrick Kane was making at least $6 million a year for the Blackhawks, and he got an eight-year contract at $10.5 million per season following the Stanley Cup victory in 2015. Chicago also has given Jonathan Toews the same contracts during the same years. Overall, the Blackhawks can celebrate their three Stanley Cups behind Kane and Toews, but the current contracts, which are roughly the same cost per season as McDavid and Draisaitl today, have put the team in a bind with the salary cap. With the team's lack of depth exposed in recent years, things might look grim for Chicago.
Edmonton is likely in a better situation despite not having a Stanley Cup with its current core. Both McDavid and Draisaitl are still a long ways away from their presumed peaks, so they get their fair share of money while helping the Oilers become a perennial Stanley Cup contender. While it may be tougher to sign other big names in the future, the Oilers celebrate with their top two scorers locked up in northern Alberta.
The biggest issue, however, is the fact that other young talent may request large contracts in the future. Matthew Benning, Oscar Klefbom, Drake Caggiula and Anton Slepyshev made their presence felt last season, and Jesse Puljujarvi, Darnell Nurse and 2017 first-round pick Kailer Yamamoto, who already has five goals during the preseason, could soon follow suit. If most of these players live up to their potential, then it may be difficult to keep them all without going over the salary cap.
Considering whom the players are — McDavid and Draisaitl — signing them to lucrative contracts fits their talent and potential to be even greater. Unfortunately, not every Oilers breakout is going to be as lucky. The funds are not unlimited, and good players will need to be traded to find consistent playing time. Chances are the Oilers will soon be in a dead zone that Chicago is close to reaching, but this team is good enough and young enough to win multiple Stanley Cups if the contracts pay off. Bringing the Stanley Cup back to Edmonton would be worth the financial difficulties in about 2030, especially if they can win as many as Chicago has in this decade.
MORE FROM YARDBARKER:
QUIZ: Name the 10 players on the Edmonton Oilers in the Hockey Hall of Fame
10 Edmonton Oilers are in the Hockey Hall of Fame. How many of these NHL players can you name?
Clue: Years active with the team
Note: * denotes a non-consecutive stretch of playing time
MORE FROM YARDBARKER
Oilers News

Delivered to your inbox

You'll also receive Yardbarker's daily Top 10, featuring the best sports stories from around the web. Customize your newsletter to get articles on your favorite sports and teams. And the best part? It's free!