Peter Chiarelli told reporters that the Oilers had made seven depth signings today. Just about two hours after his media availability, we now have all seven names. According to Brennan Klak, the Edmonton Oilers have signed forwards Brian Ferlin and Grayson Downing to contracts. Ferlin was a Chiarelli draft choice in Boston during the 2011 annual selection process. Ferlin has played...
The Boston Bruins announced four additions to their roster on Tuesday. Boston signed forwards Dominic Moore and Brian Ferlin and defensemen Chris Casto and Alex Grant to one-year contracts. Moore has played for nine NHL teams, recording 89 goals and 156 assists in 765 career games. The 36-year-old spent the last three seasons with the New York Rangers, and had […]
The Bruins announced four signings Tuesday, inking 36-year-old forward Dominic Moore and depth defenseman Alex Grant to one-year contracts. The B's also re-upped Chris Casto and Brian Ferlin, both of whom have spent their entire pro careers in the Boston organization, to one-year deals. The Bruins will become Moore's 10 team, tying him with Lee Stempniak as the most travelled active...
The Boston Bruins have re-signed restricted free agent forward Brian Ferlin to a one-year, two-way contract, according to reports. The deal will pay Ferlin $725,000 in the NHL and $80,000 in the AHL. Brian Ferlin (#Bruins) 1 yr two-way @ $725,000 cap hit $80,000 AHL — General Fanager (@generalfanager) August 11, 2016 Ferlin, 24, played for Boston's AHL affiliate, the Providence...
Boston Bruins Re-Sign Brian Ferlin to One-Year, Two-Way Contract The Boston Bruins have re-signed right winger Brian Ferlin to a one-year, two-way contract worth $725,000 at the NHL level and $80,000 at the AHL level. Ferlin will be playing for an NHL job out of training camp this...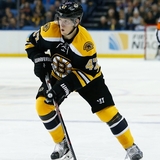 Earlier today the Boston Bruins chose to extend qualifying offers to several players on their rosters and informed other players that they will be heading off to try their luck in free agency. The Boston Bruins extended offers to Torey Krug, Colin Miller, Joe Morrow, Alex Khokhlachev...
MORE STORIES >>
Bruins News

Delivered to your inbox

You'll also receive Yardbarker's daily Top 10, featuring the best sports stories from around the web. Customize your newsletter to get articles on your favorite sports and teams. And the best part? It's free!