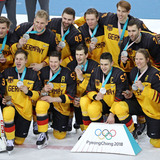 It certainly feels like Germany is about to take that next step toward becoming a legitimate hockey power. After an amazing run to the gold medal game at the Winter Olympics in Pyeongchang, coached by arguably the best German player of all-time, Marco Sturm, hockey fans in Germany and around the world are starting to realize that German hockey has quietly gained a foothold in the...
A disappointing game 7 loss to the Montreal Canadiens, the Boston Bruins are left wondering how their postseason run ended so quickly. Following an excellent regular season campaign that ended with the Bruins winning the Presidents' Trophy, Boston was the favorite to represent the Eastern Conference in the Stanley Cup Finals. Despite being the favorites in the series, and having...
Boston Bruins: No fireworks at the trade deadlineHeading into Wednesday's NHL trade deadline, rumors circulated around the Boston Bruins organization and who they may add to bolster a defensive blue line that is still hurting from the loss of Dennis Seidenberg.  The numbers, especially on the penalty kill, without Seidenberg in the lineup have been staggering and have only reinforced...
Boston Bruins Trade Deadline PreviewThe NHL trade deadline is on the horizon and since returning from the Olympic break, the Bruins have shown that they could use some help. The reigning eastern conference champions are without their second best defenseman, Dennis Seidenberg, for the rest of the season and should be looking to fill his role. Last season, Bruins general manager Peter...
The injury bug has hit the Boston Bruins fairly hard this entire season.  The news that came down on Saturday afternoon was by far the biggest sting of the year. Defenseman Dennis Seidenberg will be out 6-8 months after tearing the ACL and MCL in his right knee during Friday night's game against the Ottawa Senators.  Seidenberg was battling Ottawa's Cory Conacher behind the Boston...
Boston, MA--- The injury bug keep on haunting the Bruins. This time the bug had knocked one of their best leaders and players out for the whole season. D-man, Dennis Seidenberg, left Friday night's game against the Ottawa Senators in the third quarter with what was categoriezed as a "lower body injury". The Bruins GM, Peter Chiarelli, announced Saturday that the injury was a torn...
You can officially add Dennis Seidenberg's name to the ever-expanding list of Bruins' players locked up to multi-year contracts by GM Peter Chiarelli. According to TSN and other media reports, Seidenberg has agreed to a four-year contract extension worth $16 million.  The contract also reportedly contains a no-trade clause, meaning Seidenberg should be in the black and gold through...
MORE STORIES >>
Bruins News

Delivered to your inbox

You'll also receive Yardbarker's daily Top 10, featuring the best sports stories from around the web. Customize your newsletter to get articles on your favorite sports and teams. And the best part? It's free!