We've updated our Privacy Policy.
By continuing to use this site, you are agreeing to the new Privacy Policy.
After helping lead the team into the playoffs last season after being a late roster addition, the Minnesota Wild brought back Ilya Bryzgalov for a training camp tryout heading into this season, partly due to the uncertainty of the team's goaltending situation. During Monday night's exhibition game against the Pittsburgh Penguins at Xcel Energy Center in St. Paul, Bryzgalov passed...
And to think the Minnesota Wild were in jeopardy of missing the playoffs just two weeks ago. A gritty shootout victory against the Boston Bruins propelled the Wild to the 7th seed in the Western Conference late Tuesday evening and this squad looks capable of pulling a first round upset. Forward lines are beginning to mesh at just the right time and Ilya Bryzgalov continues to shine...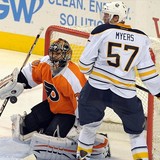 Forgive me for completely taking a 180 degree turn when it comes to my thoughts on the Minnesota Wild's goaltending situation. Just three weeks ago, I was exclaiming that Darcy Kuemper has to be the guy moving forward. The most recent piece I posted claimed that if Josh Harding is healthy he deserves the nod in the playoffs. Today, I'm going to say something that just over a month...
LIKE WHAT YOU SEE?
GET THE DAILY NEWSLETTER:
When it was rumored the Phoenix Coyotes were going to move to Winnipeg, then Coyotes goalie Ilya Bryzgalov made it known that he wanted nothing to do with Winnipeg. The fans let him hear it in his first game back in Winnipeg and Bryzgalov egged them on, asking for more. It should be noted that he did this during the play while the puck was in his zone because he is after all, Ilya...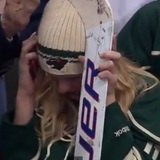 YouTube Prior to Wednesday's tilt against the Canucks, Wild goalie Ilya Bryzgalov handed his stick to a young fan waiting at the glass by the end of the bench.  Bryzgalov was just traded to Minnesota from Edmonton in early March.  Things like this go a long way to getting your new fans on your side. I think this is where I say, "this is what it's all about people."
When it comes to large contracts, I think they have no place in sports. As appealing as it seems to a General Manager, locking up a star player for a long-term deal can be more dangerous than advantageous. If you ask the Philadelphia Flyers, I think they may agree on this point. After Ilya Bryzgalov had a strong career with the Phoenix Coyotes, even bringing them to the playoffs...
MORE STORIES >>
NHL News

Delivered to your inbox

You'll also receive Yardbarker's daily Top 10, featuring the best sports stories from around the web. Customize your newsletter to get articles on your favorite sports and teams. And the best part? It's free!