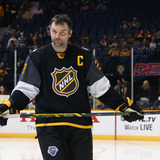 With the Nashville Predators in the Stanley Cup Final, their roster of players have become a focal point. And during a recent "ESPN E:60" feature, defenseman P.K. Subban was specifically profiled.The segment touched on everything from Subban's split with the Montreal Canadiens to his experience as a black player in hockey.It also included its fair share of criticism — specifically...
Just call it another chapter in what has become a fairy-tale season for John Scott.Heck, he even joked to the media: "It's almost like a movie, right?"With just a few games left in a campaign they would probably like to forget as quickly as possible, the Montreal Canadiens recalled the notorious tough guy, who has yet to play a game for the Habs since the controversial trade that...
The wild ride of John Scott's improbable run to the 2016 NHL All-Star Game — not to mention a captaincy — came with many peaks and valleys, but it couldn't have ended much better for the veteran enforcer given he was named the exhibition's MVP after scoring twice and leading his Pacific Division squad to a championship. "It's just another one on the list of stuff that I cannot...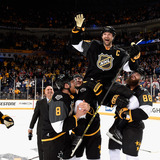 In the bevy of tweets congratulating John Scott on his MVP performance in the NHL All-Star Game and subsequent NHL First Star of the Week, there was the obligatory chirp from the Montreal Canadiens' account — you know, the team who got him in a trade a couple weeks ago and then immediately assigned him to their AHL affiliate.The tweet brings focus back to the Habs themselves and...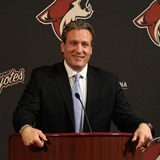 Jeremy Roenick isn't one to mince words, and he was pretty open about how "terrible" he found it that John Scott planned to attend the NHL All-Star Game after the fan voting gone awry earned the bruiser an invite.But the player-turned-analyst appears to at least be giving Scott a bit of "incentive," as SportsNet called it, ahead of the big event.The All-Star fete includes the Skills...
There quite possibly isn't a player in the National Hockey League having a more bizarre season than John Scott. The six-foot-eight bruiser might be leading the NHL All-Star voting, but that didn't stop the Arizona Coyotes from placing him on waivers for the second time this season, Mike Halford of NBC Sports reported on Friday morning. Scott was previously waived in early October...
Every team has their own version of him.  A player who is put out there for one reason: to scare the opposition.  Most teams would say their version of a 'goon' can skate, chip in offensively, defend teammates and bring more to the table than just intimidation.  The Buffalo Sabres' John Scott, however, is not exactly in that category. John Scott elbowing forward Loui Eriksson Coming...
HI!
via NHL.com video Whatever I say here won't do justice the little stunt that Buffalo Sabres' tough guy John Scott pulled during teammate Chad Ruhwedel's post game interview Sunday.  While MSG-Buffalo's Brian Duff asked Duhwedel about getting a high-stick to the face while not wearing a full shield, Scott grabbed his faux fur coat and got his groove on. Duhwedel had no clue Scott...
After the Rick Nash deal fell through, the Rangers made a minor move in sending a fifth round pick in this year's draft to Chicago for defenseman John Scott. The first thing someone will notice about Scott is that he is big, listed at 6'8 and 258 lbs, the dude is a big boy. The undrafted defenseman, who is also capable of playing left wing, played four years at Michigan Tech before...
MORE STORIES >>
NHL News

Delivered to your inbox

You'll also receive Yardbarker's daily Top 10, featuring the best sports stories from around the web. Customize your newsletter to get articles on your favorite sports and teams. And the best part? It's free!