We've updated our Privacy Policy.
By continuing to use this site, you are agreeing to the new Privacy Policy.
Sidney Crosby knocked the puck from mid-air into the net for a filthy goal against the Canadiens Wednesday night.
Sidney Crosby scored a goal-of-the-year candidate as the Penguins beat the Canadiens 5-3, eliminating Montreal from playoff contention. ---------------------------------------------- Subscribe to Sportsnet on YouTube - http://sprtsnt.ca/2paAT2L Visit Sportsnet.ca for more sports news and highlights - http://www.sportsnet.ca Follow Sportsnet on Facebook - http://sprtsnt.ca/YTFB...
The Penguins center added another incredibly impressive goal to his highlight reel
LIKE WHAT YOU SEE?
GET THE DAILY NEWSLETTER:
Penguins star Sidney Crosby scored a wild off-the-ice goal on Wednesday night against Montreal.
I get it. The Pittsburgh Penguins are the Washington Capitals biggest rival. We hate them. We wish them nothing but the worst. Especially Sidney Crosby. But unfortunately I need to break character for a minute to show you this transcendent, jaw-dropping tally by Sid. It's incredible. Video I'm not going to spend too much time explaining what happened because the GIFs are where...
Pittsburgh Penguins' Sidney Crosby throws a pass that bounces into the air and back to him, he bats it to himself across Carey Price, then back hands it out of mid-air for an insane goal. ---------------------------------------------- Subscribe to Sportsnet on YouTube - http://sprtsnt.ca/2paAT2L Visit Sportsnet.ca for more sports news and highlights - http://www.sportsnet.ca ...
PITTSBURGH (AP) — Sidney Crosby ignited a rally with a highlight-reel goal and became the third active player with 700 career assists in the Pittsburgh Penguins' 5-3 victory over the Montreal Canadiens on Wednesday night. Crosby's picked up his 24th goal of the season when he knocked a pass from Jake Guentzel out of the air, deflected it toward the front of his stick and smacked...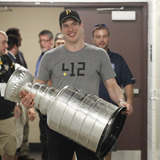 Sidney Crosby threw out the first pitch before Tuesday's Pirates-Rockies game, and he proved that he has some talent in baseball too.The Penguins captain decided to make his ceremonial first pitch from the rubber and threw a strike: Crosby apparently proved his Penguins teammates wrong with his pitch: They must have missed the time a handful of years back when Crosby took batting...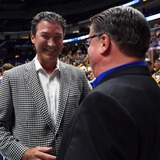 The Stanley Cup celebrating is now officially underway, judging by a clip that's gone viral on social media.It shows what the scene at Sidney Crosby's house looked like on Monday night, with multiple Penguins players and their wives hanging out celebrating.Penguins owner Mario Lemieux was there as well, and at one point, he decided to take a dip in the pool — with all his clothes...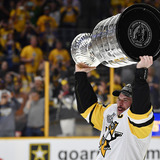 Sidney Crosby remained humble after capturing the third Stanley Cup of his career.The Pittsburgh Penguins captain is only 29 yet he has proven himself as a winner in every setting of his career. The Penguins beat the Predators 2-0 in Game 6 of the Stanley Cup Final on Sunday, giving Crosby his third Cup. He also won the Conn Smythe Trophy for the second year in a row.Asked about...
MORE STORIES >>
Penguins News

Delivered to your inbox

You'll also receive Yardbarker's daily Top 10, featuring the best sports stories from around the web. Customize your newsletter to get articles on your favorite sports and teams. And the best part? It's free!